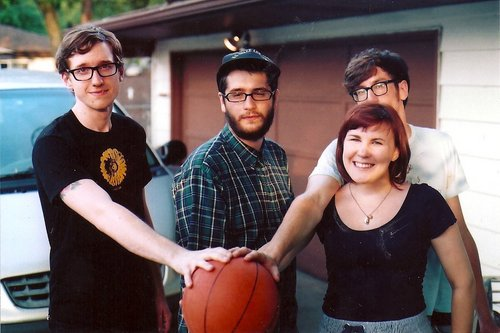 Chicago, Illinois is a city that is no stranger to emo and punk heavies.  Braid, Smoking Popes, Alkaline Trio and the list goes on and on.  Rising indie/emo band Dowsing are keeping the legacy alive as part of the Count You Lucky Stars roster.  With a split with Parker and the It's Still Pretty Terrible full-length under their belts, the band perfect the delivery of sincere rock music that is pleasing to the ears.
Ghettoblaster recently caught up with Erik Czaja to discuss his current stomping grounds including the glory of Millennium Park, Michael Jordan and vegan hot dogs from Hot Doug's …
 
What's your town's nickname?
Chi-Town or The Windy City.
What's your nickname for your town?
CzaCity or Czacago.
Why do you live there?
I came out to Chicago for Graduate School. 
Did you grow up there? If not, what brought you there?
I have always had this attraction to Chicago, but my education like I said before brought me here.
What's the weirdest thing that has ever happened to you there?
Deep Dish Pizza.
What is your favorite local attraction (monument, park, etc)?
Millennium Park.
What is your favorite local event or festival?
Renegade Craft Fair.
What is the best time of year to be there?
Anything but Winter.
Who is your favorite local celebrity?
Michael Jordan.
Where is the best place to drink and what's their specialty or happy hour?
My front porch and it's gotta be the mini Mickey's bottles. 
Who has the best jukebox (and what's in it)?
Definitely my roommate Nick's iPod. So much much Propagandhi.
Do you play music there? If so, where is your favorite place to play?
Well, we practice in the garage… Our most played/favorite venue is Township in Logan Square.
Does where you live influence your music?
I tend to write about where I am originally from, New Jersey/East Coast, but I've started writing about Chicago.
What is your favorite place to see live music and what was your favorite show there?
Subterranean.  The best show I saw there was the Jealous Sound.
What is your favorite local band?
The Island of Misfit Toys.
What is your favorite diner or restaurant and what is their best dish?
Best restaurant is the Chicago Diner.  Everything.
What is your favorite record store and what was your best find there?
Reckless Records.  I found the Anniversary's Designing A Nervous Breakdown.
What is your favorite local publication (alternative weekly, zine, website or blog)?
I read the RedEye more than I should.
What is your favorite local shop?
Hot Dougs, because he deep fries my vegan hot dogs.
If you could live anywhere else, where would that be?
Seattle.