In August Ceschi released San Soleil (Fake Four), which is part II in the trilogy of albums he set out to release. The densely packed album of 21 songs trickily cross genres and are filled with samples and live instrumentation. While the recording hosts a number of guest appearances like Yoni Wolf (Why?), Open Mike Eagle, P.O.S., David Ramos, and iCON The Mic King to name a few, it's obvious the one-man band is still alive and kicking.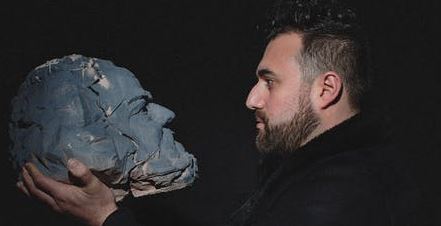 In short, it's an album that defies categorization. One of the most beautiful tracks on the album "Christ On The Cross," shows a much-more tender side of Ceschi as his words are as obvious as an open wound, struggling with his faith in humanity as well as his own spiritually. The opening sample of the song is set apropos with, "Please excuse these disorganized thoughts, I am a human being." Even if some don't express it, many of us deal with it daily.
Today Ceschi shares the video to "Christ On The Cross," which was directed by one Spencer Garland, a young innovative director playing by his own rules.
Of the song, Ceschi offers:
This song was written about martyrs & how the stories of martyrs are altered over time, oftentimes purposefully by the same power structures that kill them before selling their stories back to us. For instance, modern martyrs such as Martin Luther King may be on stamps & have federal holidays in the USA these days, history books oftentimes neglect to mention that he went to jail 29 times for his beliefs before being murdered for them.
We think of Jesus as beyond human, but I wanted to write a song depicting him in a more human, historical light as what he was – a man with deep faith in people & profound philosophical beliefs about equality, mutual respect & forgiveness who was betrayed by a snitch friend only to be arrested & executed by the state. It is a story I can personally relate to, and have seen over and over again.
Facebook | Twitter | Instagram
I caught up with Spencer Garland and had the opportunity to speak with him about his work and his own interpretation of "Christ On The Cross." Having someone else's eye translate one's own work could be challenging at times but here, it seems to work well. Really well.
GB: The concept seems pretty clear there but I wanted to get your take in your own words. What was your thought process when you heard the song itself?
Spencer Garland: When Ceschi first sent me the song he explained to me that the song was an alternative view of the story of Jesus. One that was realistic in that a philosopher gets snitched on by a friend the gets killed by the state. I thought the premise was interesting. It reminded me of the Joan of Arc story and figure which I've been oddly fascinated by for a long time. I pitched that and we ran with it.
Black Joan of Arc has been done before, to the ire of a lot of racists (check the replies), and that interested me too. Putting a Black woman in that space makes me feel more connected to the legend. Knowing the story of what actually happened to Joan historically I wanted to deviate at the end. I work hard to show POC overcoming adversity and thriving in everything I make so I couldn't burn her at the stake at the end of the video. I couldn't have that on my conscious.
Ceschi is a guy who loves allusions and loves to make the listener think about what they are listening to. I like the whole "art rap" scene for that reason, it makes you work hard to understand what's being said. That makes me work hard as a creative in turn-I want the viewer to dissect what is in front of them. I talk in references and that's how I approach filmmaking too. "Christ on the Cross" is probably the most referential project I've ever made. It was important that I really dial into religious imagery and symbolism. Joan is just the surface. I threw in a Fra Angelico frame shape, monsters from Hieronymus Bosch, and staging from Carl Dreyer's The Passion of Joan of Arc silent film. That is all woven into the aesthetic which also pulls from various surrealist painters, chiefly Remedios Varo. I wanted to build a world that the viewer could get lost exploring in.
(Ceschi: When Spencer brought up the concept of Joan Of Arc – I appreciated his interpretation. I like that he chose a completely different, equally misunderstood martyr. I like that he picked a modern, young woman to humanize & modernize the role without much excessive drama. Visually, the surrealism Of it is a nice juxtaposition to the very harsh reality of this history. )
GB: Is this your first video or have you worked on other projects before this?
Spencer Garland: I've directed a lot of music videos in the last year. I've done projects for milo, Open Mike Eagle, Armand Hammer, and others. "Christ on a Cross" is my first collaboration with Ceschi. Beyond doing films and running my production company, I also operate a non-profit film program for POC youth called BRENDA ARTS which makes filmmaking accessible to marginalized students. My website is lonervision.com if you want to check it out.
GB: I commend you on what you're doing in communities where things that you do aren't easily accessible to POC. I know that you describe your work as "Afrofutrominimalist." Define that for me.
To me "Afrofutrominimalism" is the celebration of Black diasporic art. I pull from inspiration from people as opposing as Kara Walker and Thundercat then channel their influence through my lens. I make things that are tactile and soft in the Michel Gondryian sense of filmmaking while adding Afrocentric consciousness. I show POC in worlds that they don't belong in (Joan is literally in an artificial, virtual environment), yet they still thrive as I said before. I work with rappers and the idea of a "rap video" comes with certain baggage. I want to push that to its limit. I push whatever medium I'm in, to its limit and make something that audiences haven't seen before.