Los Angeles based electronic duo Spike Hellis, comprised of Cortland Gibson and Elaine Chang, will release their first full-length, self-titled album in April 2022, under their imprint Over-Pop. The band recently premiered the album's first single, "Slices."
Spike Hellis (S/T) is preceded by their first EP Crisis Talk, of which its material contents seemed to seep into reality in the form of a widespread global pandemic—all as they were getting ready to put it out into the world. Rather than playing a release show, they put the tape out digitally while under lockdown in their downtown LA apartment. With tour abruptly cancelled, they immediately got to work on the forthcoming album.
Since then, Spike Hellis has gotten back on the road and completed their first U.S. tour in Fall 2021, playing in good company with fellow artists and friends such as Choir Boy, Fearing, Soft Kill, Plack Blague, Riki, Nuovo Testamento, Twin Tribes and Body of Light. They wrapped up their tour by playing Day 3 of Substance Festival at The Belasco Theater in DTLA.
In February, they will embark on a two-week long west coast tour and will also be a supporting act on ADULT.'s 2022 North American tour alongside Kontravoid.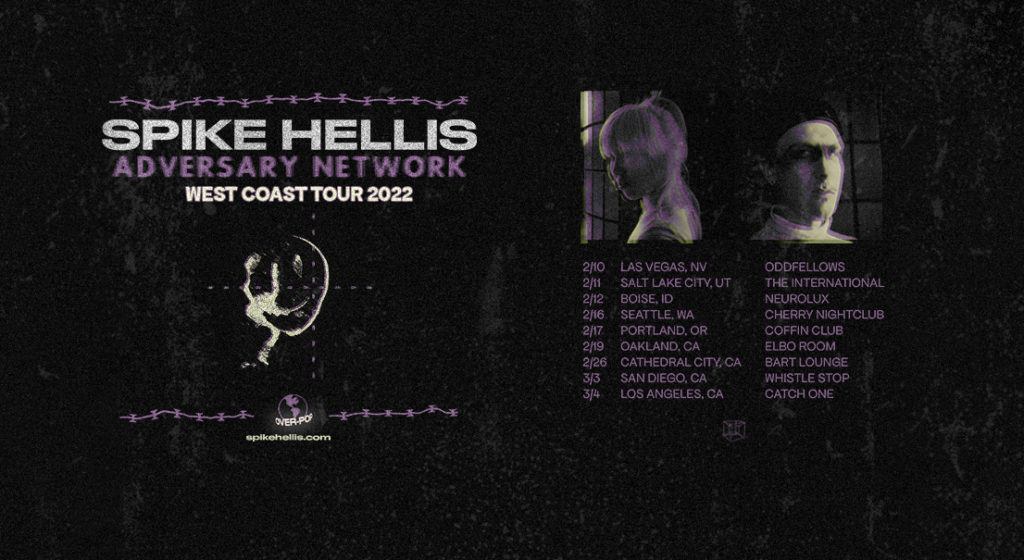 Spike Hellis delivers from every angle. Primed for the after-hours warehouse dungeon, they use heavy amounts of fog and strobes timed perfectly to their live set. Perhaps you will feel threatened or slightly disoriented. Nonetheless, you will be thrust into their environment. While still in their infancy, they've managed to turn heads as they cut their teeth in the LA underground. Blasting their bleak outlook and spreading their gospel of disenchantment and sarcasm, Spike Hellis announces their arrival.