In a world where experimental electronic music exponentially splinters into a multitude of rogue genres that slowly shuffle the globe from demilitarized dance floors to sleeper cell bedroom studios and back, a team of disparate scientists tracks this solanum-like pandemic while desperately trying to interpret cryptic field recordings of Samhain's past, not one day at a time, but from Amen to Zombie…
ZOMBIE
This will serve as an intro to Bruce Haack as well as me gushing about finding a rare children's record.  Let's start with Bruce Haack.
Bruce Haack was a very celestial soul.  Born in Nordregg, Alberta, grew up in Rocky Mountain House, took peyote with Native Americans around age 12, attended Juilliard Music school in New York, composed musique concrète as well as commercial jingles for Kraft cheese, founded Dimension 5 Records with Mrs. Nelson, made his own musical instruments including the Dermatron, which is essentially a human theremin, released a record in 1970 called Electric Lucifer that used a homemade vocoder, in 1982 released Party Machine, a co-lab with Russell Simmons, and died an uncelebrated artist in 1988, save for a few select people/friends including a bunch of douchebags that you can view in a doc called Haack: The King of Techno.  Kids got the point of Bruce's work though.  There is a nice spot in the doc where Mrs. Nelson is waxing poetic about how many fan letters Dimension 5 Records received over the years.  The visual is of all the crazy album art work spinning behind her head and images of all the different countries that they've received mail from.
If you can get through the spaced out narrative of The King of Techno and DJ Me DJ You, it's a good way to get some good info about Bruce's life while hearing some of his music.  DJ Me DJ You is especially bad.  The doc comes on the heals of the one about Robert Moog, so I think it tries to show that all these super cool musicians love Bruce's music and so should you the way that the Moog doc shows just how influential the Moog synth was in reshaping the musical landscape.  Problem is that Bruce made most of his instruments just for himself to use and that he was mainly an artist whereas Moog was mainly an engineer, though both men moonlighted as various other personas of course.
Honestly you really don't need to take it from Beck or Stereolab.  Once you hear Bruce's music it's obvious how fun and entertaining it is.  The bulk of the gushing for Bruce comes from his Dimension 5 records.  I leave you to discover those gems for yourself.  The impetus is that Bruce and Mrs. Nelson were putting out records for kids to learn about motorcycles and body parts and things like that but with the aid of psychedelic music.  Brilliant.  The music was also to spark a child's imagination and serve as a positive influence for kids.  So it should come as no surprise that Bruce scored and performed the music for an animated adaption to one of the Harold and the Purple Crayon stories.
That and our record this time around are from the Scholastic company that actually gave the Dimension 5 crew a shot at legitimacy (or money).  Bruce's latter work, Electric Lucifer, Haackula, and Bite take on a more transcendental and serious tone.  The sad punch line is that during his lifetime he got disillusioned with the music industry and I'm guessing mankind in general.  Abused drugs and stopped producing or maybe just releasing music for the larger portion of the 1980's.
Which brings us to: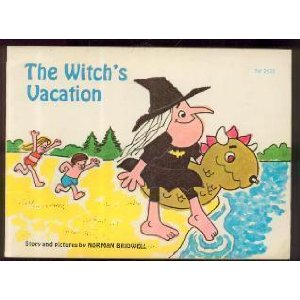 Story and Pictures by Norman Bridwell
Music by Bruce Haack
To be honest, I've only got an mp3 of the story (which clocks in at about 6 minutes).  I wish I could have found a record or cassette of the story.  Lots of Bruce's work goes for big bucks, mainly due to the fact that the internet knows how much it's worth to some people.  Your local library rummage sale doesn't know, so if you want to try and find some of the vinyl check there or be prepared to pay out the nose.
The story is about two kids who live happily with a witch.  The two kids go to summer camp and the witch goes on a vacation.  They end up meeting at the same beach.  The witch has fun with the two kids at camp and performs magic to aid the kids.  There's a lot of folly such as horses and water, as well as "magic" sounds that are cool to listen to.  The BGM isn't as psychedelic as the Harold and the Purple Crayon stuff, but it's still entertaining.  I think it's a nice little 45 to find.  It's a nice flight of fancy for kids to listen to.  It might be view as a watered down version of Bruce's music or Dimension 5.  But I think it shows that Bruce has the talent and restraint to make something commercially viable (although commercially viable from a company such as Scholastic kind of seems like an oxymoron, although I do remember shilling out for monthly book club books…) and still be pure and trippy and entertaining.
I realize that the Dimension 5 records are supposed to be for sale, but they were made explicitly for teachers in classrooms.  Or maybe for kids to listen to. Point being that Dimension 5 had it's audience targeted and wasn't too worried about making a dollar.
It makes me wonder more about how Bruce lost faith after making such groundbreaking and amazing stuff in the early 60s.  Alternatively, The Witch's Vacation could be Bruce just trying to make ends meet.  The recording came out in 1974, he had already put out a volume of his own kids music as well as written music for TV commercials and released a "rock" album on Columbia records.  All of that should have been enough for an industry based on artistic merit to support him.
Also, did I mention that he used to write pop tunes before he started experimenting with electronics?  I think the best way to end would be a quote from The Witch's Vacation:  "My brother built a sand castle but a bigger kid knocked it down.  It didn't matter though."  Cue jaunty electronic music.
Goodnight out there, whatever you are.