Pianos Become The Teeth are many things but they aren't the type of band that are simple to describe. Correspondingly if the Baltimore, Maryland, based act exploded on the scene with their 2009 debut Old Pride and gained national attention with 2011's The Lack Long After. Their third album Keep You sees them taking a brave step forward to craft a musical statement that truly transcends genres. That undying desire to push, challenge and redefine the band's musical limits is what makes Keep You the type of record that grows more revealing to the listener with each listen.
During their performance on the Heaven stage at Atlanta, Georgia's Wrecking Ball Festival the band covered ground from all their releases, much to the delight of a packed audience who screamed and every word. As an aside, drummer David Haik is an absolute beast…top ten best drummers in the game today for sure.
Photos by Kris Neises.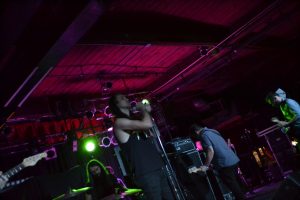 Video of "I'll Get By" by Tim Anderl.