Bands all around the country are canceling tours and not meeting up for regular practices due to the coronavirus pandemic, but indie band Sik Oheso is continuing as usual: writing songs and prepping their first LP release as if nothing has changed. But that's because the band has been practicing social distancing before it was cool. In fact, it's their regular mode of operation considering all the band members live in different cities.
Ghettoblaster caught up with the to discuss how they make their music remotely, recording at home and collaborating over the internet from their spread out homes in Brooklyn, Nashville, Fayetteville, and Chapel Hill.
"I learned a lot about what's possible with technology over the past year. I used to always think a band was a group of local people who practiced and then entered the studio together, replicating what their live sound was" said bandleader Jon Yi, while waiting out the coronavirus panic in his Brooklyn apartment. "The world is so different now. We can all just be at home on our computers. And that's not as bad as I used to think."
ABOUT SIK OHESO
Sik Oheso was founded in Brooklyn in early 2019 as a home recording solo project for Jon Yi. The band name is a combination of Korean and Japanese words (Jon is half Korean and half Japanese) and is a reference to navel gazing, as the first two songs written were extremely personal in nature. With the goal of putting out at least one song a month in the year 2019, Yi wrote and recorded the songs and had friend Shawn Mehrens (Abi Yo Yos) perform vocals. They enlisted guitarist Lance Lee, from Nashville (who has played guitar for Del tha Funkee Homosapien) and Seve Sheldon of Public Eye in Portland to fill out the lineup.
Sik Oheso was recorded by the band members, and mixed and mastered by Zach Tuch (Touche Amore, Warm Thoughts). It will be released on limited silk-screened cover and randomly colored vinyl, as well as digitally, on March 27, 2020. Preorder, here.
This debut LP is a ten-song collection of the best singles and EPs the band has released thus far. All the tracks deal with issues that affect "aging former punks," says Yi, and are deeply personal. The sound is influenced by the likes of Iron Chic, Warm Thoughts, Mike Krol, The Smashing Pumpkins, and The Strokes.
Today, Sik Oheso shares "Space Ice" from the LP exclusively with Ghettoblaster.
Below is the process Jon and Sik Oheso used to complete all 10 songs off their upcoming LP release (out May 27, with pre-orders shipping early).
STEP 1: Guide Track
Jon: I write songs on guitar or bass, and the riff or melody can come from either instrument. Once I have a general idea of a verse, chorus, and bridge (or just 3 parts minimum), I track that using a cheap Focusrite Scarlett Solo interface. But first, the most important step before recording anything is choosing (and sticking to) your tempo, or BPM, that everyone will be following. Once I choose the BPM, I plug the guitar or bass directly into the interface and track to ProTools using the Line 6 Helix Native plugin. Since I live in a tiny NYC apartment, I just use headphones to monitor everything and use the shortest ¼" cable between the instrument and the interface. I also keep a clip tuner (polytune clip) on all the time to make sure I'm not hitting any sour notes.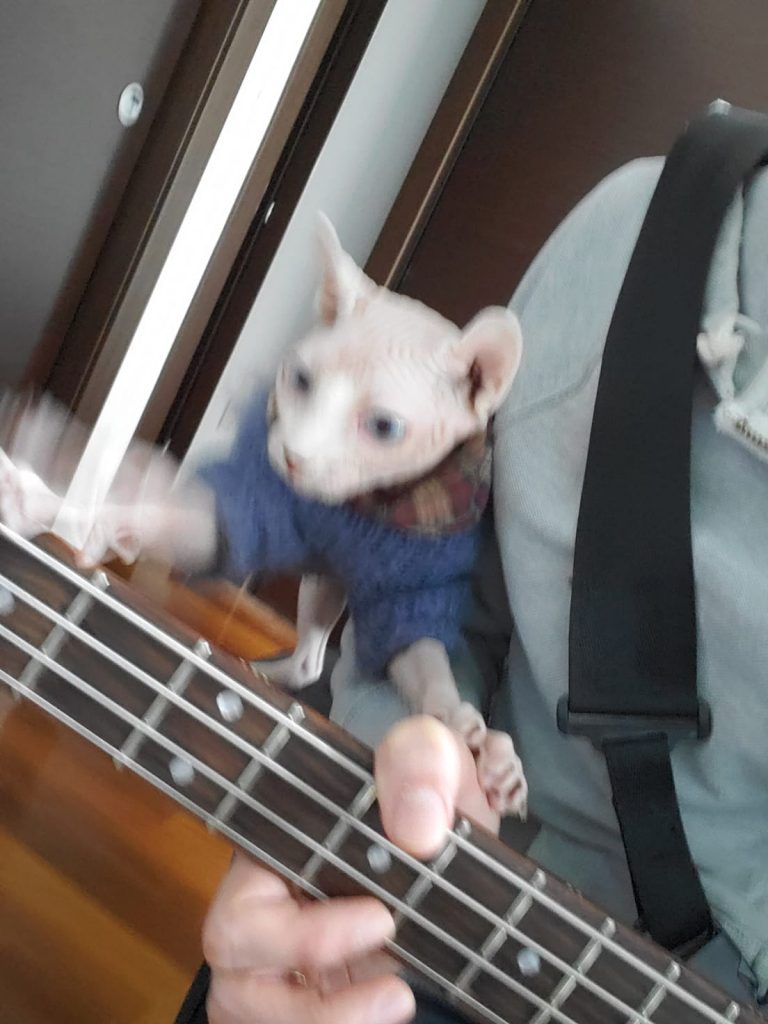 STEP 2: More Guitars
Jon: The second step is to add bass or guitar, depending on what's missing from the initial guide track. This is typically the time when I send the guide track (with and without accompanying click track) to Lance Lee, our lead guitarist in Nashville. I just email him the WAV files using Gmail. He will typically get super high and shred some solos on top of the guide track.
Lance: One thing I love about this process is the ability to take my time and experiment with how I want to play the guitar on these songs. I always feel a tremendous amount of pressure in a traditional studio environment and it has an effect on how I play. It's super nice and luxurious to just fuck around until it feels right.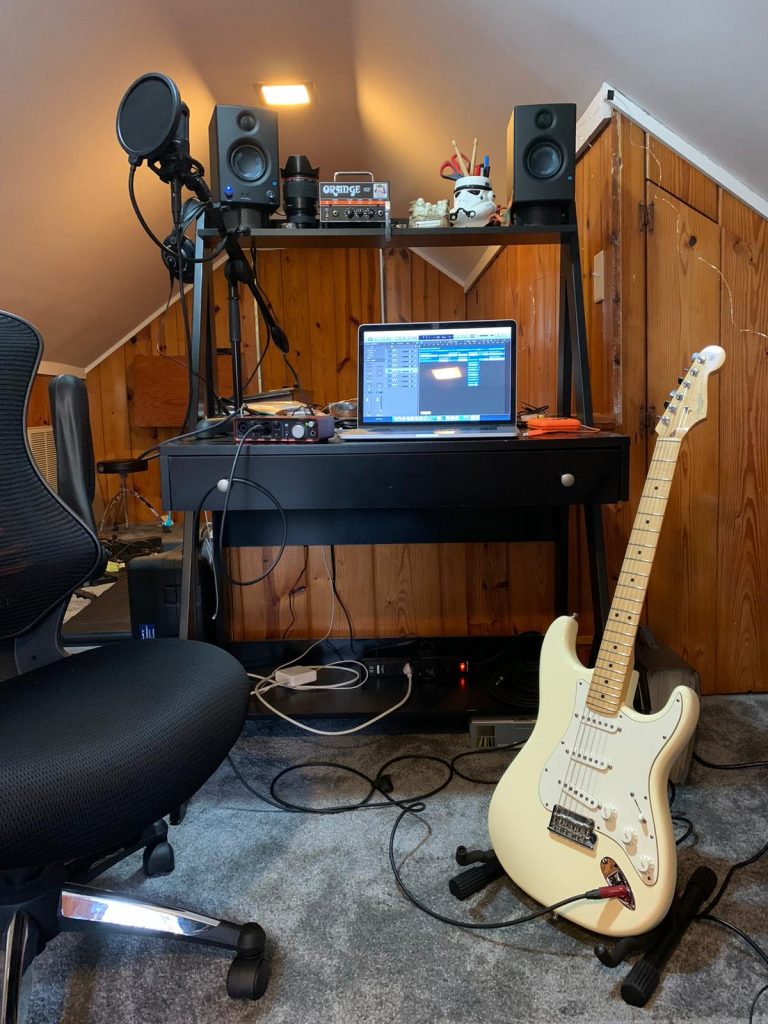 Jon: Lance usually sends me 10 or so options as stems via Google Drive. He once solo'd throughout the entire song on "Spun," soloing for a full 4 minutes and 20 seconds, just as a joke, but it was so good that I cut it up to become the extended epic outro solo at the end of the LP.
Lance: I record guitar directly into Logic Pro using a Focusrite Scarlett 2i2 USB interface. Originally I split my signal using a BOSS TU2 tuner and employed a reference amplifier for tracking, but recently I've dropped the amp all together and don't listen to any reference. Now I'm just listening to unamplified electric guitar. I figure if it sounds cool at its most basic output, I'm probably doing something right.
It's always fun to hear what comes back after Jon has processed my raw tracks in Helix Native. It seems counterintuitive to set the tone and effects after tracking, but I really like it. I think a lot of the overall tone comes from the fingers, so I really get to focus on that while tracking instead of getting bogged down with all the knob twisting.
STEP 3: Drums
Jon: Drums are the hardest thing to record at home by yourself. So instead of trying to master it to be perfect, we decided to use the simplest and cheapest approach. Glen Carlson lives in a house in Chapel Hill, so he had enough room to track this in his kid's playroom using a simple device called Spire. Using the Spire's built-in stereo microphone and one external microphone as an overhead stereo mic, Glen tracks his drums using the Glyn Johns method. Mic placement is the key factor here since there's very little we can do with the original drum tracks with just these two mics. However, all those phase issues and everything that's hard about tracking go away once you're set up and Glen can focus on nailing the performance.
Glen: Although it's a little unconventional playing drums right next to my son's train table, I think I got a little lucky with my setup. The kit is placed in a smaller former area that opens up into a larger room, so I can get a really decent sound profile. With a busy 4 year old running around and neighbors who work from home, I needed a setup that would be accessible to practice and record but also relatively quiet as well.
I use the Spire's omni mic on a bass amp setting in mono to capture the bass drum and punchier elements, while the AKG P420 is in cardioid stereo mode overhead with the bass cut filter on, aimed at the snare, getting all the attacking drum tones and cymbals.
In a traditional studio you spend half your time setting up mics, isolating and balancing tones. With the Spire I can iterate so quickly without feeling like I'm burning through expensive time. Once the ideas are dialed in, I can just focus on the music and turning in a solid performance – which is not only essential to get that "live" sound, but necessary since with the two-mic setup there's really no such thing as quantization or fixing a missed hit.
Efficiency of performance was a huge deal, for example the final tracking of "Where the Buffalo Sleep" was recorded in one take. I've found that it actually made me more attuned to the musicality, dynamics and structure of a song.
Jon: I email Glen the guide track or the track with Lance's parts incorporated. He will try a few passes of full takes and send them over to me via Google Drive.
STEP 4: Vocals
Jon: Shawn Mehrens, our singer and lyricist, also uses a Spire at home to track vocals. He uses a cheap MXL 3000 mic kit that we got on clearance, and his makeshift home studio is in his closet.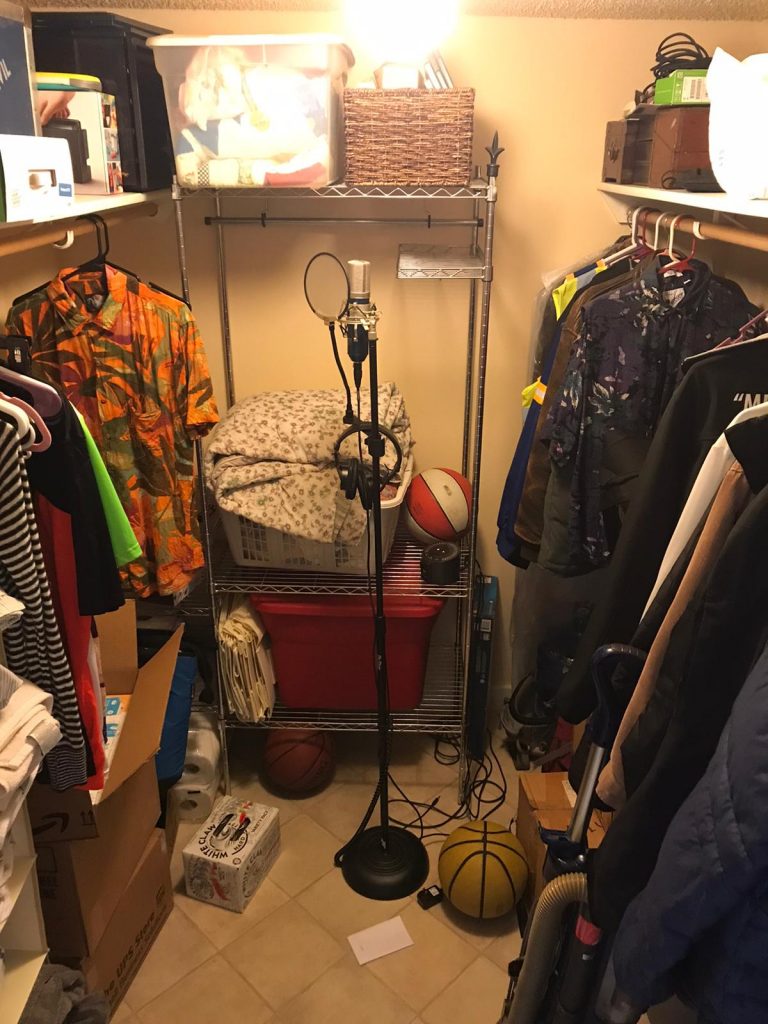 Shawn: The Spire is a gamechanger. I'm really not adept at recording anything, not the most tech savvy person. Spire's iPhone app makes it easy enough for my addled mind to record my parts and send them to Jon. And to be honest I love recording vocals in my closet, away from other people or like, an engineer. I never feel pressured, and I actually get better takes and make choices with melody or cadence that surprise me, all because I can take my time and really find the vocal melody that fits the song. No rush means no compromising on the vocals. My setup is pretty funny, it's just a closet with a comforter thumbtacked over the door to dampen the sound but mostly so my neighbors don't wonder who's hurting that cat. There's an awesome kid named Ja'Kari who lives up the street and comes over to play basketball with me in my backyard (yeah you read that right you fuckin New Yorkers and San Franciscans, in Arkansas a teacher can afford a place with a yard and a basketball hoop) and anyways one time Kari was walking past the closet and saw my "studio" setup and he was like, wow I didn't know you were a rapper.
I definitely unplug the fridge before I record, because the mic picks that sound up. I also turn off the central heater because it's loud af in my rickety, older house. The heater being off sucks in the winter because the Ozarks get cold, and when I track vocals I have to put on hella clothes and a pair of socks and shoes even though I'm just standing in my closet. Meanwhile my girlfriend is in the other room, stewing under a hundred blankets, pissed at me about the heater being turned off but generally tolerant of the music we make.
Jon: Once Shawn feels good about his takes, he sends them over to me via Google Drive along with a Google Doc of the lyrics.
STEP 5: Editing/Revisions
Jon: Now that everyone's contributions are in, I will play with song structure if need be by editing things in ProTools to be shorter or longer, and also experiment with different amp sounds and vocal effects. Once that demo is in a decent spot I'll send an MP3 reference to our group chat in Whatsapp so everyone can weigh in on any further changes that need to be made. From there, oftentimes members will decide to do one more take of their performance, based on how the song has taken shape. The final takes are usually a combination of the original demos and the new takes, depending upon the emotion of the performance (sometimes the first take is unbeatable, or we just get used to hearing it so much that it's what we all prefer).
STEP 6: Outputting Stems for Mix
Jon: My NYC apartment sits on a very busy avenue, and is probably the worst environment to mix in. Not only that, mixing is really the thing that elevates things to sound professional. So I output all the tracks as stems and send them to a mix engineer that I feel matches the style of the song we're working on. For example, Bart Thurber mixed "Where The Buffalo Sleep," a song that really benefited from his touch. You can still tell who mixed what song when listening back to the completed LP. Even with mastering gluing everything together.
STEP 7: Mastering
Jon: Mastering is the final step after mixing, and it really makes a huge difference, making things cohesive and competitively as loud as what's out in the world. Some mix engineers also master their work at the same time. A lot of our songs were mixed and mastered simultaneously by my friend Jesse Cannon (The Cure, Animal Collective, The Misfits, NOFX, The Menzingers) in Brooklyn. Zach Tuch (Touche Amore, Warm Thoughts) mastered all of the songs on our LP (and he mixed 3 songs too) in Los Angeles. Zach and I haven't even met in person before, but I feel like we've collaborated so much over the past year or so.
Sik Oheso's new LP shows what a band can make without ever being in the same room together. In our current climate of social distancing, it seems appropriate. And honestly, it sounds very good. The LP comes out May 27, but is available now via bandcamp.