NASA is a NYC staple. If you don't know the name you should. with the name usurped y so many others, he's known now as Uncommon Nasa. Why? Because there's nothing ordinary about him. He's worked with an assorted cast of characters and NY's Village Voice once called him "The Rod Serling of Underground Hip-Hop." He's worked on albums by Cannibal Ox, El-P, Open Mike Eagle, Prince Po and more. Uncommon Nasa is one of the city's best kept secret that's slowly made a name for himself, first with his studio skills, then with his group The Presence and now on his own. Uncommon Nasa's music is dense, dark, dirty, and sometimes that's all at once.  Nasa share's his Best of 2016, which isn't what you'd expect.
What Mega Ran is to video games, you're old pal Uncommon Nasa is to craft beer.  So with that said, I present to you my "Top 10 Beers That I Tried for the 1st Time in 2016" List!  Toast!
1) Apex Predator
Off Color Brewing
Chicago, IL
Drank in NYC
Saison / Farmhouse Ale
On the suggestion of the Tomorrow Kings I dipped into Off Color Brewing's selection.  One night while recording an episode of my former live radio show with Samurai Banana, Uncommon Radio Live, I took a sizer of these up to Bondfire Radio in Bushwick BK and bugged out at what I tasted.  My only 5 star check in at Untappd that I can remember from this years new tries.  A Saison that drinks a bit like an IPA.  Great color, body, taste, after taste.  And this was just from the bottle.  This is my beer of 2016.
2) Death By Coconut
Oskar Blues Brewery
Longmont, CO
Drank in Orlando, FL @ Lil Indies
Porter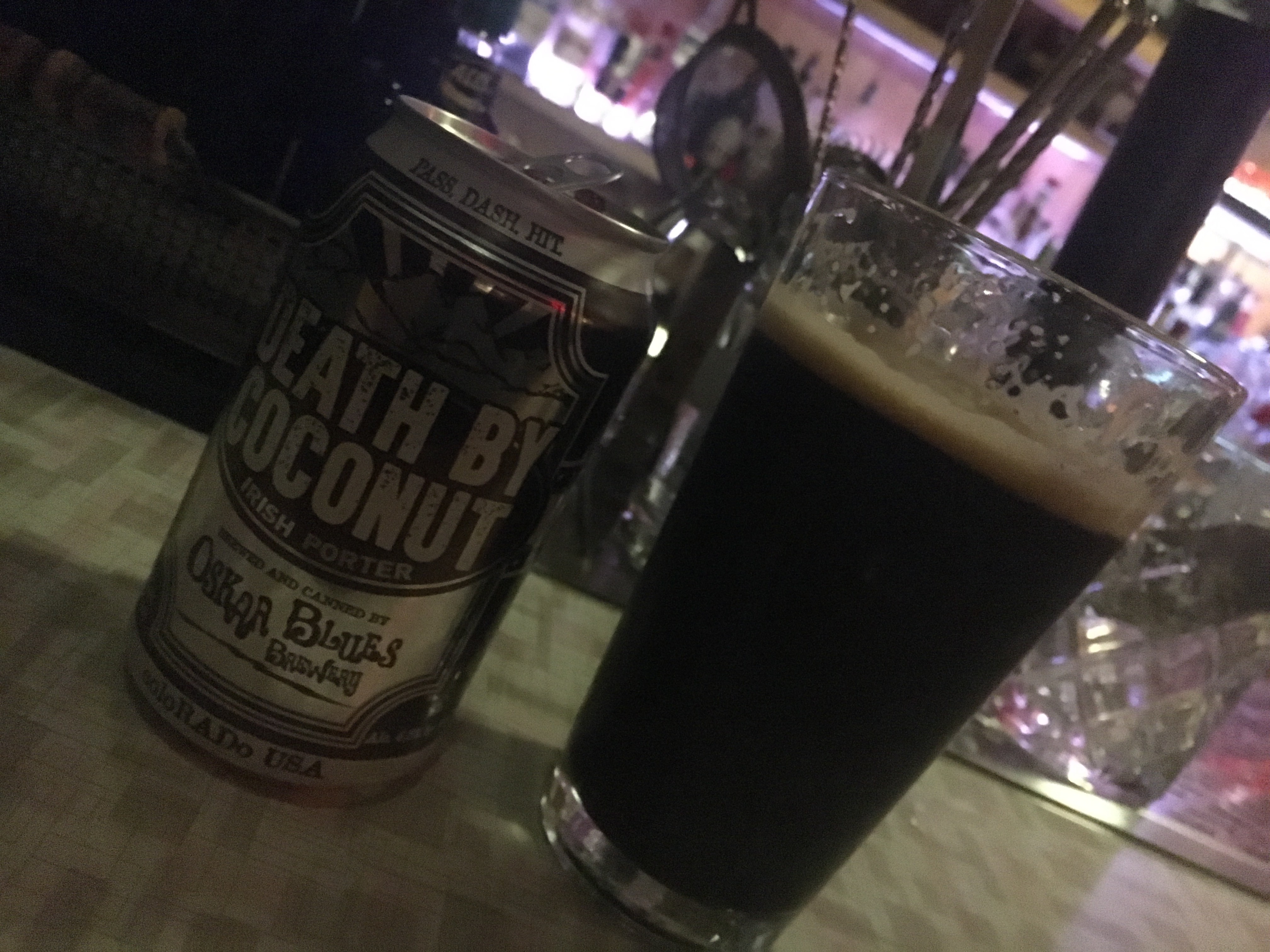 Well, I guess I'm a Porter drinker now.  I used to hate Porters, but several beers that made this list and that just missed it are Porters.  I think Coconut Porter varieties in particular are what do it for me.  After a flight to Orlando, FL with Skech185 and a prolonged effort at getting a rental car situated we finally had time to decompress.  The venue we were rocking at that night had a cocktail bar called Lil Indies next store.  Great bar, great bar tender, great selection of beer.  While Death By Coconut isn't local to Florida, it's where I came in contact with it for the first time and I'll be keeping my eyes open for this banger from Oskar Blues in 2017.
3) Pioneer Trailblazer IPA
Pioneer Beer Company
South Windsor, CT
Drank at Home
IPA – American
When Vinyl Cape was touring in the Summer I opened up my home to the band, which included Mo Niklz.  He opened up my fridge searching for a beer and noticed my Heady Topper (which I got as a gift from Karma Kids' Gruff Lion).  He insisted on splitting one with me since he never had the fabled beer.  Good times were then had and when Mo Niklz came back to town to DJ during Yule Prog 10 he brought me this is a gift.  A can of Pioneer Trailblazer IPA.  Honestly, I'd never heard of it and the design on the can was pretty terrible, but what's inside is golden – literally.
4) Culebra Cut Coconut Brown
Taft's Ale House
Cincinnati, OH
Drank in Cincy at The Comet
Brown Ale – American
In all places to find good beer….Cincinnati.  While I was on tour with Carl Kavorkian in September we had an off night where I dragged him to see my Mets demolish the awful Reds in their Little League sized ballpark, but afterwards we stopped by the Comet which was nearby where we were staying.  While we didn't play there, their beer selection was great.  It was almost like being at a tasting because everything I had was on point.  I wanted to dive inside of this one from Taft's Ale House called Culebra Cut Coconut Brown.  It's a Brown Ale that borders into Porter territory, but it was an awesome surprise.
5a & 5b) Grapefruit and Habanero Sculpin
Ballast Point Brewing & Spirits
San Diego, CA
Drank at Kava Lounge in San Diego, CA (and that at home…a lot)
IPA / Spiced / Herb Beer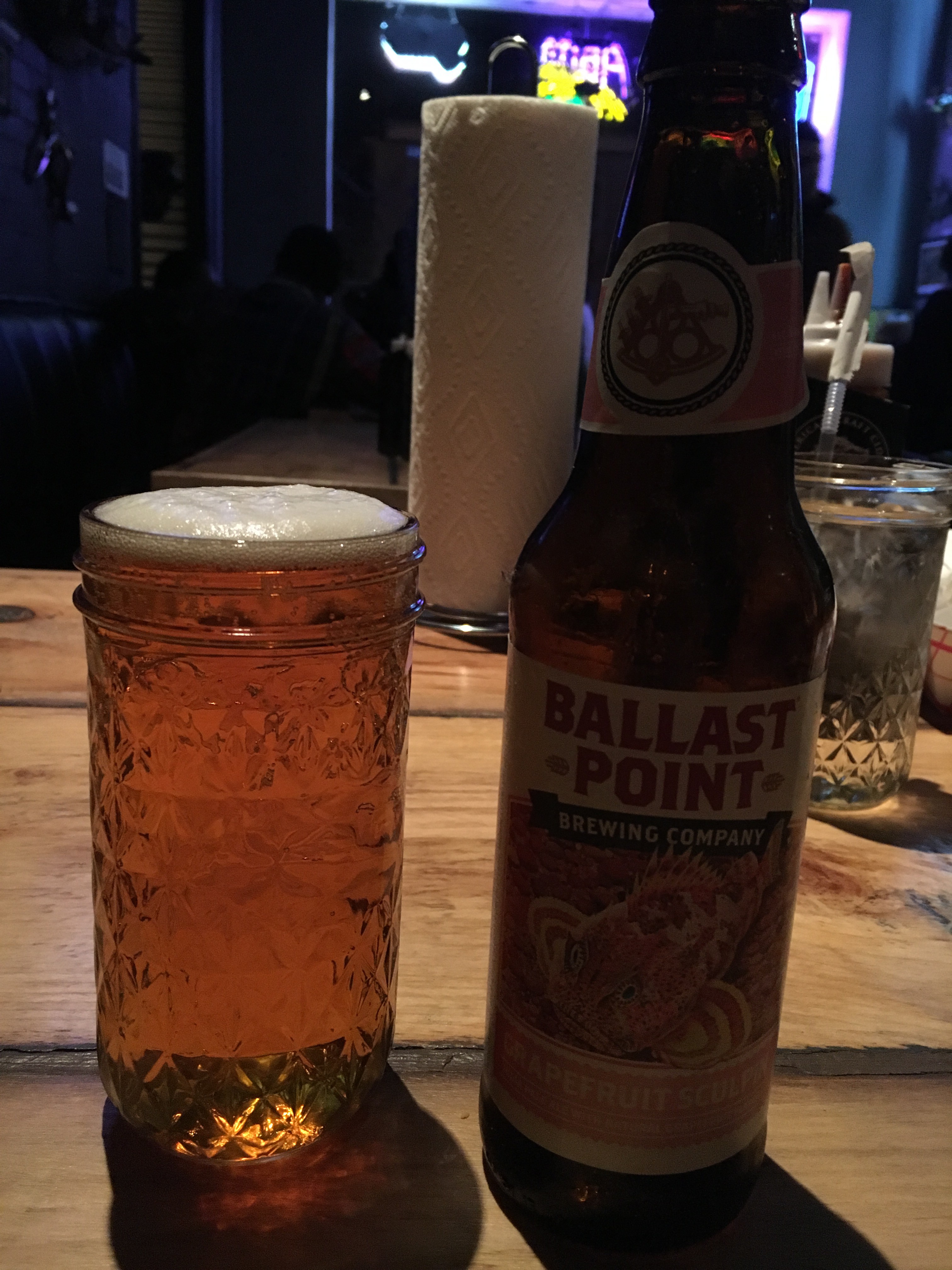 On my West Coast tour with Gajah I tried Grapefruit Sculpin for the first time.  Little did I know that this Ballast Point product was actually pretty widely distributed on the East Coast as well.  It's a staple beer that you can add to your fridge at any time and be happy with.  To be able to travel across the country and come back with something like that is pretty remarkable.  Later I tried the Habanero version and wow, never had anything like it.  It's not something you can drink as freely as the Grapefruit version, but for a neat party trick give it a try.  It really does taste like Habanero, which I'd imagine from a brewing perspective is super hard to pull off.
6) WW1 IPA
Jonas Bronck Beer Company
Bronx, NY
Drank at Harlem Public
IPA – American
After a very long day of shooting the "Time and Space" video in Harlem with Short Fuze, Duncecap and Baker, me and Fuze sat down for some cold ones at Harlem Public.  I tried a local beer that I hadn't heard of even being from NY called the WW1 IPA.  I like IPA's, but I've had many of them.  While in most cases it's hard for me to find one that's not drinkable, it's also equally as hard to find one that's new that stands out to me.  This one did and that says a lot about it.  If you get North of Central Park any time soon keep an eye out for Jonas Bronck and his crew pumping out WW1's.
7) Le Mellifera
Le Trou du Diable
Shawinigan, QC
Drank at Home
Saison / Farmhouse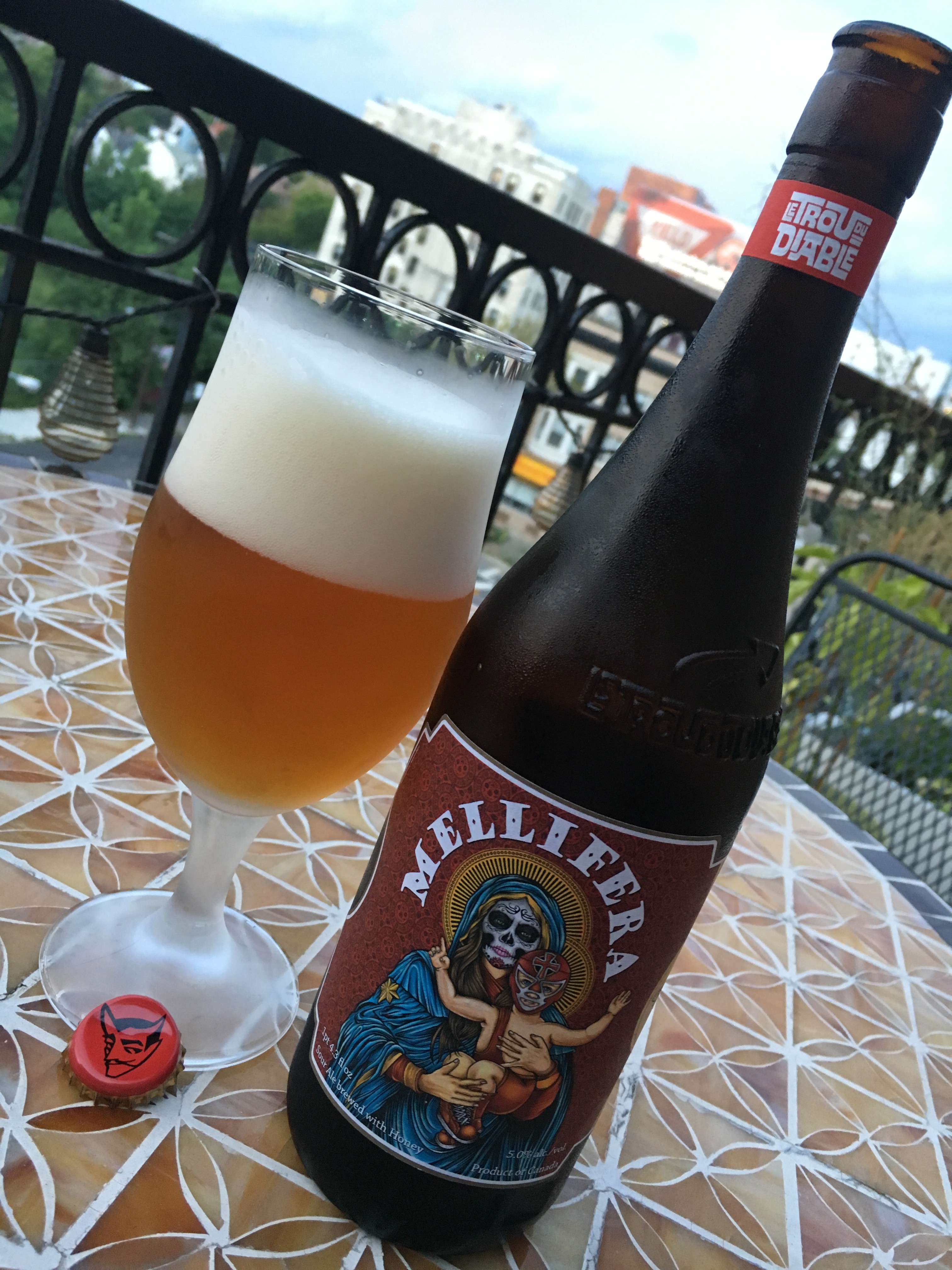 After a non-rap vacation to Montreal with my wife I brought back lots of goodies.  Montreal is super slept on in the states as a key beer city.  Most beer in Montreal has a heavy Belgian influence which is just fine by me.  Le Trou Du Diable is one of the best breweries up there and one of my many bottles that I got back across the border via Amtrak was this.  I've been feeling the Saison craze this year and this one was the definition of solid, and this artwork!  Some of the best I've seen on a beer bottle or can.
8) I AM TABLE IPA!
Kent Falls Brewing Company
Kent, CT
Drank at Craft House in Staten Island, NY
IPA – American
What a name, huh?  I had this at the 2nd Anniversary party for my local haunt, Craft House.  This was a tasting sized serving, but I had a few of this one in particular.  The opposite of Off Color's Apex Predator (my #1 of the year) which was a Saison that drank like an IPA, I AM A TABLE IPA! sort of drinks a bit like a Saison.  The taste was a bit beyond description because I couldn't nail down key ingredients (not that I'm great at doing that anyway).  All I do know was, I liked what I had and I'd like a chance to figure it out some more.
9) Crossfade
Oxbow Brewing Company
Newcastle, ME
Drank at Home
Saison / Farmhouse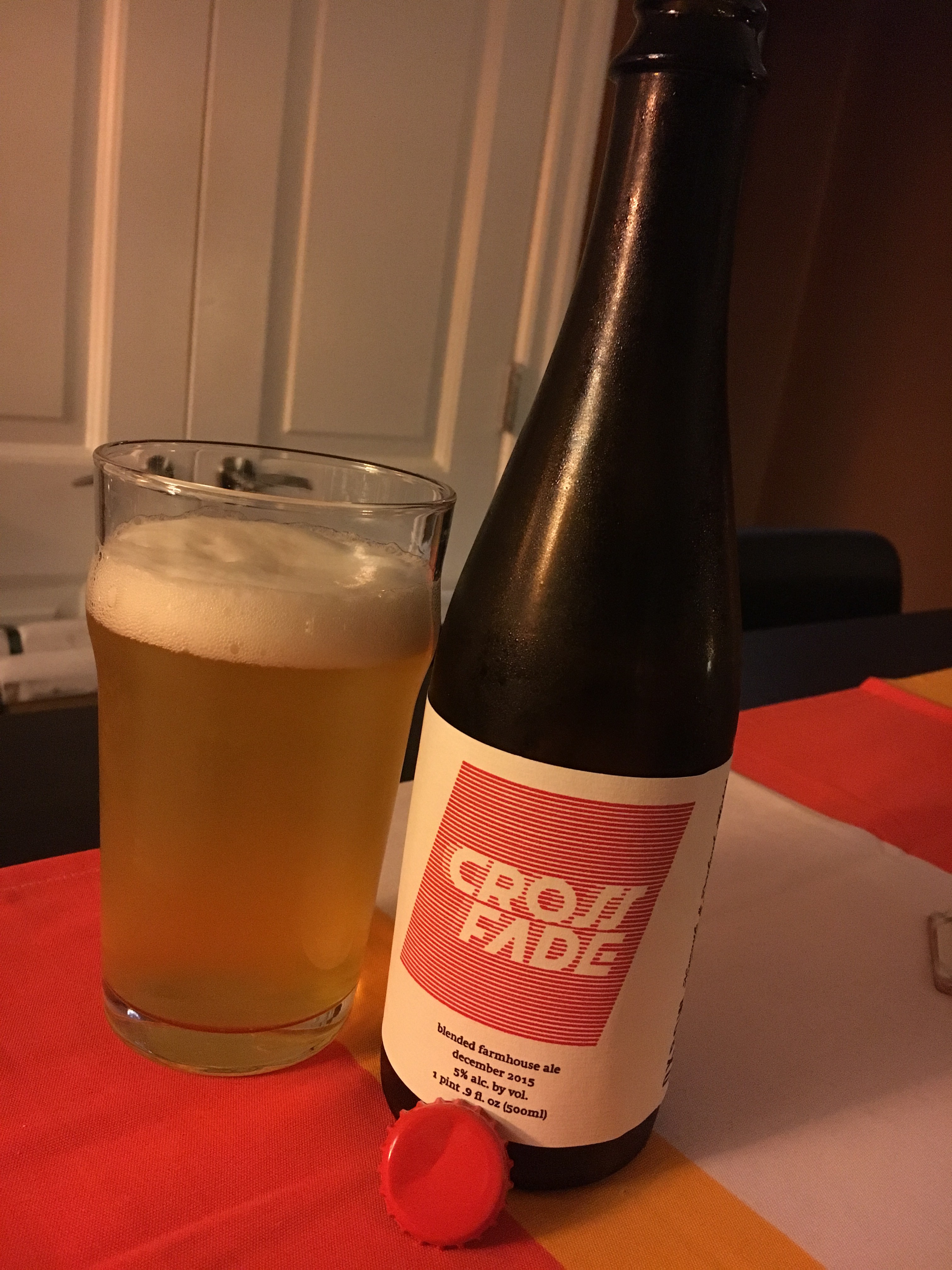 Somehow I found time for two trips with my wife this year (Montreal was 2015, but let's just count it since I didn't crack those Canadian bottles til this year).  On a trip visiting the homie Brzowski I grabbed a few take home bottles in Portland, Maine as well.  One of those was Crossfade.  A crispy Saison with a crispy 80's retro label, I'm glad this was one of my pics from that beer store.
10) GWAR BLOOD
Strangeways Brewing
Richmond, VA
Drank in Richmond, VA at Strange Matter
Red Ale
While my time in Richmond mostly sucked (just being honest, bring me back and show me a better time then), I did get to try some good beers at the venue we played at.  GWAR BLOOD was the best of them.  It had a roasted after taste with good hoppiness for a Red Ale.  And a name that was hard to beat.

Uncommon Nasa: