I've been procrastinating, and the fact that the Afghan Whigs dropped that single "Demon In Profile" didn't help my current situation. Instead of listening to the slew of albums in front of me I kept hitting that repeat button again and again. I kept questioning, "Is this album going to be better than the last? I hope so. Please don't let it suck. Where are my old albums? Oh, I remember now. No, they're not there. Where are they???" seemed to be the scenarios popping through my head this week. I get distracted, as I constantly do when I'm writing, but I finally change the subject and move on to something else. ADD? Squirrel! But again, I digress.
This week we see the release of multiple artists that have both caused irreparable damage to my senses and have massaged them. First on my plate, Thee Oh Sees John Dwyer returns with his third album under the Damaged Bug moniker Bunker Funk. (Castle Face Records) Initial thoughts as soon as the album begins: one bizarre excursion. Dwyer's main gig as a member of Thee Oh Sees gives him a finite sense of mobility, constricted as being a quarter of a whole. With Damaged Bug, Dwyer is free, unrestricted and bound only by the limits of his imagination. And as Bunker Funk attests, he's fallen down the rabbit hole on multiple occasions. The album's "funk" isn't lost here, as "Bog Dash," the lead single opens things up with loads of dissonance in the background while Dwyer flagrantly attacks instruments with an unabashed fervor.  The rhythmic thrust is captivating and the broken guitar work adds a savory hint of spice to it. Did you hear that right? That's what you'll be questioning once the track ends, hitting that repeat button before moving on to what follows. With Damaged Bug Dwyer plays with repetition, sometimes letting the monotony set in, like on "Slay The Priest," with rhythm played over and over, with additional instruments breaking up that uniformity for more than half the song before Dwyer bellows, "I've seen a rising sun…" changing the song into something altogether different. He's not opposed to creating creepy soundscapes with propelled rhythms, that's obvious enough with "Rick's Jummy." Keyboards hum over that same drum pattern and while it may be odd and sinister, it doesn't make it any less addictive.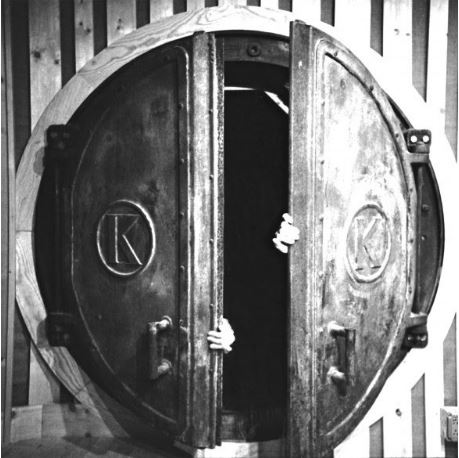 So it's obvious Damaged Bug is about repetition, but it's also more than that. Dwyer takes other instruments to completely obliterate what we all believe music should sound like. "No One Notice The Fly" starts off harmless enough, tossing around that jazzy beat, adding all the additional instruments to his recipe to create something…flavorful. Are those wind instruments playing against keyboards or keyboards made to sound like wind instruments? It's trippy. For Damaged Bugs' Bunker Funk, Dwyer has created an interesting wall of sound that seems to never end. Is Bunker Funk music that's going to change the world? No, but it just might change your perspective on how you view it. That's not a bad place to start.
This leaves me now with just one other another release this week. Yes, I've only book-ended with two albums although there were an originally planned 5 of them. It happens. But next on the radar is a Missouri band that has been working incessantly, releasing albums, touring, releasing more albums….and for the most part have been well accepted through a number of outlets. At first I wasn't sure of the Ha Ha Tonka Heart-Shaped Mountain (Bloodshot Records) release but if there's an album that grows on you it's this one. And it does so quickly. The group's Americana/Country sound differs from the band's contemporaries. With this release it's almost as if you can picture in your mind the fire that burns with these musicians. "Race To The Bottom" is the first track that slowly builds from loud to louder as the song progresses. Lead singer Brian Roberts' eased delivery makes you want to pay attention from beginning to end as you sing along with the chorus. But it just seems to get better from that point on. When Roberts begins "Everything" there's a sense of calm and when the rest of the band follows him in, you're kept in that same mind space. It's a sweet song about love, but without being overly saturated with too much sugary sweetness. It's simply beautiful. There's so much that goes on Heart-Shaped Mountain and it isn't difficult pointing out everything that works to the group's benefit, like the anthemic chorus on "All With You." I'd be surprised if one didn't sing along when "I want to see it all…all with you" hits. But it's when you get to "Going The Way" where there's mention of a "heart-shaped mountain" on this country jam. The imagery Roberts casts with his words is beautifully played. I haven't gotten to the best part of the album yet though.

That same wordplay that's done so well can be heard on "Height Of My Fears," along with its thrusting rhythm. The imagery is beautiful, wrapped in metaphors like "Canyons carved out by rivers of tears / Mountains rise up to the height of my fears." Could it get any better? Yes it can. As soon as  "Land Beyond" begins, there's no disguising what it is. The ban covers/reworks Asa Brooks Everett's old Gospel song, turning it into one beast of a song that's sure to have every church feeling the presence of the Holy Ghost.  The band jams here and rips right through it. But(!) it's "Arkansas" that gets my full attention every time I hear it. This one can get the party started, feeling carefree, and when Roberts sings "You know we broke every law in Arkansas / I don't know why but we got away with it all" there's a feeling of abandon, no worries, just freedom. I just can't seem to express how great this album is.
Heart-Shaped Mountain
is the band's 5th album but it sounds like the band is just getting started. I can only assume they have a lot more tricks up their sleeves.

Damaged Bug: Facebook / Twitter / Instagram
Ha Ha Tonka: Facebook / Twitter / Instagram