By David C. Obenour
It's the 21st century. Being a nerd is cool and we're all in a perpetual stage of adolescence… so you know what that means!? Wrrrrrrrrrrrrrestling is back! As noted in our review of Gen Con from this year we were treated to not one, but two amazing wrestling board games. The first one we'll be taking a closer look at is Gale Force Nine's WWE Superstar Showdown. Ring the bell!

WWE SUPERSTAR SHOWDOWN (Gale Force Nine)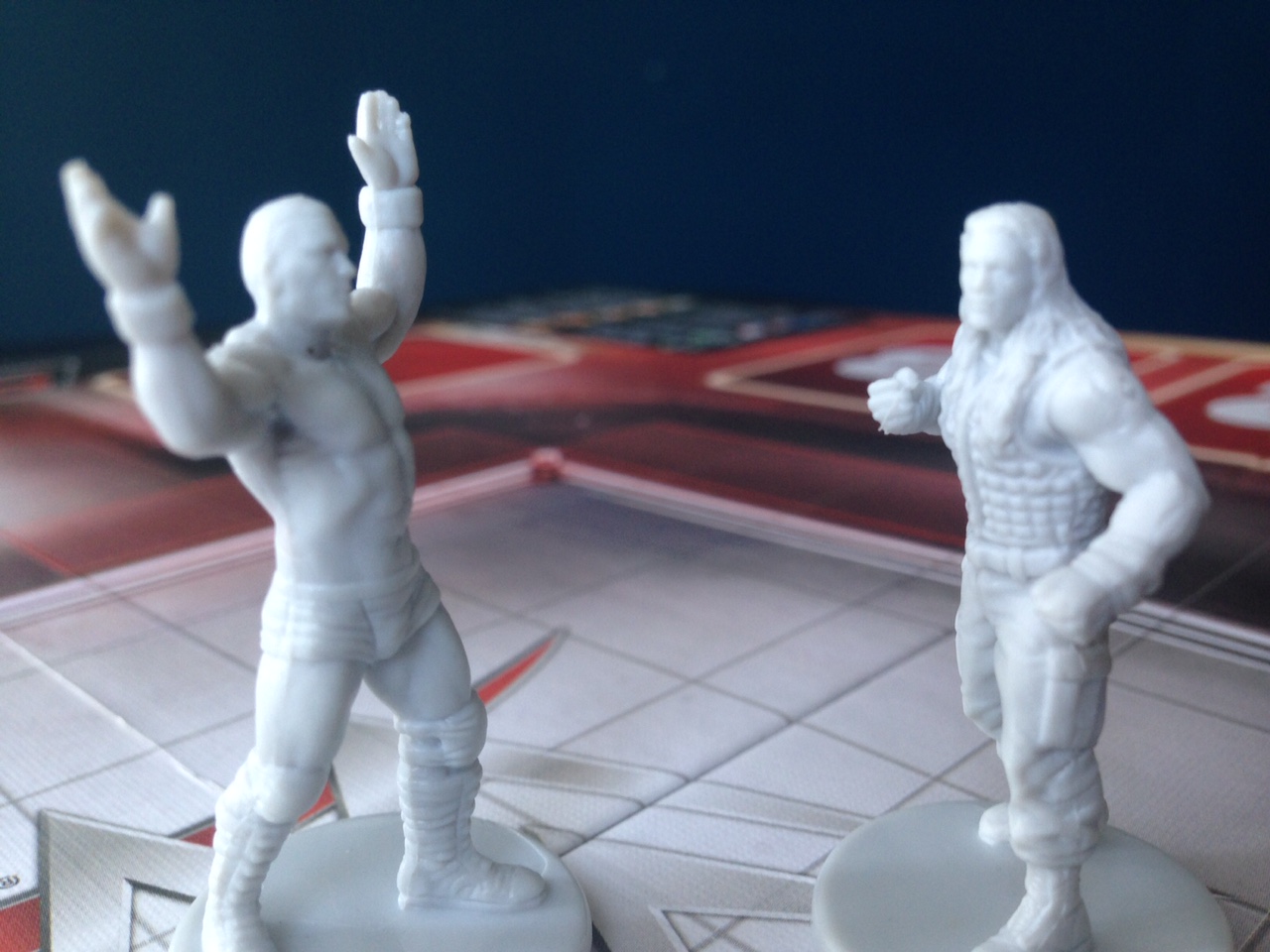 For the cost of just more than five months of "the network" (I'll let you do the math), you can conduct your own night of sports entertainment from the comfort of your own home with WWE: Superstar Showdown.
Now, if a licensed WWE game has you suspicious of a dolled up cash grab for easy marks, you weren't alone. Gale Force Nine has a solid track record though, with well-designed games based off of Sons of Anarchy, Spartacus and Firefly and lucky for us, Superstar Showdown is yet another great adaptation.
Which isn't to say the game isn't dolled up! The miniatures for Daniel Bryan, Roman Reigns, John Cena, Big Show, Randy Orton and Big E are very nicely sculpted. Sure, armchair wrestling fans and game-designers will question who more deserved to be immortalized in game form. No Seth Rollins? No Dean Ambrose? But you're going to include Big E? Maybe I should just be happy they didn't shove Ryback down our throat like they seem hell bent on doing every RAW.
As for the game itself, after picking your superstar (Vince was very clear that they are superstars and not wrestlers), each player gets a deck of cards tailored to their particular strengths. From that, a hand of six cards is drawn and you're ready to play! Each turn is divided into three rounds where players simultaneously reveal the cards that make up their in-ring actions. Cards battle out with a simple rock, paper, scissor (along with a grenade – the slam card) mechanic and the winning card grants its superstar the action listed on its bottom. This gameplay lets you Superman Punch, RKO and Attitude Adjustment your way to a knock-out or pin in about 40 fun-filled minutes.


Advanced rules allow for match stipulations (hardcore, last man standing, etc), different types of matches (tag team, gauntlet, etc) and even for multi-match events, where ranking points are earned from a number of matches to determine the winner. If that isn't enough to excite you there are also already rumblings of expansions, including new wrestlers in a Legends release and a foreign objects release with chairs and hopefully, "DEVON, GET THE TABLES!" too.
Part Two will be coming soon, featuring Backspindle Games' Luchador!.