It's hard to imagine a time and a place where a gigantic Settlers of Catan banner would make sense. If you know what Settlers of Catan is – a great board game that for many of us, helped more broadly define its medium beyond just Monopoly and Risk – you might share my conundrum about such a promotional item. If you know what Settlers of Catan is and you don't find that hard to imagine at all – you've obviously been to Gen Con before.
Hosting over 30,000 gamers for 4 days in downtown Indianapolis (rumors circulated about even higher attendance for this year), Gen Con is a beast all of it's own. The internationally recognized convention isn't solely limited to the enormous Indiana Convention Center either – spilling out into the streets, surrounding hotels and local businesses. Focusing the many incarnations of gaming – board and card gaming, role playing, miniatures and more – if any of this interests you, then the price of entry is well worth what you're about to experience. If you've got a freak flag, well then baby, feel free to let that sucker fly this weekend!
Credentialed and anxiously awaiting the trip was Ghettoblaster editor, David C. Obenour (yours truly), his beautiful wife and Ghettoblaster designer, Tracey, along with Ghettoblaster contributors Kris Poland and Adam Talicska plus a few other friendly nerds – great times, here we come!
Friday, August 5
Deciding later in the scheme of things then most others that we'd be attending this year, most hotels in and near downtown were already booked far in advance. Being cheap and resourceful we were able to cram nine of us into a three-bedroom house that we found on Craigslist. It was a kind of sketchy feeling neighborhood, and the house looked pretty damn dilapidated from the outside, but the inside was surprisingly nice and clean (explaining what was and wasn't pictured online) – and really, we just needed a place to crash after nerding out all day anyway.
So with all our stuff dropped off at the house, away we went! Despite numerous horror stories of impossibly long waits in line, the people in our party who did need to pick up will-call tickets did so fairly easily. The wife and me had comps, so… yeah, we were fine.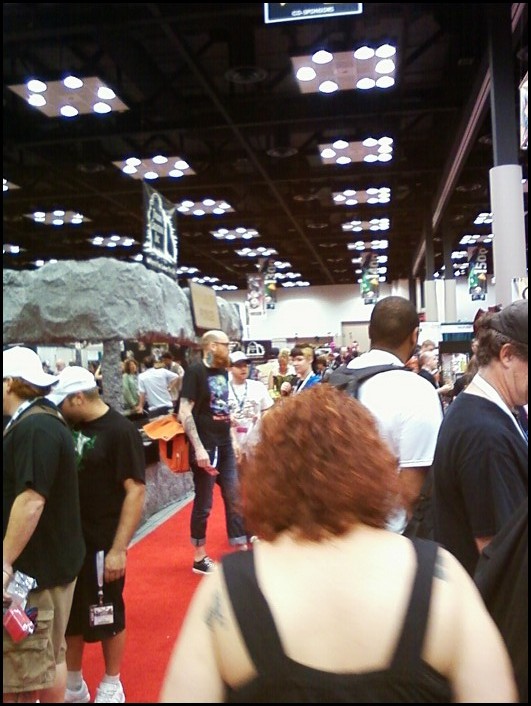 The first thing that strikes you about Gen Con is just how impossibly large it is. No matter how long you stay or how much you've prepared, you're just going to scratch the surface. The program guide for Gen Con is larger than most cities yellow pages and please note, this is not an exaggeration, but a fact. As I mentioned before, the event's aren't limited to just the recently expanded convention center, but a number of surrounding hotels as well.
Taking advantage of our weekday attendance, Gen Con veteran Adam (who served as our convention sherpa) recommended hitting up the vendors hall thinking that it might be a little less crowded then Saturday. I really can't tell you how large the hall was, but I can tell you that despite the fact that I gave no more than a cursory glance at all of the role-playing, cards and miniature booths (I'm more of a strict board game man myself) we walked through the hall from around 1 pm through 6 pm when it closed and just were able to see it all. Enjoying discounted prices and talking with designers about their games, one of the greatest things then and throughout the weekend was people-watching – what's a nerdy convention without cosplay? I did mention freak flags, didn't I?


Venturing outside of the convention's confines for dinner, we ran across Indianapolis' craft brewers (another nerdy following of mine), RAM. Partnering with miniatures and role-playing company, Privateer Press, RAM went all out – screening classic films like Star Wars and Blade Runner, hanging numerous banners of epic fantasy struggles, crafting a special brew just for Privateer Press and renaming their entire food menu to to reflect the company's imaginative creations. I can't remember the exact name of the burger I got, but it had peanut butter on it. HELL. YES.
Today's Purchases
Bison: Thunder on the Prairie
Designer's description: "Before the arrival of the white man, the area now known as Idaho was home to the Nez Perce. Living off nature's bounty, these brave hunters would follow the great herds of bison, gathering supplies to survive the brutal winters… In Bison, you become the leader of a band of brave hunters, setting forth to lay claim to the most plentiful hunting grounds."


Why I bought it: MayFair Games makes a number of great, award-winning games, including the earlier mentioned Settlers of Catan. Like Settlers, Bison features a game board that's different each time you play it – something I've found to be great for repeated plays. It was also just $7, so why not!?
Cthulu Gloom
Designer's description: In Cthulhu Gloom, you control a group of Lovecraftian protagonists and guide them down a path of horror and madness to an untimely death, while keeping your opponents happy, healthy, and annoyingly alive.


Why I bought it: $25 is a steep price-tag for a card game, but this is a really beautiful game. The art is very Edward Gorey-esque (or so says my art-majored wifey) and it's printed on plastic see-thru cards to work with the game-play of playing unfortunate incident upon unfortunate incident, before eventually off-ing the unlucky sucker.