Having nearly 20 years of experience at music festivals can be a good thing. From working at to raging at any of the countless multi-day festivals I've been at over the years, the one thing I've learned is to take things as they come.
With the completely over-packed schedule of events at the 10th Annual Bonnaroo Music & Arts Festival, I find this mantra useful in moments where there are 13 stages offering sonic entertainment at any one time, over 200 vendor booths to visit and shop at, over 1,200 performing artists moseying around the festival grounds, and not to mention the mass of sweaty, youthful co-eds wearing as little clothing as possible to avoid trapping in the steaming Tennessee near-summer heat. Without even trying, if you just stand still at Bonnaroo, you're missing something.
So on festival weekends like this — particularly at Bonnaroo — there is always that catalyst to keep moving: do more, see more, capture more, walk further, stay longer, drink this, pardon me, excuse me, sorry I stepped on your toe as I ran my way past you in the endless crowd. It. Never. Ends.
Now to the exciting part of the first full day at Bonnaroo – Friday!

Arriving: a bit of production perspective
This is an image from backstage. The ocean of RVs are for production staff and crew who stay on site building the venue for weeks in advance. In the far distance in this photo, beyond the trees, is the What Stage, the largest of Bonnaroo's dozen-plus stages. Later that night we'd catch My Morning Jacket and Arcade Fire on that stage. It is monstrous and at least 100 feet tall.
Ghettoblaster just happened to stumble in to the Bonnaroo press tent at the exact right time! Noticing the slight buzz around the tent, I popped my head in and heard "Well, let's get started." This turned out to be the first official press conference of the weekend!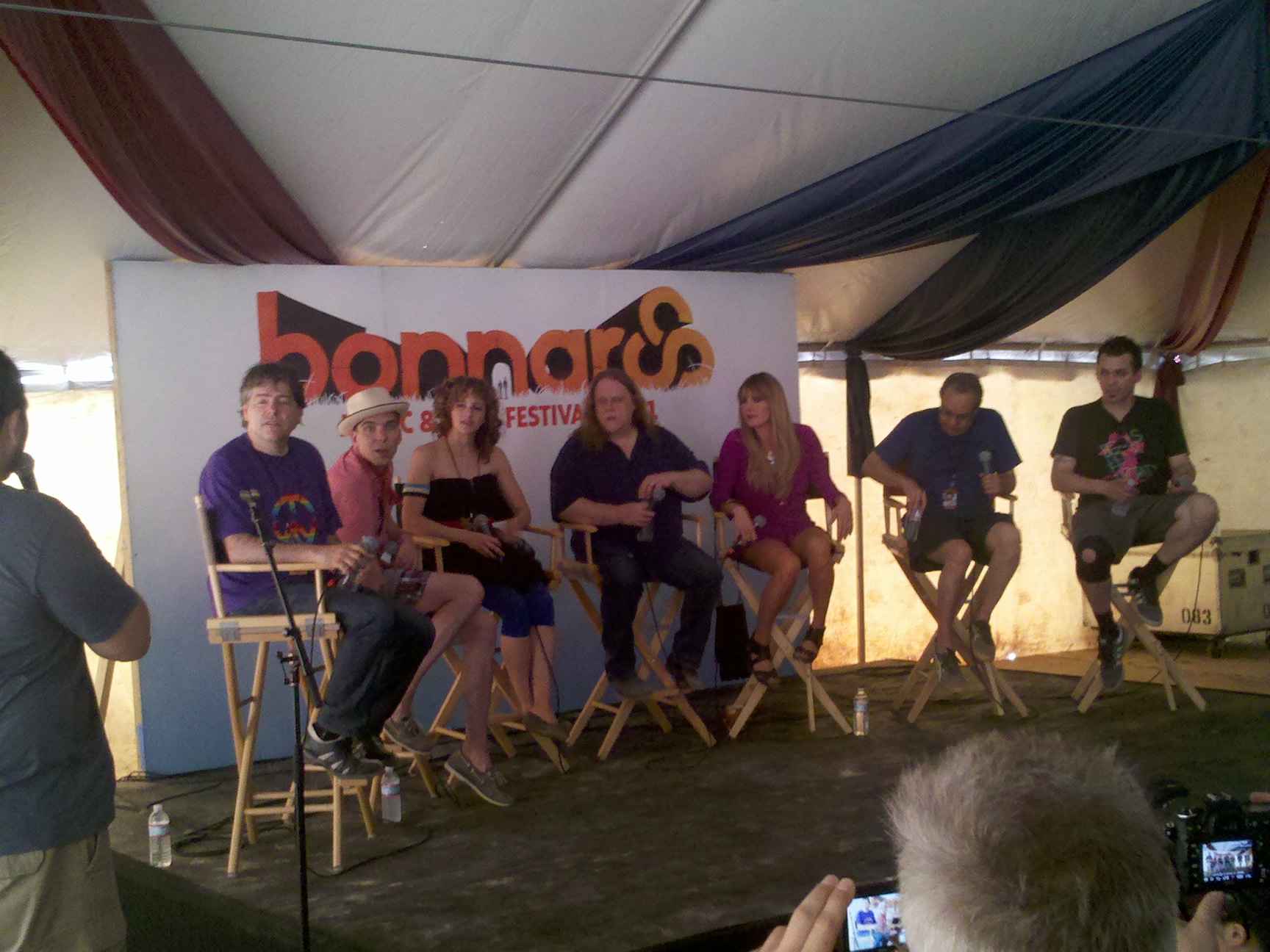 Amazing timing on our part to catch it and stay throughout the 20-plus minute Q&A with some deep insight from artists such as banjoist Bela Fleck, singer/songwriter Justin Townes Earle, Americana banjoist/vocalist/bandleader Abagail Washburn, guitar maven Warren Haynes, pop soulstress diva-to-be Grace Potter, Chief Prestidigitator Lewis Black, and Slug from Atmosphere. A pretty diverse panel and they covered a lot of ground. Mostly just praising Bonnaroo, the diversity of the fans, the openness and eagerness of folks at this event to check out new music and hear and discover things they hadn't. All had deep felt emotions about past experiences, all echoed by witty snap points from Lewis Black, who Ghettoblaster got to meet and speak with for a moment post-conference. He really is a gem of a guy. We tweeted some of the panel's quotes in realtime, but at this point I can't recall specifics.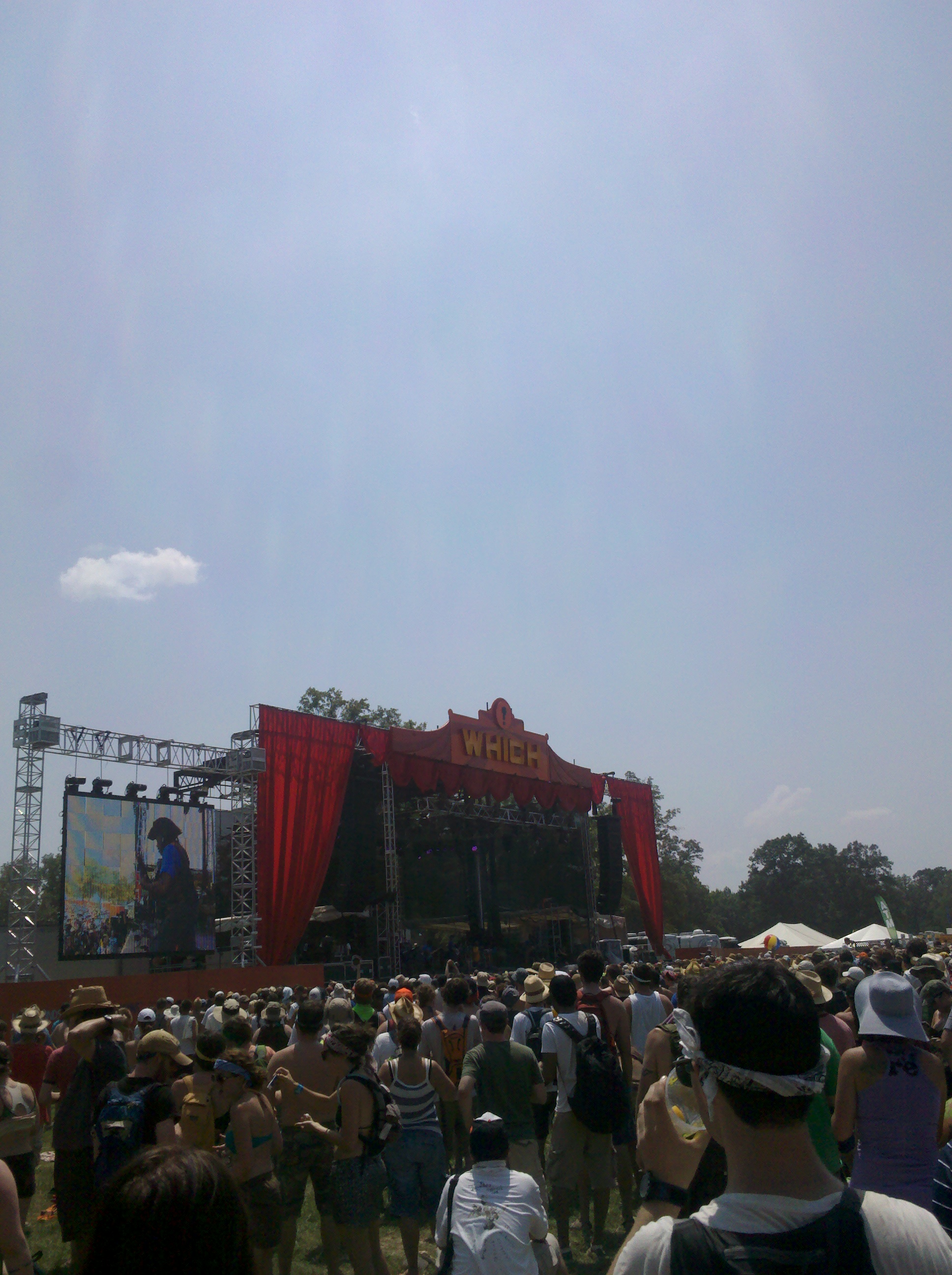 Bela Fleck & The Flecktones
This is a version of the reunited original Flecktones lineup with founder member Howard Levy on piano and harmonica. For most people, they might not know of the original lineup, not care, or even see what the point is: what was wrong with the current lineup of the Flecktones? This hybrid of jazz-fusion-bluegrass-composed-funky instrumental bliss got its start in the late 80s by banjo pioneer Bela Fleck. The group kept pushing the envelope more and more and Levy got sick of the road and quit the band after a handful of years. Don't forget the fact that he is one of the only harmonica players (as far as I know) who can push out an entire chromatic scale on a harmonica. (meaning, he can play every note on the scale, even if the harmonica doesn't have that note as a part of the instrument. Just trust me that this is cool and we'll move on, okay?). Their set was in the brutal 2 pm heat on Friday but they crushed it. For over an hour and a half 15,000 fans barely swayed to the syncopated time signatures, offbeat polyrhythms coming from the drum kit that isn't even a drum kit: it's a drumitar!

Greensky Bluegrass
The band from Kalamazoo was one of the festival's harder-working groups, performing three stage slots over one, 24-hour period. This shot is from their second show, at the Sonic Stage, again in the brutal 3 pm midday, sun-above-you-and-will-crush-your-head-with-its-rays intensity. The band tore through a short 30-minute slot taking no prisoners. Their mix of traditional bluegrass skills and melodies peppered with electronic effects like wah-wah on the dobro and echoey/trancy acoustic guitar has a rootsy finish that is both genuine and unique and brought their fans some joy and smiles in the midday Tennessee heat.

Matt & Kim
Imagine this: some of the over 120 artists at this festival are artists I don't know about! So tie my feet and call me hogwash, but I'll admit to not knowing jack shit about many bands. This imperative quest for knowledge and experience led me over to This Tent for the last 20 minutes of Matt & Kim's set of pulsing electronica with Kim's plea to the ladies to "just take those tops off!" Not too many in the crowd around me took off said bikinis, but I wasn't able to see much beyond where I was standing. You can sense the throbbing oversupply of humanity here. But no, you don't. You are looking at the photo from a computer screen, without the 98% humidity, sweat pouring over your eyebrows and your shirt sticking to every part of your body in the sweltering Dixieland doozie of a hot-as-fuck day. But Matt & Kim pleased the audience surrounding their set as hunger set in with this guy.

Local Food Truck #1: Gastropod of Miami, Florida
Bonnaroo has all sorts of amazing cards up its sleeve. So this year, they are capitalizing on the heavy interest towards local, designer cuisine by bringing in unique regional samplings from the Southeast's best mobile food trucks. There are over half a dozen of these within Centeroo and I hope to try at least half of them, if not all. Today, after much debating, waiting and line-length-to-food-delivery-calculus, I tried out Gastropod: a Windstream trailer converted into a high volume kitchen. I got the pulled pork with Stupid Slaw that was made with vinegar instead of mayonnaise along with their hand cut kettle chips fried in pork grease. Let's just say they did very well. I had to remember to stop and take a photo after one bite because it was so damn good. Did I mention greasy? I wonder what'll be in my belly on Saturday!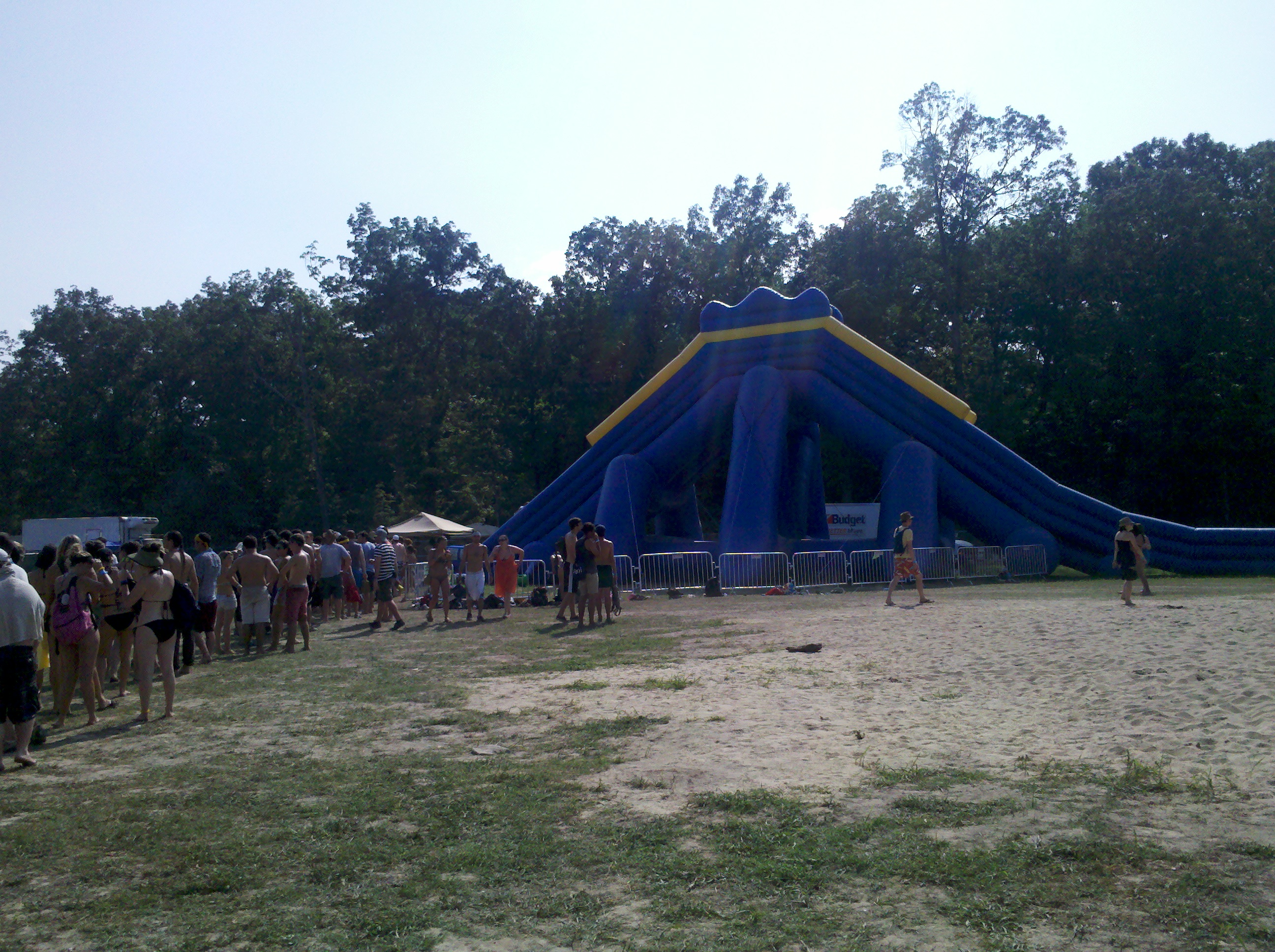 Bonnaroo Waterslide
Yep. Just when you thought the heat couldn't get any worse, you can wait on line some more! But this time, the reward isn't draining your main vain in an overheated, overfull port-o-john; the reward is jumping onto an inflatable raft with a hose at the top and ending four seconds later at the bottom of the inflatable raft with a hose. Fun stuff! I spectated only. (I hate to queue.)

Abigail Washburn
My new heartthrob. I have a new hero and she is Abigail Washburn. Her delicate, frailing banjo style and her whisper-with-the-wind type voice makes me think of a sorority girl version of Alison Krauss. Abigail's band wove tightly behind her lead, and in case you haven't been paying attention, most bands do not have a banjo as the lead (although, would you be surprised if I told you Washburn is married to the Jimi Hendrix of the banjo, Bela Fleck?). I stayed for only a few songs due to the intense heat and grease from Gastropod on my fingers. I found the unplugged, unplanned backstage jam from Thursday night just as enriching as their full PA-blown set. I am definitely going to check out more of her music. It has a progressive Americana sound with deep orchestration and layered melodies.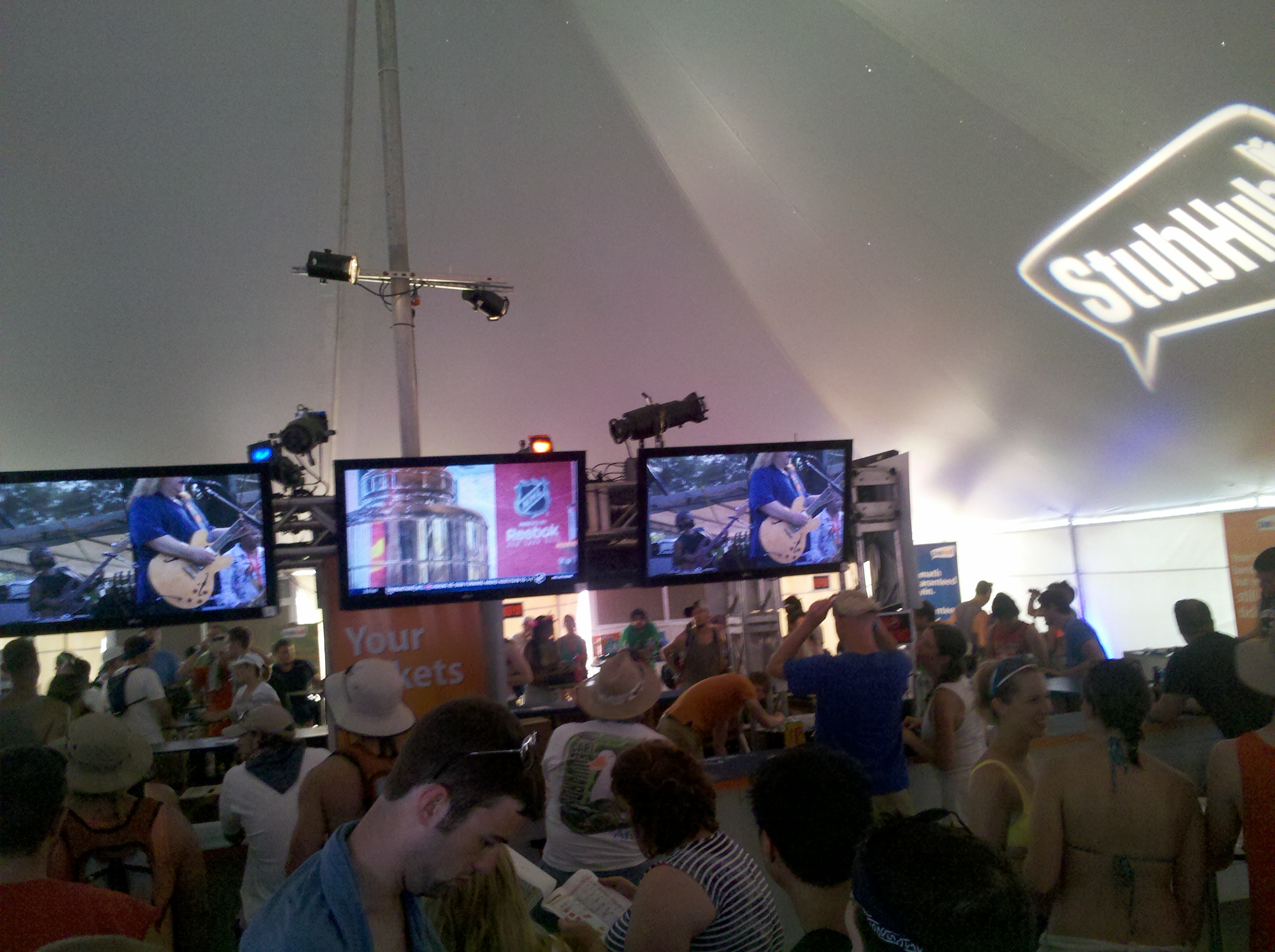 Bonnaroo Random Sight #78: The Air Conditioned Bar Sponsored by StubHub
What better way to thank all the fans who use the consumer price-gouging, secondary-ticketing market provider StubHub.com than with an air-conditioned tent with full bar, ping pong, TVs streaming sports and other mindnumbing bar games like mini-basketball. Perhaps it was a dividend to the invisible shareholders in the business of providing service for simple experience at a super high margin.
The heat was oppressive and thanks to this tent, for at least a few moments, it was kept at bay. Also, it was quite neat to see the show happening 1,200 feet from us on the Which Stage (Warren Haynes Band at the time) on multiple HD video screens above the bar. A little too modern of a concert convenience for me. Remember those days when seeing a band meant actually going to a concert? It was a nice respite from the heat, despite the fact that (ahem!), yes, you had to wait in a line to get in the fucker. I stepped in and stumbled through some backdoor without a queue, but I regressed out of this chilled corporate steamed hellhole faster than you could say "scalper."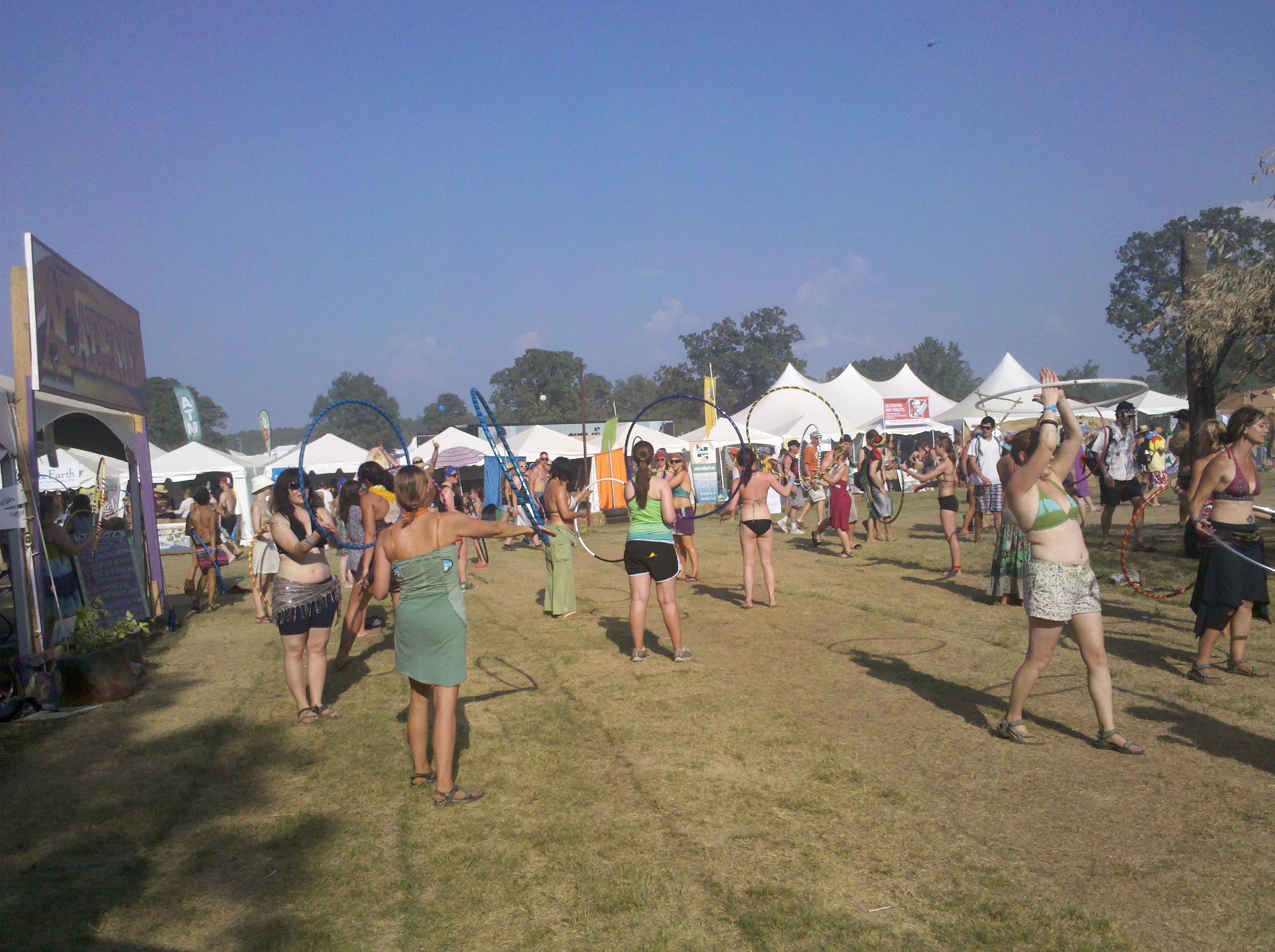 Bonnaroo Random Sight #37: Hula Hoop Class
Only in the summer and only the ladies. This Hula Professionals In Training course all went down inside The Eco-Village: a neat Centeroo stop over point, positioned nicely between the three main Tents, that has the honor of pushing out the festival's social conscience. Over two dozen organizations line up to share their cause and get you to sign a petition, take action, join their non-profit as a member from one of any variety of subjects to help some other maligned group, population or animal.
Today's Eco-Village Cause So Good I Decided To Take A Stand With: National Bone Marrow Registry
Until today, at this festival, I had never heard about the simple option to donate your bone marrow stem cells to help save a life of someone with leukemia. At the tent within Bonnaroo's gates, DKMS was signing people up to swab their cheek to send in samples of their DNA in order to see if there is a coded match with a patient whose life could be saved with stem cells from your bone marrow. They explained the somewhat lengthy process of actually donating your bone marrow — which can take from 5 hours up to 30-40 hours — but can actually help save the life of another person.
I promptly signed their consent form, swabbed my cheek and talked with them more about this issue. And since it is free to register and just takes a few steps, if you're reading this, I'd like to suggest you give it a whirl or visit their website for more info. Don't be passive! Get active! This is the vibe I get from this zone at Bonnaroo. While many think it's just a party and "take take take" — those thinkers are right — but the festival scene does stand for something more. It represents standing up for what you believe in and trying to catalyze an open audience to do something more. To give back. I really appreciate this offering from Bonnaroo and other festivals attempting to inspire this generation. And we can't forget to mention all the volunteers who give their time waiting and waiting in the heat and sun for someone to approach their booth just to engage them for a few moments and hopefully spin off a loving lifetime supporter. It's harder than it sounds folks.

Ray LaMontagne
With the sun finally tipping over its midday peak, Ray LaMontagne took to the Which Stage to a crowd of over 15,000 fans around 5 pm. The photo above was taken at the back of the area for his stage. There it is, way in the distance. He has such a remarkable voice and stage presence that no matter what your musical inclination, there's a likelihood he'll make some of the hairs on the back of your neck stand up. So much music, but I decided not to press up to the front of the crowd and get close as that takes up precious energy cells needed for the long night ahead. And would you believe this journalist, with all that's already happened today, didn't leave the concert ground for another 12 hours?
Florence & The Machine
The buzz band had such a throng of humanity attached to its tent, I am proud of myself for even attempting to get close and see them perform. Using the upgraded credentials, I went around back to see if there might be a way to approach the stage without touching the sweaty bodies of thousands. Not touching the bodies worked, but access denied. It was so packed in the tent to see her and her Machine, I figured I'd leave it to her fans to keep the vibe alive. The music was good: pulsing, avant garde power pop. I honestly didn't get the best vibe at this show. I needed to focus and prepare for one of my favorite shows of the weekend.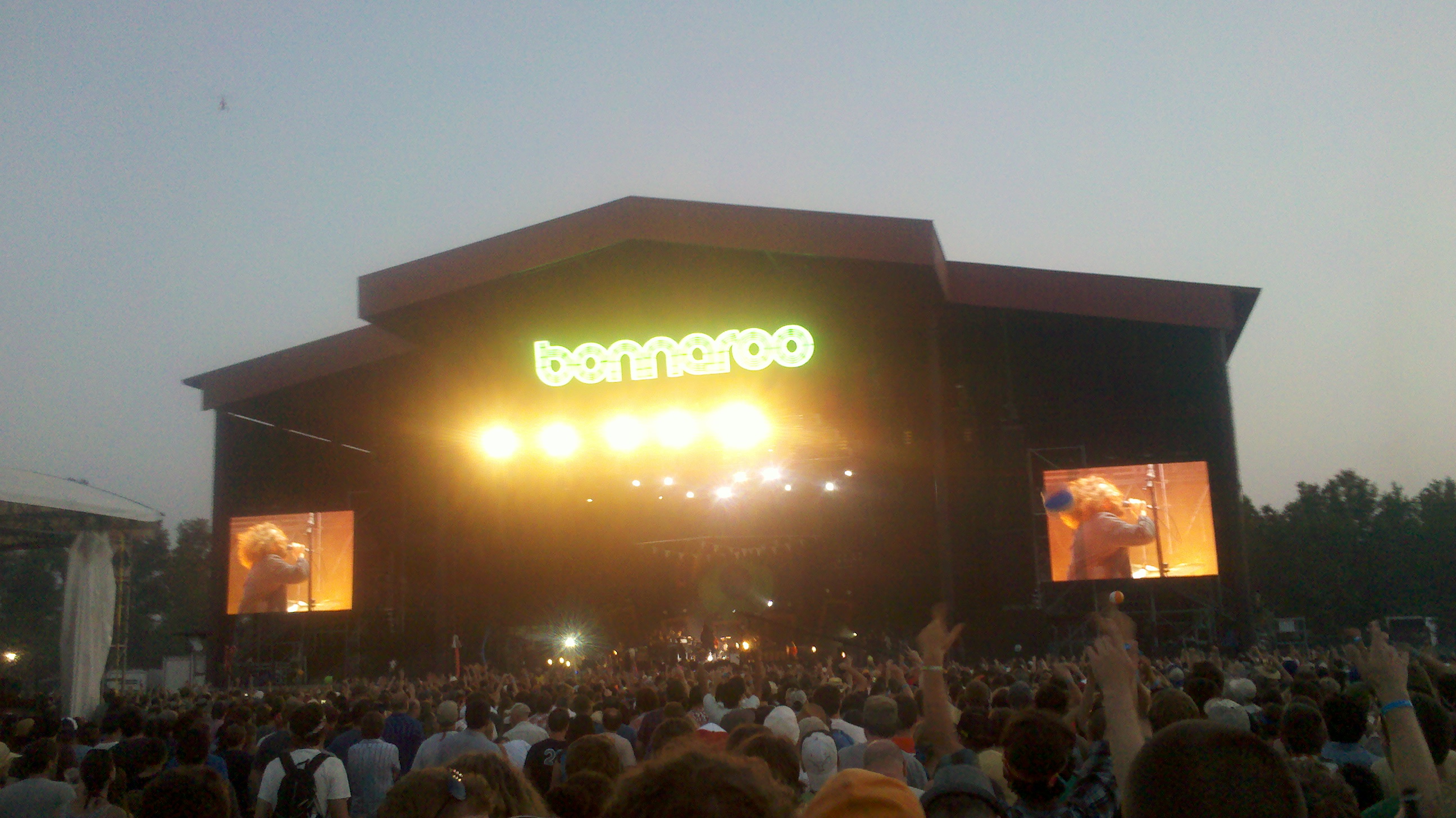 My Morning Jacket
Let it be known that I am a huge fan. Let it be known that I've traveled all over this fine democratic nation to see this band, from Red Rocks to Madison Square Garden. I've witnessed the rockdom that is My Morning Jacket. Fresh off their week-old release of Circuital, the band played in top form. Despite early sound issues during the opener "Victory Dance" that began with a lone trumpter and built to a huge swell, Jacket was barely fazed. Their two-hour nearly non-stop set took half a dozen songs from the new release played with aplomb along with crowd favorites, those sing-a-long types like "Wordless Chorus" which features exactly that: a chorus arrangement of hoots, whoops, squeals and yelps from lead singer Yim Yames. As the set wore on, many newbies to MMJ were persuaded by the group's musical prowess, hard rock credentials and extensive resume of trance like electro-power rock. Their set was well received and well played, their precision also yields to some rough around the edges improvisation and raw power that gave this writer a sense of happiness in an already blissful world of musical mayhem.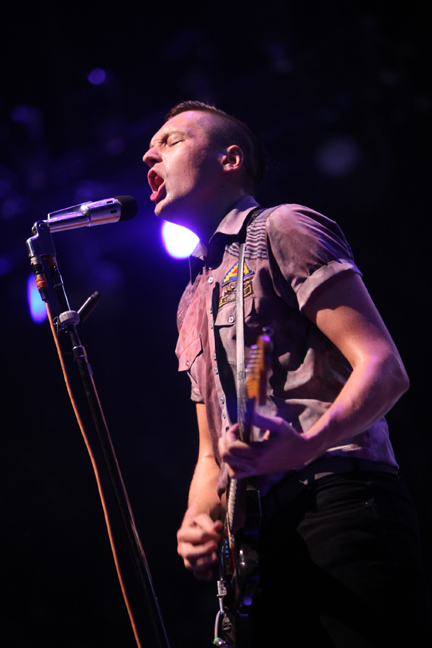 Arcade Fire
Let it be known that I had never been exposed to Arcade Fire. I like this fact. I like that I got to experience a band whose popularity is global with the feeling of going to school for the first time. Thanks to a friend, we managed to finagle our way to the front of the pit at the front of the biggest stage at the biggest festival. Are you sensing this now? There were over 50,000 people watching Arcade Fire Friday night at Bonnaroo. I was on the rail, leaning on the front row's fencing that separated this throng of humanity from Canada's favorite band. Again, please forgive me or shoot me right now because I was not familiar with their music. But rest assured knowing that I am going to work on securing their albums in a chronological order to fully grasp the offering they've given this planet.
Now to the show! Not knowing what to expect, I was greeted by cheers and a very crammed area immediately around me packed with adoring screaming fans. The music Arcade Fire put out is just one element of this performance. If you were to hear one of the recordings of the show, you could hear that music. The diverse and orchestral symphonic offering was augmented by seeing the live show happen before my eyes. Nine band members, all multi-instrumentalists, took turns playing every instrument you could imagine including an old-school crank accordion. I don't know song titles, but I know I liked it all. Every song was a new adventure for me since I had never heard any of it. I could compare them to bands I know, but that only does a disservice. Arcade Fire was genuinely thrilled to be there and offered deep gratitude to the crowd. I wish I could muster the energy to tap more avenues of my vocabulary to share about my thoughts for the band. But as you can tell, if you're one of the committed few to make it this long in my reporting, a lot is going on at Bonnaroo.
I will wrap up my Friday report and go experience some of Saturday! Ghettoblast signing off…