In a world where experimental electronic music exponentially splinters into a multitude of rogue genres that slowly shuffle the globe from demilitarized dance floors to sleeper cell bedroom studios and back, a team of disparate scientists tracks this solanum-like pandemic while desperately trying to interpret cryptic field recordings of Samhain's past, not one day at a time, but from Amen to Zombie…
AMEN
Time enough to squeeze one more post in before the Halloween season really kicks in. I've already bought pumpkin pasta sauce, drank about 5 gallons of Southern Tier's Pumpking and found a zombie-themed cupcake kit. For any regular listeners, I know that the posts have been trickling out these past few weeks, but I'm going to ramp it back up for Halloween. I haven't been seeing any Spooky Sounds CDs around any of the dollar stores here in Cleveland. But I'm sure that they'll be cropping up soon enough. And as Philip J. Frye once said "That's not soon enough."
Notable Releases:


B-Boy 3000/Capital J – Klash/Dis Da Program
Late 90s jungle vibes here. I've always had a soft spot for N2O records out of L.A. I can remember DJ 3D's late 90s anthem "Roll Out" being dropped at this house party in about 2000 and my head about exploded. N2O is also responsible for some of the worst jungle records of the late 90s and giving some street cred to DJ Starscream by releasing some of his trash, but I think they've done more good than harm in making d&b sounds acceptable here in the U.S.
Now, I'm not really that big of a fan of the above release, but I needed to put something up from N2O just because you so very rarely see any of the releases up for sale on a major site like Juno. And, to be fair, the first cut is pretty dope. And N20 (full name Nitrous Oxide Entertainment) provides a useful bridge to L.A.'s and the Left Coast's d&b scene that exists now. N20's sound is a sort of mashup from the hardcore (techno) and jungle sounds from the U.K. The infamous Ron D. Core is on the first release to sort of get the stamp of approval for this new sound, jungle, to get the go ahead. And, to their credit, N20 has largely stayed true to that sound: a kind of hardcore jungle techno.
Then fast forward to 2007 when 6Blocc (AKA B-Boy 3000) puts out a rogue release called This Is Dubstep and basically calls Bristol out. What you might not know is that L.A. has a long history of electro. There's actually an electro cut on the first N.W.A album. Dr. Dre used to produce electro. Remember that jam by JJ Fad "Supersonic"? Dre had his hand in that; one of the girls rapping on that record that is (it's rumored that Dre was dating one of the girls in JJ Fad at that time). So it kind of seems natural that dubstep would have a foothold in L.A. and Cali in general. Thus the scene at Low End Theory makes perfect sense, even though I think it looks very island-like to everyone outside that scene or even The States.
Anyway, back to N20, I'd love to know more about the history. It would make for a nice retrospective on 14tracks.com. One last thing: the label has a very multicultural aspect to it as well. Lots of Japanese artists living in The States appear in the back catalog. The center sticker says "Saiko-!" which basically means "Fuck Yeah!" in Japanese. In this context, at least.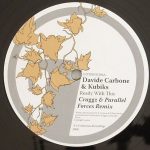 David Carbone & Kubicks/B Cee & Lomax – Ready With This (Craggz & Parallel Forces Rmx)/Help You
This one is some nice mellow d&b; nothing too spectacular. Still a solid release, but put here more to show that even d&b can get all crazy with collabs and remixes the way House does all the time. No less than six people have touched the music, and only two tracks came out of that collaboration. The traditional wisdom in d&b is that you've got a producer or production team with a simple name. Example: "Dissident." And then a fairly simple title for the track. Example: "Imager." But sometimes it takes a bunch of heads to raise a release. That's one of the things I like about d&b: although there are rules within the genre — and to be sure there are a lot of recycled ideas from other genres — I feel there is a definite attempt to draw a line in the sand and define your sound as an artist even if it ends up being utterly homogeneous.
Short to the point information on a record sleeve or center sticker feels like a year zero to me. But with house, you get way too many remixes and re-edits of a tune so that it becomes a game of finding a particular mix of a tune, rather than just finding the tune. My opinion of course. And I guess exclusivity is built into any electronic dance music scene, but it feels a little bit better to me as a DJ when I can say that I have this tune, and not just a particular mix of a tune that everyone has.
And for the average electronic music consumer, I think the culture of remix is a bad thing. It can lead you down so many bad roads when you hear one song that you liked that happened to be remixed by someone, and you go to find more music by both the artist and the remixer, only to find out that both are producer-chumps, and the only thing worth listening to was that original tune. I would go so far as to carry this idea to the extreme and say that every piece of music should have a unique ID. No more artists, let every piece of music stand on its own. It might plug up the fire hose of music being produced these days, or at least stop it up a bit so that what drips out is actually worth listening to. But then artists have never been know for being self-editing.
Wow, that was a tangent! Anyway, Intrinsic is a solid label and you should check out their other releases besides this one.


Cardz, Ena, DJ Kohta / Cardz & Ena – Shackles/Hybrid
This one straight from Japan. Nice Japanese take on the neuro-funk sub-genre of d&b. Cardz, I believe to be MC Cardz, was recently featured on The Upbeats last album Big Skeleton. Not a whole lot of other info on this one, but I'm feeling the sounds.
I know for a fact d&b lives in Japan, but I think it is such a small scene that it squeaks out only a minimal amount of releases from Japanese artists on Japanese labels. This one is every bit as dope as anything coming out of the UK. And while that is a good thing, I wish more Japanese artist would steal back things like Taiko and 80s synth sounds. Fortunately, I'm sure that someone already has and we've just not been able to discover it. I hope it stays buried in some record shop in Nagoya for a while. Can you imagine? 170 BPM half-step d&b with reworked Taiko and 80's synth sounds made by Japanese artist and released on Japanese labels? Book your flight for the future now.
So It Goes.