The 1984 Draft, a band who channel American rock sensibilities through a '90s-tinted punk and indie lens, are set to release their sophomore LP, Best Friends Forever, on January 20,2023, via Poptek Records.

Today, they've shared the final lineup for their album release show, which will take place at the Yellow Cab Tavern in Dayton, Ohio, on Friday, January 20, 2023. The show includes support from Josh Arnold, Abiyah, Shane Sweeney (of Two Cow Garage), Narrow/Arrow, Paige Beller, and Josh Goldman (The Dopamines, The Raging Nathans). The co-headliner for the show is Josh Caterer of Smoking Popes.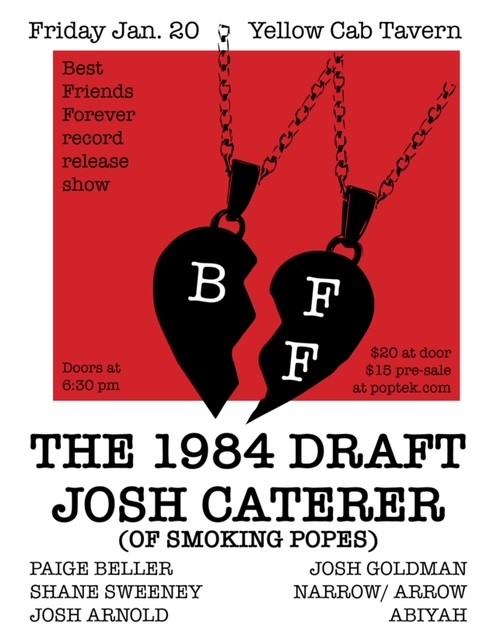 Pre-sale tickets are available here.

"I remember the day my brother brought home a tape with Smoking Popes on it. I listened over and over again. I loved the music. I loved Josh's voice. I loved how the chords were used. I was a fan from moment one and close to 30 years later, here we are bringing him to Dayton to share in celebrating our new record," The 1984 Draft's Joe Anderl says.

Best Friends Forever was recorded by Fred Vahldiek (Dark Backward) at his Fredzoz studio in the band's hometown of Dayton, Ohio. It was mastered by Chris Common (Mastodon, Omar Rodriguez-Lopez, Le Butcherretes). The album also features contributions from Susie Ulhrey (Pohgoh), Todd Farrell Jr. (Benchmarks, Two Cow Garage), and Sean Gardner (Denovo, Kopaz, The Receiver, Winter Makes Sailors, Minnows), and Cherry Fullam.
According to vocalist/guitarist Joe Anderl, Best Friends Forever continues to tell the story laid out on Makes Good Choices. "I'm still writing songs about my family and life in general. This is my photo album of a period of time in my life. My kids continue to grow; I continue to evolve, and the world continues to be a mess. I think we cover a little bit of all of that on this record."
Photo by Andy Ingram