In the July-heat, under mostly clear skies, 28,000 music fans took in the inaugural edition of Columbus, Ohio's PromoWest Fest at McFerson Commons in the city's Arena District. Despite social media complaints of a cashless payment system on site grounds, band and fan tantrums about VIP areas, which were roped off sections close to the stage, and more than a handful of cancellations (Tears For Fears, Mac Miller, The World Is A Beautiful Place and I Am No Longer Afraid to Die*, etc.), some of alternative music's best and most renowned acts turned in jaw-dropping sets**.
Not the least among these was Ryan Adams, whose Friday performance with his band The Shining showcased expertise in his craft of penning and delivering songs of "cynical self-resignation." The robust crowd was treated to cuts from his latest, and perhaps, best self-titled LP, including "Trouble," "Gimme Something Good," and "Stay With Me." The remainder of the set was sprinkled with favorites from Gold, including "New York New York," the sentimental favorite "When The Stars Go Blue," and a sprawling '70s metal tinged Ryan Adams and the Cardinals cut, "Pleasant Valley." Closer "Come Pick Me Up," from Heartbreaker was icing on the cake.
It's important to note, that the band didn't cut any corners. The stage was adorned with '80s stoner man cave decor, including arcade games and a Dr. Pepper refrigerator. Additionally spectacular was Adams' stage banter, which included musings about Slayer's Kerry King at the movies, Snoop Dogg floating in on a cloud, and the drummer's proficiency at playing Merciful Fate albums.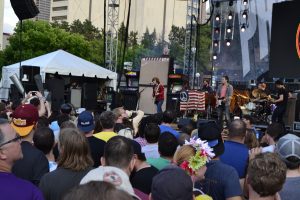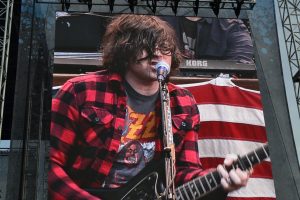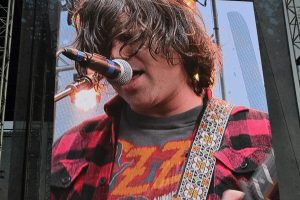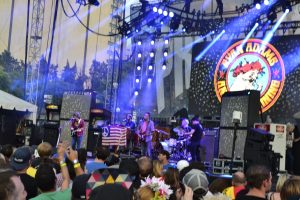 Due to family commitments we weren't present on Saturday, but returned Sunday (and missed some of the bands we were wanting to see) for remarkable performances by emo elderstatesmen Brand New and indie darlings Modest Mouse.
On Sunday afternoon/early evening, Long Island's Brand New, which is led by vocalist/guitarist Jesse Lacey, played at set that reached across their back catalog, paying special attention to hits from Deja Entendu, including "The Quiet Things That No One Ever Knows" and "Sic Transit Gloria…Glory Fades" on the front end of their set. Despite a brief interruption by a passing train, many fans remarked that the band seemed particularly focused and at the top of their game. They also shared a new single, "I Am A Nightmare," from their recently released 3 Demos, Reworked EP. All in all, it was a moody and intense set that was heavy on fan favorites and seemed to be appreciated by all.
Portland-based indie darlings Modest Mouse, led by singer/guitarist/banjoist Isaac Brock brought a troupe of six or seven performers to perform 22 songs from across their catalog. Though we'd not seen them since 1998, which was prior to critical success, the band delighted by reeling in the lead track from This Is A Long Drive For Someone With Nothing To Think About, "Dramamine," and "Tiny Cities Made of Ashes" from The Moon & Antarctica***. Coupled with more recent alternative radio hits like "Lampshades On Fire" and "Float On" the set covered all the major bases and appealing to members of the cross-generational fanbase. The full setlist is documented here: http://www.setlist.fm/setlist/modest-mouse/2016/mcferson-commons-columbus-oh-1bff29a0.html.
The event also offered epic people watching opportunities. Our favorites included: a grown man who picked and ate a booger, a middle-aged woman in a "Stevie Nicks For President" shirt handing out glow sticks, and a dude in a patched up, heavy metal battle vest and a fedora.
As a side note, the Columbus Police Department made their considerable presence known at the event, and although there was evidence of an overwhelming amount of marijuana use onsite, I didn't see any arrests. I did see the cops taking selfies with concert goers though****.
Our conclusion: this was a fun event, the weather couldn't have been better, and despite minor hiccups should be considered a great success. Can't wait to attend next year.
* A reliable source said they saw the band doing laundry in Columbus Saturday, whilst enjoying Greek food from a food truck. If the reason for the cancellation was food poisoning, I suggest steering clear of food truck Greek food in Cbus.
** I hadn't seen any of these bands in 10+ years and some of them in nearly 20. All have aged extremely gracefully.
***This album plays surprisingly well when following Pink Floyd's Dark Side of the Moon and coupled with The Wizard of Oz.
****I guess cops love white people.