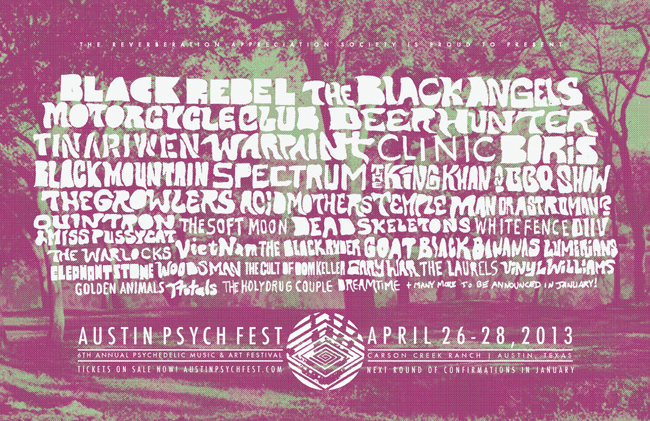 Festival: Austin Psych Fest, April 26-28, 2013
Location: Carson Creek Ranch, Austin TX
Tickets: http://www.austinpsychfest.com/
Headliners: Spectrum, Silver Apples, Os Mutantes, Boris, Roky Erickson, OM, Tinariwen, Acid Mothers Temple, Deerhunter, Clinic
Why we're excited to go: The very notion of a festival usually gives your correspondent the heebie-jeebies – a lethal cocktail of heat, sardine-packed human bodies, and overhyped, musically limp buzz bands. But Austin Psych Fest might just break the mold. It's got a hell of a lot going for it. Location, for one. Austin is one of the best cities in the US, hands down, with record stores and cheap, delicious Mexican food around every corner. Festival organizers the Reverberation Appreciation Society picked this year's lineup as carefully as one would a mixtape for a very cool new friend, eschewing obvious hot tickets for a judiciously chosen honors seminar on psychedelia's past, present and future. So you've got august forefathers like Roky Erickson and Os Mutantes rubbing shoulders with crazy diamonds like Acid Mothers Temple and Spectrum and upstarts like Indian Jewelry and Black Bananas (enlighten and entertain!). There's  camping (if you're into that, ya hippie), visual art installations and record vendors galore. Even the timing is spot on, the spring date spares attendees the heat of a brutal Texas summer. Prepare to have your 3rd eye widened.