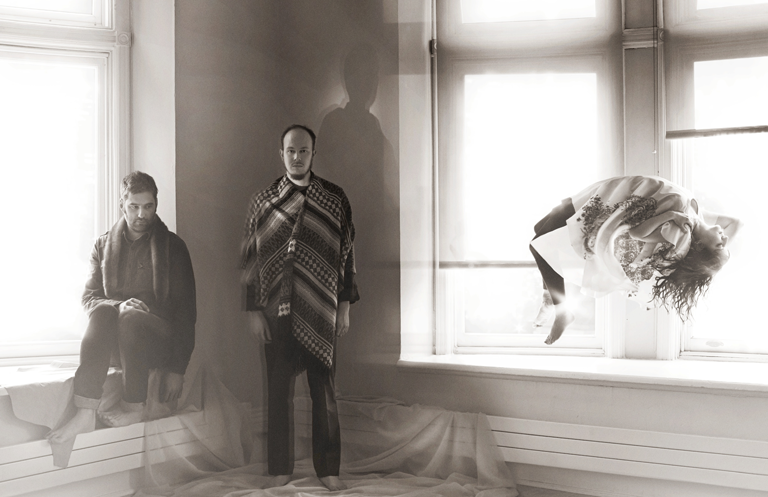 Timber Timbre has released the kind of album that unexpectedly works its way into becoming a resounding musical opus. The depth of the creativity on "Creep On Creepin' On" reaches out to different corners of music styles. You can sit back and be embraced by the blues infused, doo-wop style crooning or succumb to the subterranean sounds that linger in the air like an early morning mist. Rock, blues, folk…call it what you will "Creep On Creepin' On" will take you there. Where is exactly this "there" well you're going to have to listen to the album to find out…While on tour I was able to have Taylor Kirk answer a few inquiries on the album and the looming apocalypse…
Tell us what/where the mind-state was while making this album?                                                                                   
I guess the mind-state was something like 'holy shit, we're not on tour for a whole month – let's make a record." It was two years of collecting ideas; bits and pieces of songs here and there and then finally finding a small block of time off to sort through and build something.
 In regards to the mood, was the outcome of Creep On Creepin' On foreseen? Or was it a day-to-day work in development?                                                                                                                                                                                  
Based on what we were doing with our live set, and what we were sharing and listening to throughout that period, I had a pretty good idea of how I wanted things to sound and feel. Simon and I worked together quite closely on this, and with a similar background in music appreciation, were drawing on a lot of the same references, and not always consciously. For production, things like Broadcast, Portishead, Pink Floyd, Godspeed You Black Emperor….
Would you be more content in knowing that one person listened to this album and understood what the essence of it was than selling it to a collective of people who totally disregarded the point?         
Well, with the earlier recordings, the only people who would ever have heard the music would be people who really sought it out and therefore would know how to appreciate the project. With this release, it's reaching quite a lot more people, many of whom will not understand it. But at the moment, the latter is more interesting. I don't want to make work in a vacuum. I've already done that.
In the "Woman" video, the lead seems to have placed himself into a situation he can't handle but doesn't want to go away, finally embracing the "Woman" – is that somewhat accurate? And is the song/video an ode to a shared experience? 
 Yes, that description works very well for me, and covers the experience I was alluding to in the song. The video was hardly a collaboration though. I mean, Kate Young had full creative control with this, and intuitively created this sort of parallel narrative. I'm really thrilled with that video. We've been speaking with quite a few film makers about doing videos, films, animations, etc for this recording.
How do you feel about the finished work?
I'm very proud and feel this is the best work I've ever done.
If you could collaborate with another artist for your next project who would it be?
I would be curious to work with a producer. I've always kind of wondered what that experience would be like. Daniel Lanois. Maybe Brian Eno. Ha!
2012 watch…I'm sure you feel that we've been getting hit with some really terrible shit as of late, where do you see things going for our planet within the next year?
I wasn't convinced before but now I'm pretty sure the apocalypse is here.
What do you have on tap for the rest of this year?
Touring like idiots.
Finally, (other than your own) what/who's music do you like to listen to?
Just bought the new Bill Callahan record! The Troggs. Connan Mockasin. Lee Hazelwood. Agnes Obel.
Check out Timber Timbre online at the following addresses:
http://www.timbertimbre.com/
http://www.arts-crafts.ca/
http://www.myspace.com/timbertimbre