The organizers of Caterwaul 2023 blew minds earlier this year when they announced the addition of the legendary Flipper to the lineup, featuring Shannon Selberg of Cows on vocals even.
Founded in San Francisco in 1979, Flipper's heavy, irreverent version of punk can be credited as a precursor to the sound defined as noise rock, and the band has been a direct influence on many within the scene. As the singer of Cows, Selberg rose to infamy in the late '80s for his unhinged stage presence, with The New York Times describing his performances as a mix of "defiance, pain and dark comedy"; he then continued on to found The Heroine Sheiks with Swans guitarist Norman Westberg.

Flipper, fronted live for the first time by Selberg, will close out the fourth and final night of Caterwaul 2023, capping off a long weekend's worth of performances from a who's-who of noise rock royalty, past and future. Located in Minneapolis, Minnesota, May 26-29, the festival will unfold across two of the city's most revered rock venues, Palmer's Bar and Mortimer's Bar.
In addition to the historic Flipper set, other highlights of Caterwaul 2023 include: Chat Pile, Cherubs, Child Bite, Couch Slut, Djunah, Elephant Rifle, Hands Up Who Wants to Die, Multicult, The Tunnel, Tongue Party, Totimoshi, USA Nails, Vaz, amongst dozens more.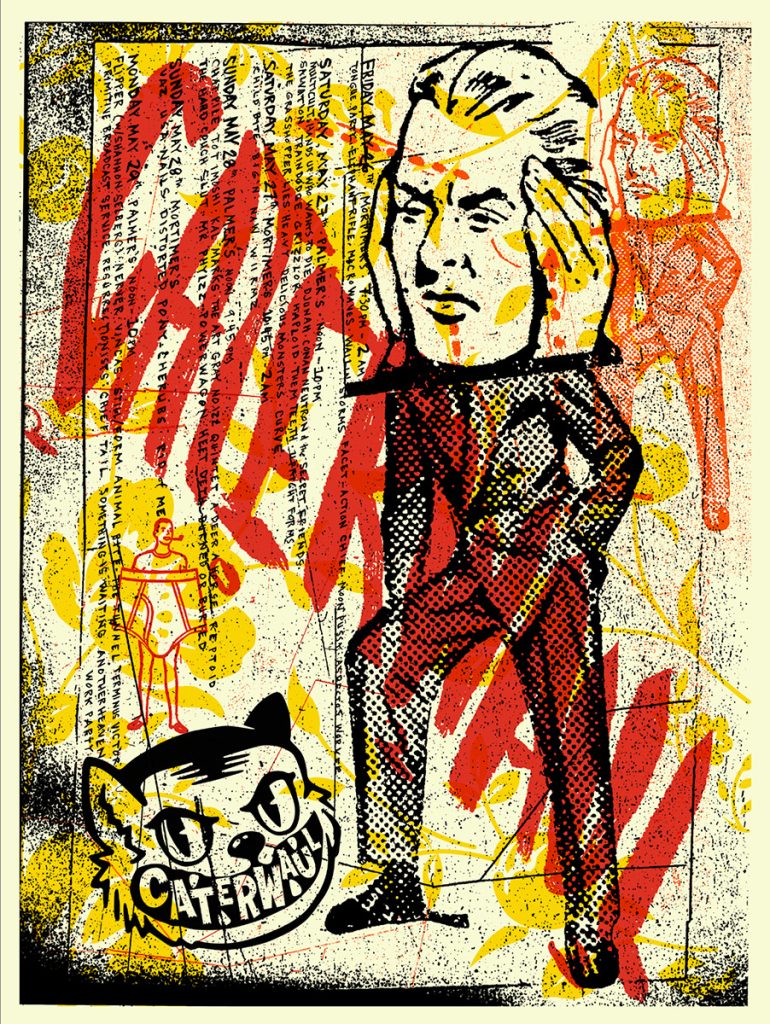 Caterwaul 2023 is the second installment of this annual fest, conceived by Learning Curve Records (Rainer Fronz) and Seismic Wave Entertainment (Conan Neutron) as a platform to celebrate noise rock in its many forms, and as a means to strengthen the community.

On that note, the Caterwaul organizers have played an active role this year in helping bands on the lineup route their tours in a cooperative way. Dubbed "Caterwaul Run" by Fronz and his partner, Seismic Wave Entertainment's Conan Neutron, numerous Caterwaul artists have joined forces to tour together, to and from the festival, expanding the spirit of Caterwaul all across the continent.
Ghettoblaster recently caught up with Neutron to get the downlow on next weekend's events. Here's what he had to say…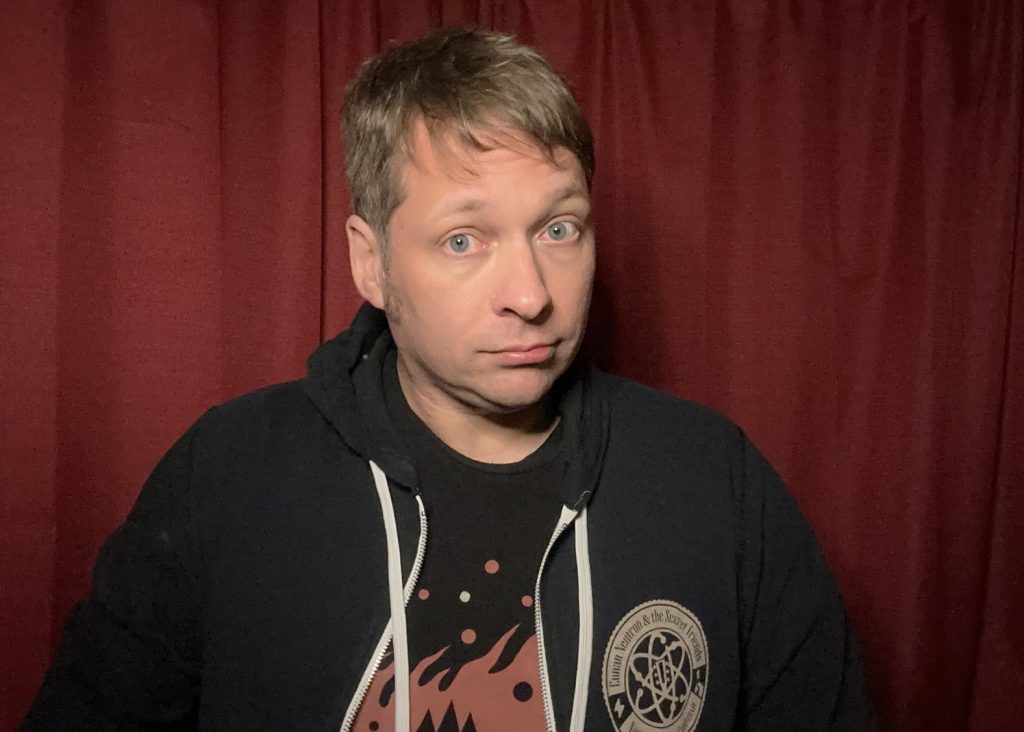 You've got a band, a podcast, a huge annual music festival. How do you balance it all?
Ha! It is quite a lot isn't it? Also TECHNICALLY two podcasts, since I co-host Movie Night Extravaganza.
Time management is very important and knowing your limits. The podcast is pretty easy because I've done it at the same time every week for nine years, unless I'm on tour or doing extra episodes basically.
There's kind of a "sweet spot" for when Conan Neutron & the Secret Friends can do stuff, and when it has to be ALL CATERWAUL ALL THE TIME. It was an (unplanned) super quiet spring for the band, so that wasn't that difficult. Then again, I just remembered that we recorded a new record at the end of March.
I'm a busy guy! It is all important and I like to do stuff.
Caterwaul is very much a collaborative affair though, Rainer works just as hard as I do… but a lot of that work is less visible.
The Caterwaul team is small, but we all pitch in and fill the gaps when we are doing other things. It is all a labor of love… accent on the labor… and the love…. but mostly the labor.
The event is obviously curated. What does the typical Caterwaul participant sound like/offer?
There is something kind of ineffable, it isn't easily defined by sound or look. An intensity, a commitment to craft. We try to be thoughtful of including bands that aren't just a pack of dudes yelling (as much as we like those bands), so we do think about the type of people actually playing. We don't have like an allocation or formula or anything though, bands are there because they are supposed to be there and if you don't know them, they will soon show you!
We do take efforts to seek out bands that aren't Jesus Lizard Jr. or Mini-Melvins. sound wise, but make a fun party where people are going to be pleasantly surprised by at least a few new bands. We also really dig bringing in bands from "back when" and having them slotted alongside bands that are working right now. Bands that rarely play (The Hand, Distorted Pony), bands from far away (USA Nails, Hands Up Who Wants to Die), one-off reunions (Totimoshi), special events (Flipper w/ Shannon Selberg), bands "having a moment" (Djunah, Chat Pile). A band playing Caterwaul is worth paying attention to.
Opening it up to submissions this year was quite overwhelming. We ended up having to say no to dozens of bands we really, really loved. There just isn't enough room! It did bring a bunch of newer bands to our attention though and some of them even ended up in the lineup. We tried to strike a balance of bands that played the year before and opening up space for bands that have never played and we like to think that we got there. We were able to pull a few bands up from the standby list, but maybe 2%?
What standards for music festivals is Caterwaul trying to set?
There is a severe focus on HEADLINERS in this kind of world, at least amongst larger festivals. That's what sells the tickets right? We're all used to seeing the posters that have 72 pt type bands, and a bunch at the bottom in like 6 pt type. Those small typeface band names are some of our favorite bands! The ones in the tiny lettering. We try to approach it with some degree of equanimity. Sure! Some bands are much more well known then others, but they are all there for a reason and they all deserve attention, love and time. Every single one earned the spot to be on the stage, and they all deserve to be respected, well treated and come away with some money for their efforts. Vans don't run on hugs and making freaky crazy music isn't exactly a short cut to millions and mainstream success.
We are servicing a community and in doing so, hopefully fostering community ideals. These bands have common cause, and having everybody in one place allows for the community to interact at, with and too each other. Plans and tours are hatched and all the people that are the freaks, nerds and weirdoes in their respective areas get to hang out with freaks, nerds and weirdos into the same stuff they are into for a bit. Not bad!
What is something that Caterwaul offers that no other event does?
I think we pack the most awesomeness into a small package for a ridiculously low amount. With 56 bands, I think it works out to something like $2.50 per band? Keeping the price point that low makes it easier for people to take the plunge to attend, and more inclined to pick up some merch and support the event and the bands. We certainly aren't in this to get rich!
Also: put succinctly, there just really aren't a lot of places for these kinds of bands to showcase what they do to an appreciative audience. There should be more! It is not for everybody, but it is absolutely for the people it is for.
Is there a significance to having the event in Minneapolis?
There is a rich history of awesome noisy music in Minneapolis. Amphetamine Reptile being the most obvious. It is still a great place to make uncompromising noisy music. The whole thing started with Rainer and I joining forces with a nascent idea that we both had, a continuance of things done before but with a unique element to it. It was almost a coin flip, where to have it. However, Rainer has a deep-rooted history in Minneapolis. I moved to Milwaukee in 2017 after living in Oakland for most of my life. I am resourceful enough, but I don't have the built-in contacts and history that Rainer has. The key for us is to keep the overhead low so we can put on the best event for the most affordable price.
What seemed to be the general vibe at last year's event?
Low key stoked? Pleasantly exhausted by the end of it? Friendly and welcoming. Curious and excited for whatever was next?
Flipper is playing Caterwaul in a lineup that features Cows' Shannon Selberg on vocals. How bonkers is that?
VERY! We're pretty proud and psyched for that. Something that hasn't happened before is happening on our stage and with a legendary band that is an ancestor to the ancestors of a lot of the other bands playing. Super cool. I am of the opinion that Shannon Selberg is one of rock's great front people and there is no doubt in my mind that he will do an amazing job with Flipper.
Is there a band you were hoping would be able to play this year who couldn't and was the "one that got away"?
Always! Our "near misses" are always both fantastic and heartbreaking at the same time. The "near misses" sometimes end up playing later years too… so I'm not going to tell you some of them!
Kowloon Walled City was booked for our COVID-cancelled initial journey in 2020, and they couldn't make it work last year or this year. That's a shame because I have deep ties with them since their very inception from Oakland. Stellar band and folks. Dead Rider was scheduled to play last year and had to drop due to getting COVID. We were bummed they couldn't join us this year. We had Tar booked the first go-round, and they couldn't do it this year, which was sad. Deep Tunnel Project (with two members) did play and they were awesome though.
So that's a few. Circumstances allowed us to be in discussion for Gang of Four, which would have been mind-blowing! The only thing that stopped us is that we didn't have the resources to get them what they needed. Another legendary band that deserves all the flowers and is getting some of them. Perhaps that can be a hint to any big money bubbas of what we could pull off if we could scale up. C'MON SOROS! COUGH IT UP! FINANCE OUR WEIRD PARTY.
What is one song, by one band who is participating, that you have to hear?
I mean, we named the entire thing around a Multicult song, so I guess it'd have to be Multicult – "Caterwaul."
What is your ultimate measure of success for Caterwaul 2023? Like, "if this happens," there will be a '24?
I'd say the ultimate measure of success is just doing the thing and pulling it off. The journey is the destination, maaaaaan. We have a good handle on our finances, and we're able to pay bands. That is something that is worth being a priority in my opinion. We have been far better at division of labor internally this time. Despite the hellacious amount of work, and stress and woe that it causes sometimes… seeing the results of this one-of-a-kind experience, the kind that we were deprived for literal years is a reward in and of itself. It all means something, and it is something worth doing.
More information about Caterwaul and tickets is available here.
Poster art by TOOTH and Zak Sally. Photo courtesy of Conan Neutron