The Dirt: Confessions of the World's Most Notorious Rock Band is a book about the Mötley Crüe.   It is also a book I've never read,  but that doesn't matter anymore because it was made into a movie (Lucky me).   It's called The Dirt and it's directed by Jeff Tremaine. You might remember Jeff Tremaine as co-creator of Jackass or you might not know him at all.  Regardless, this would be the type of movie someone who helped launch a show called "Jackass" would direct. I feel like I can't talk about anything that happened in this movie without having a giant disclaimer at the top of this review, but I also feel like I shouldn't talk about anything that happened in this movie because you should experience it of your own accord. Let's just say that most of the movie shouldn't be discussed in public at a decibel level exceeding that of a hushed murmur.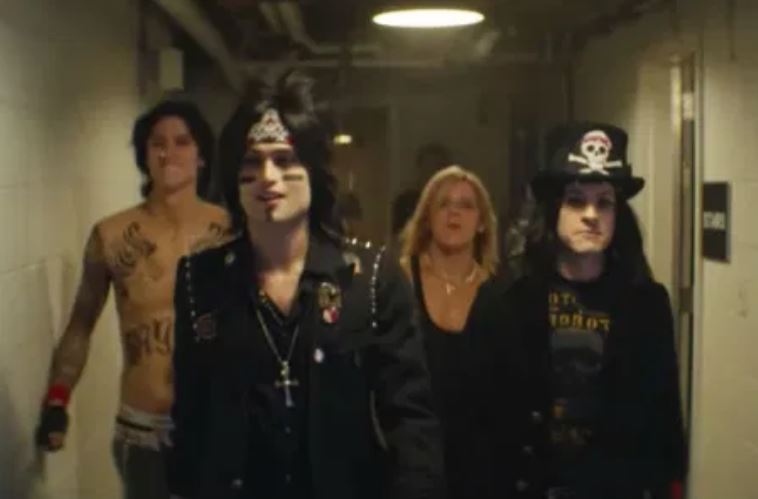 I almost passed this movie off just because of Colson Baker and Iwan Rheon in starring roles. That might not mean anything to you yet but let me explain: Colson is a rapper who some know as Machine Gun Kelly and it's nothing against his music or nothing, I've never heard his raps…ever. I just have this weird issue with a rapper who names them self after Machine Gun Kelly, it doesn't matter anymore though. After watching his portrayal of Tommy Lee, I was able to get past personal scruples and by the end of the movie, MGK hadn't even crossed my mind. I was left looking at a credible actor who takes his craft seriously. Iwan Rheon, on the other hand, is an actor I've watched for years on Game of Thrones and have grown to hate. If you know GOT then you know the nauseatingly repulsive Ramsay Bolton. I've watched this man feed a woman and a baby to dogs. I feel that's enough reason to consider passing off a movie because of an actor. Though he still kept the asshole part intact, he managed to bring some heart onto the screen. Once again I was left not thinking about an actor's portrayal of a past role, instead, I was left looking at the lead guitarist of Mötley Crüe, Mick Mars. Daniel Weber did a fairly valid job as Vince Neil and holy heck, did he ever get dealt a garbage hand in life, which the movie does a good job of just thrusting you into. Douglas Booth was convincing, leaving me with a pretty realistic portrayal of the effects drug and alcohol abuse had on the situations and people in Nikki Sixxs' life. There weren't too many moments in the movie where I was left feeling skeptical or felt anything was over dramatized, other than the paramedics high fiving when he wakes up after they stab two shots of adrenaline into his heart.
I watched this movie a few days ago and I'm still coming to terms with how I feel about it. For one, I'm pretty sure they didn't set out to create an award-winning biographical drama film. You learn that that's not the case within the first 2 minutes, but they did succeed in creating one of the raunchiest movies I've ever seen, and one of the funniest movies I've seen this month. And secondly, I feel they could have replaced the actors with almost anybody and it would have been the same movie….which would still make it funny, and that's something I guess. Overall, I found The Dirt highly entertaining and it provided me with more than a couple of belly laughs, more than a few shouts of "What the FUCK?" moments, and mild respect for the guys in Mötley Crüe, based solely on the fact that they're still alive! Am I glad I watched this movie? Most definitely. I love laughing, I love weird shit, and it gave me a reminiscent feeling of the type of humor I'd find in movies like the first American Pie and Road Trip. Would I watch this movie again? Let's just say I wouldn't turn it off and it wouldn't take long to get a laugh or smile out of me. Should you watch this movie? That depends on if you're easily offended, weak with needles, car crashes or cancer and what your thoughts on "hotel redecorating" is.
3/5 Rated Kane