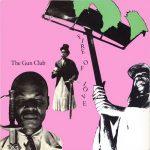 We recently told you about the new songwriting project of former Mayyors dude Julian Elorduy, Sacramento's Fine Steps.  Don't expect Mayyors-like, scuzz rock though.  This is surf-leaning, jangle pop at its finest.  For the album, Elorduy was joined by Antonio Gualco (FNU Ronnies), Dylan Craver (G. Green), Alex Soles (Ganglians) and Kyle Hoover (Ganglians), the first Fine Steps LP, Boy's Co., was recorded at Tiny Telephone and was released on Elorduy's own Song Records. Sample a few tracks here:  http://soundcloud.com/fine-steps/sets/fine-steps-boys-co/ or http://www.finesteps.us.
Ghettoblaster recently caught up with Elorduy to discuss not one, but two, of his favorite records – The Gun Club's Fire of Love and Dwight Twilley's Twilley Don't Mind.  Here's what he told us about them…
What is your favorite album?
I don't really want to choose just one album. So I'll put up two. Gun Club's Fire of Love and Dwight Twilley's Twilley Don't Mind.
Do you remember when you received or purchased the albums?
The Gun Club album came to me through a yard sale. A young couple of the aging punk variety was unloading some records. A lot of them were 90s guitar rock and not much stood out. Then I saw this record and got really excited. I only had to pay a few bucks for it and I felt great for the rest of the day thereafter.
I picked up Twilley Don't Mind from Phono Select record store in Sacramento not too long ago after I saw a video them playing with an androgynous Tom Petty on bass.
What are your favorite songs on the albums?
Gun Club's "Sex Beat" is the obvious choice though there are other great songs on the record. That song always gets me excited, ready to jump up and down and dance around my room.
Twilley's "Looking for the Magic" is one of my favorite pop songs ever. It's nearly perfect and I like to listen to it over and over again like a little teenager.
What is it about the songs that resonate with you?
"Sex Beat" is great song writing and a appropriate amount of anger and aggression rolled into one. Kid Congo's guitars sound like razor blades against a stubbly face and Jefferey Lee's voice sounds desperate and angry. It's kinda cocky and vamped up without being too much so. The bass and drums are punchy and Dunnings drumming is efficient and driving (no showboating).  I feel like it ends suddenly right where it began and you are left wanting more like good sex.
"Looking for the Magic," as said above, is a great pop song. It's smooth without being saccharine. All parts of the song come together so seamlessly. Twilley's tremolo vocal effect, the bass and the drums sound like perfect analog recording. The nice touch of someone, Twilley I assume, talking "oh mercy" into the mic and the sounds of someone breathing for the first few seconds say to me that this is all tongue-in-cheek guitar pop, which is the best kind. You can sing along to it and have it stuck in your head for days and days.
Have you ever covered a song from either album?
I have covered "Sex Beat" at a practice or two, but never "Looking for the Magic." Maybe soon though.
What is it about the albums that makes them stand out against the band's other output?
With Gun Club, Jeffery Lee Pierce started to lose control of whatever it was about the band made it so good on this record, and they never made another album that came close to Fire of Love.
Twilley Don't Mind probably isn't even the band's best record, but I love that album for song mentioned above and for the sounds and songwriting captured on the record.
Have you ever given a copy of these records to anyone?  What were the circumstances?
I have always tested out girl friend's music taste with that Gun Club record and if they don't like it then they probably aren't the right lady for me.
Which of the records that you've performed on is your favorite?
This Fine Steps record has a special place for me because they are my songs with some of my good friends contributing their tastes and talents to the overall sound. Some of these songs never would have seen the light if hadn't been for those friends and bandmates who liked the music enough to put their own time into it.
What is your favorite song on the album and why?
I like them all! No, but really, I suppose my favorite jam is "Patti Smith Hearst" that turned out to be 7 minutes long. Usually, I am passionately opposed to songs over 3:30 minutes, but this just came together. You hear of bands hitting a stride and improvising together like Amon Duul was able to do most of the time and it was nice to do that once and have it caught on tape.