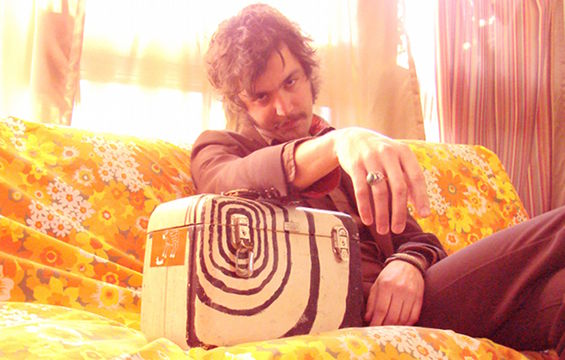 We like to keep it local here at Ghettoblaster, which is why, every so often, we go out and talk to our favorite artists about their hometown and the things they love (or hate) about it.
Sam Quinn is a folk artist from Knoxville, Tennessee who has a lot of great things to say about his hometown. (You might remember him from his last creative endeavor, The Everybodyfields.) It's clear that he takes every moment that he's not making dark, mournful Americana to explore the great city of Knoxville. Read on to hear about the best local Mexican joint, why it's okay to listen to Gavin Rossdale sometimes, and what the hell that giant golden ball downtown Knoxville is all about.
What's your towns nickname?
K-Town, K-Vegas, Valley of the Dolls, the Eight Six Five, Not Nashville, Unofficial Capital of East Tennessee
What's your nickname for your town?
Noxful, Quarry City U.S.A.
Why do you live there?
I was running away from my old hometown of Johnson City, and found this guy on Craigslist that would let me live in his garage for two hundred bucks.
What is your favorite local attraction (monument, park, etc)?
There is this gargantous, golden orb on a series of poles that is called the Sunsphere. It was featured on an episode of The Simpsons as being a wig factory. Turns out it isn't; instead they have a bar in there that you can watch the sun go down over the city for three fifty a longneck. It's not my favorite bar by any means, but I am pretty sure that it is a one of a kind structure, except for one maybe in Dubai. They have (had) everything. My roommate climbed to the top of it once through a series of unlocked doors and conveniently placed ladders and said it was "pretty awesome."
What is your favorite local event/festival?
Every summer the city closes down some streets on a Thursday and puts on a double band bill in the Market Square called Sundown in the City. Sometimes it's really good. Other times it is something different. The openers are usually local and then they bring in a headliner that usually had a hit about ten years ago. Arrested Development, John Oates, etc. Last year they had Gavin Rossdale out and like ten thousand people stood in the pouring rain to hear the guy from that one band play those three tunes that they know. Did I mention it was pouring rain? Anyway, this display of loyalty acted as a shot of adrenaline to the band and they completely killed it, complete with an acoustic "Landslide" encore. It was amazing, and I have hated Bush ever since Satan lifted up her fat leg and farted that garbage out.
What is the best time of year to be there?
The summertime presents many more than adequate swimming holes. Amongst my favorites is this one quarry out in an undisclosed area of South Knoxville. As of last year, I think there were at the very minimum eight homeless people living there spinning yarns and running television sets off of car batteries. That is why it is important to fill out the census. It is illegal and snakey (snaky?) and usually at least one kid a year drowns in there, but so far I have been lucky. Maybe this year.
Who is your favorite local celebrity/personality?
Tom Pryor: for a more sincere and thoughtful Knoxvillian, one would be hard pressed to find.
Where is the best place to drink and what's their specialty or happy hour?
Preservation Pub on Market Square. Music nearly every night of the week, impossible bathroom lines, and you can still smoke inside, so when you leave there is no question that you have been out at the bar. They also give away free pizza for about an hour around four and it's usually pretty tastey. Tasty? Tom Pryor is known to frequent. The fastest bathroom on the square is at any of the restaurants around the pub that also have a bar. If it is a little too fancy just pretend you are on the phone and ignore the associates until you have safely made it to your destination.
Who has the best jukebox (and what's in it)?
Probably the Orange Lavaburst by Hi-C. I mainly get it out of the tap at the Taco Bell, but I would say that you can more than likely get it in a box. Not at the Taco Bell though. Does not mix well with Cinnamon Twists.
What is your favorite place to see live music and what was your favorite show there?
The Bijou Theatre is probably the nicest place to see and hear live music. It's not as nice as the Tennessee Theatre, but it sounds eons better. It used to be the Black Theatre before integration, then went for a while as a porno theatre, then it was remodeled into the jewel that it is today. Every month a local radio station WDVX puts on a show there with about five bands called Tennessee Shines. They also have a noon time radio show that is free and at the station. A real hodgepodge of musical styles, stereotyping and quality. It is also a good place to meet up and plan swimming trips to the quarry that people sometimes die in.
What is your favorite local band?
Sam Quinn and Japan 10. I thought this was supposed to be a puff piece.
What is your favorite diner or restaurant and what is their best dish?
The sign out front has a taco wearing a sombrero and a mustache an it reads "SENOR TACO." I have eaten here twelve times nine times in one week, usually ordering the same thing: Either carne asada tacos on corn tortillas or los huevos divorciados, the divorced eggs. Warning: the divorced eggs are also pretty hot upon departure. Close second is the Tomato Head with the delicate flavorings of the boring sounding Vegan Sandwich.
What is your favorite record store and what was your best find there?
The Disc Exchange and Lost and Found Records are both pretty great. The DE is about half head shop and DVDs, where the L&F is all vinyl. The only place to avoid at all costs is that little record shop before you get to Kay's Ice Cream (home of a great chicken salad sandwich) on the right with the crotchety old man that apparently eats a bowl of poo sticks everyday for breakfast. The only reason to go there would be to pop that dude's tires or maybe leave him tomorrow's breakfast on his hood.
What is your favorite local publication (alternative weekly, zine, website or blog)?
There is only one I think. There might be one in Spanish, but I think that it is just the Metro Pulse. It also boasts a pretty cool weekly crossword that involves Knoxville-centric answers alongside such gems as awl, NNE and epee.
What is your favorite local shop?
SAVWAY FOODLINER. It's a little international market out in South Knoxville that hosts a variety of napkins, dog food, out of print potato chips and assorted domestic beers. Lock your doors. They do not allow cameras.