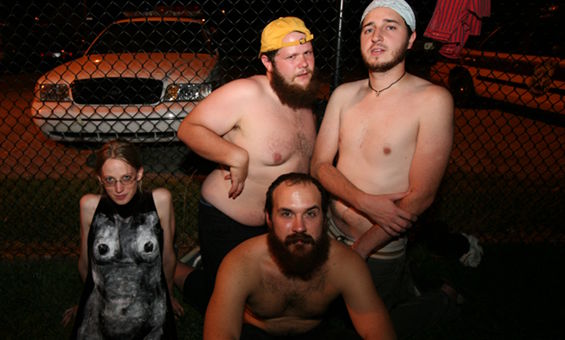 It's time for another edition of Stomping Grounds, where we talk to artists about their hometown and why they're proud to be there. Or not so proud. Who knows.
This time we take a look at the great city of Indianapolis, Indiana, home of the up-and-coming Asthmatic Kitty band Jookabox. They're stoked on their home town, more so than many bands we talk to, and Jookabox founder David "Moose" Adamson is here to tell us all about it.
What's your town's nickname?
Indy, Naptown, Nappyville, The Crooked I
What's your nickname for your town?
Old Sleepy Peep Dip
Why do you live there?
I guess the main reason is because I was born here. But I've continued to stay here because there really is a nice community of creative types. New bands, venues, and projects have been springing up everywhere, and as a native Naptonian I'd like to continue to be a part of that.
What is your favorite local attraction (monument, park, etc)?
Crown Hill Cemetery
What is your favorite local event/festival?
The Broad Ripple Music Festival
What is the best time of year to be there?
Spring and Fall
Who is your favorite local celebrity/personality?
DJ Rusty Redenbacher
Where is the best place to drink and what's their specialty or happy hour?
I like Dorman Street. I can walk there. I don't know what their specialty is, I just drink the High Life.
Who has the best jukebox (and what's in it)?
Dorman Street has a great jukebox with Prince, The Knife, Bowie, etc.
What is your favorite place to see live music and what was your favorite show there?
I like to see shows at Earth House, which is a converted church downtown. In addition to hosting classes/community events and housing a restaurant and coffee shop, they have shows upstairs in the high ceiling'd sanctuary, which still has stained glass windows. It is a huge but warm space with a lot of dark wood, and I'm not used to seeing shows in places like that. My favorite show there was Dead Beats (a local band).
What is your favorite local band?
It is an MC, Oreo Jones, and his beat man, 90 lbs.
What is your favorite diner or restaurant and what is their best dish? I spend a lot of time at La Hacienda eating the #20 (Beef Burrito, Chicken Soft Taco, and Chile Relleno).
What is your favorite record store and what was your best find there?
My favorite is LUNA, my best find there is a Gizmos 1976/77 vinyl.
What is your favorite local publication (alternative weekly, zine, website or blog)?
My Old Kentucky Blog
What is your favorite local shop?
Bookmamas in Irvington