The Arizona Hip Hop Festival II wrapped up, so what now?
The Arizona Hip Hop Festival came and went. We met up with Justus S. Olbert, the person everyone simply knows as Justus, the man behind the Respect The Underground promotion who had the vision and audacity to put together the Arizona Hip Hop Festival. There were the detractors and the naysayers doubting it could be done but Justus wasn't looking through a kaleidoscope of sugar plums and fairies, he set out on a mission to put Arizona on the map, to showcase that AZ has a plethora of talent that's gone unheralded for much too long. In between setting up the first and second festival, the Superfest 2K15, was a showcase that brought together KRS-1, Big Daddy Kane, and Rakim.  These renowned artists set AZ ablaze. But I digress.
Warm Phoenix days make for good times and good vibes. I caught up with Justus after coming down with the flu and he seemed it good spirits. "After all of this I just wanted to take some time to relax & chill. Then I got knocked on my ass with this," he tells me. We sat down and talked about the future, Arizona, Hip Hop and everything that will happen in the southwest. He's excited about all the plans coming into fruition to increase the visibility of Hip Hop of Arizona.
The Arizona Hip Hop Festival Happened…
But how did it all go down? As crazy as one might think having five stages (yes five!) strewn about the 9,000 square foot Comerica Theater in downtown Phoenix, beginning at 11 AM to 10 PM. Catching every act would prove to be a sheer impossibility with none of the stages being in close proximity of one another. It seemed chaotic but controlled, loud but tolerable, anxiety filled but by the look in just about everyone's eyes, so much fun.
There were many things to look forward to. Performers scattered on multiple stages, like The Bag Of Tricks Cat himself, Felix. He held down the main stage when I walked into that area, kicking verses from his album as well as Emerald Knights, the collaborative effort released with Mega Ran.

There were a number of surprises as well. MC
Dougie Drew
prepared to hit the stage, getting ready with a drummer and sax player in tow. What ended up happening was mind blowing. Capturing an old school vibe and easy flowing rhymes, he had the crowd bouncing along. The additional instrumentation? Gave the music a complete and organic feel.
Walking along corridors you're bound to hear a number of different sounds & styles.
Mesa Made
had the crowd going with their laid back drawls and beats.
Catching my ear were the two ladies that hit the stage. They go by Real Gone, which is where they sort of took me. Just one of the few female acts joining the festival, they were nothing short of captivating.
It seems the crowd was waiting with anticipation for one performer.
Stevie Hardy
, who's made a name for himself in the southwest. Disappoints? Not at all, giving the crowd all the energy it threw at him.
There was a stage set up outside at the entrance of the venue where people could watch and listen to artists as they walked by, which made it premium space. The
CNT Productions
crew were killing it outside, volleying rhymes back and forth to one another.
But that doesn't mean it was the only outdoor stage. The open mic stage was set up down by the back which allowed seasoned rappers like
Neighborhood Paperboy
to stretch out his vocal range,
and at the same time give a platform for the novice to… perform.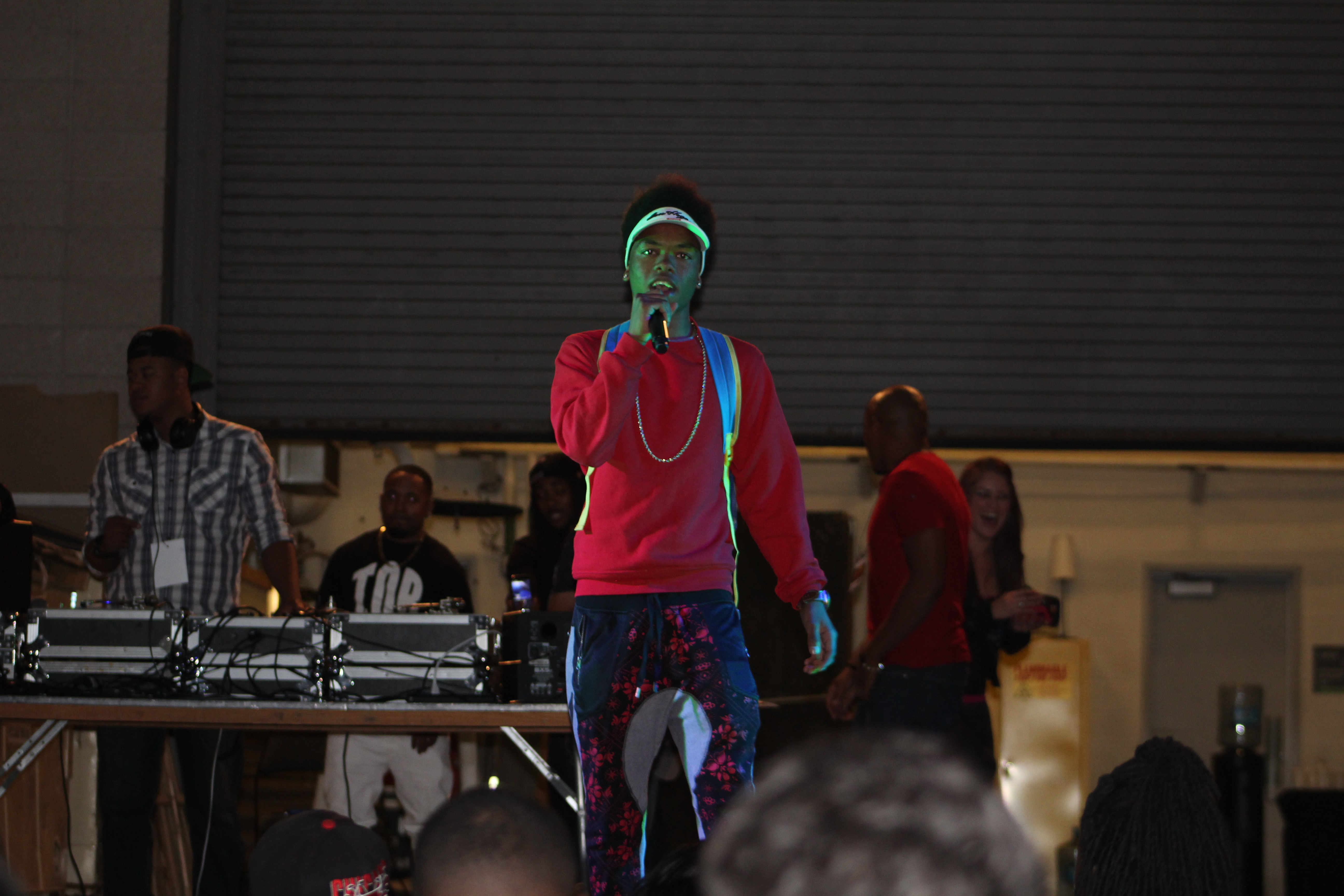 Stevie Hardy:
Dougie Drew: