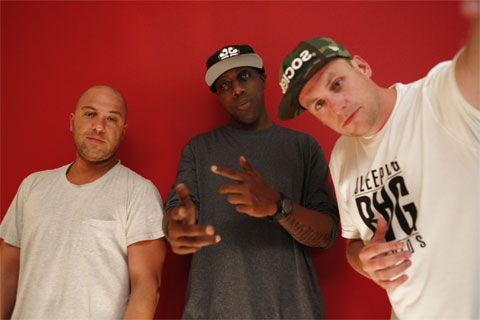 One of my favorite titles from the Marvel catalog back in the day was Marvel Team-Up, a monthly release that featured Spider-Man teaming up with any other character from the Marvel Universe to take on a mutual nemesis. Although the team up was temporary it would always leave me thinking about the possibilities of a super-group emerging from the short affiliation. In some ways that very same reflection has been fulfilled in the hip-hop world with Inspectah Deck, 7L and Esoteric collaborating on the self titled CZARFACE album. Ok, maybe "super group" is a little premature right now. But here I am contemplating, is this what we've been waiting for in the hip-hop universe? A combination of two iconic MC's and a producer who have been up against an industry turned inside out? Hells yeah!!! CZARFACE in its purest form is easy to explain. It's a no holds barred, straight forward hip-hop album! A lot of people these days are still looking for the second coming in the hip-hop world or some sort of avant-garde event that can be labeled as the poster child for the next trendy-trend. Want to know why the assholes you hear all day on the radio are on the radio? Because you keep listening to them on the radio! Go and support real hip-hop and start right here with CZARFACE! Production on the album was primarily handled by 7L; the only other guest producer worthy for the project was DJ Premier who murders the heavy banger, "Let It Off".  Cameos on the album feature the likes of Roc Marciano, Oh No, Action Bronson, Mr. MFN Exquire, Cappadonna, Vinnie Paz and finally who else can kick down the door on this project with a cameo like Mr. Tony Starks aka Ghostface Killah. I was able to get up with Esoteric for this feature shortly after the release of this album.
 One thing you can't deny is that first and foremost the album is a banging collaborative project. "In late 2010 or so, the album started to formulate, we  just wrapped up the 1212album, Deck was on that album on the "12th Chamber" track, and he wanted some beats.  7L had an idea of putting the two us together in the studio and banging out a quick EP on the low, just leaking it out there and not really promoting it. Just to put it out there to kind of let it do its own thing and make it this unique under promoted, mysterious record. From there we started to realize we have something we could put out there and sell and make it as big as we can." Deck being from Staten Island and 7L and Esoteric being from Massachusetts I wondered how they worked out the production. Esoteric asserts that traveling from Boston and NY was something they maintained fairly evenly, with 7L making most of the beats in Boston and most of the vocals being laid down in NYC. "We went out to Remedy's spot out in Staten Island, we also hit up Code Red studios."
With the cover alone CZARFACE is smashing previous comic book inspired hip-hop album covers. "That was basically the angle I really wanted to take with the album. When we decided to make a collaborative record together we needed a name. Some things weren't really sticking and then I came up with the name CZARFACE, which would be this character that represented the three of us. I'm an old school Marvel Comics head, so I wanted the cover to be a Jack Kirby inspired presentation. I reached out to Lamour Supreme who can do art in that vein, and he was happy to do it and help bring CZARFACE to life." Glad to know Esoteric is a Marvel Comics head, growing up in NYC it was a rite of passage being a Marvel reader. Although DC was out there, Marvel just took you where you needed to go. "I'm much more of a Marvel head than I am DC reader, but my son is four years old and his favorite super hero is Batman. So I have a weak spot for Batman." Esoteric's son actually makes a little cameo on the album; "believe it or not he thinks that CZARFACE is a real character. He sees the artwork in the house and he has all these questions like, dad who does CZARFACE fight? So I have to keep up this story of CZARFACE."
For all you archivists out there if you weren't already up on it, the release of this CZARFACE CD comes with unique packaging, which includes a full color pop out of our main character. That's a first for me, seeing a pop-up like that totally puts to sleep any notion that buying a CD in this digital age is obsolete. The pop-up alone warrants the CD purchase!  "Yeah man that was part of the idea too, we wanted to make something special, apart from the music, which people would want to have, like the collector's and so forth." The idea of pop-up was a collective one; it was something they wanted to make happen. Even if doing something like a pop-up would be extra leg work. "I presented an outline of how we wanted it to Lamour, to make sure it would operate correctly and he pretty much made it happen." In developing packaging like this they not only keep the CD collector's thirst quenched but they also make a point for those that will want to just rip it off of the internet or buy it off of iTunes. "It's sold out now; we're already repressing a second edition, a digi-pack variance cover of the album, but it doesn't have the pop-up. Some stores may still have it, but the pop-up edition is about to be sold out completely. We're also working on an action figure of CZARFACE, so we kind of went berserk with all the extra incentives with this album.
With the sequence of the whole album there's almost no way one wouldn't expect a sequel. "I'm all for it, it's in the cards. I know that Deck said that it could be possible. We're trying to see what the feedback for this one will be which has been pretty positive so far." So things are definitely looking good peoples! As far as touring CZARFACE is currently locking down a west coast tour and after that should be locking down a European tour. "We just did our release show in Boston and that was a great turn out, Deck carries weight on his own, and we've been doing our thing and now as a group we just hope we can get the same turn out and sell-out all the venues we hit up!!!" Be on the lookout for CZARFACE in a hood near you. Excelsior…