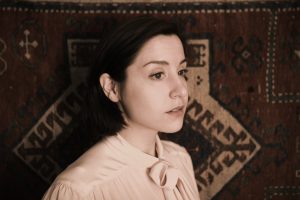 Laura Stevenson comes from a long line of musicians. Her mother's parents were successful musicians; Harry Simeone, the composer and choral arranger responsible for such works as "The Little Drummer Boy" and "Do You Hear What I Hear?" and Margaret McCravy (stage name McCrae), a singer from South Carolina who got her start accompanying her elder siblings "The McCravy Brothers," a harmonious gospel folk duo, before continuing on her own to record and tour with bandleader Benny Goodman.  
Armed with her grandfather's love for modernist dissonance, a genetic predisposition for harmony, and with her sea legs firmly planted in the traditions of American folk singing, as a high schooler Stevenson spent her afternoons singing in four different choral groups, exploring a growing love for acapella.  
Stevenson moved to Brooklyn in her early 20s and soon started performing her own material, loosely assembling a backing band of friends from other projects.  In 2010, she released her bare-bones full-length debut simply titled, A Record, and the rest is history. 
Ghettoblaster caught up with Stevenson shortly before the April 23 release of Wheel (on Don Giovanni Records), to talk about her family, Frank Sinatra and Gene Krupa, fears and the new record.  This is what she told us…
What happened to The Cans?

The Cans was kind of my jangly disorganized way of naming a back-up band after my first record "A Record" was released.  A lot of people came in and out of it, it was more of a collective… and we never really knew who was going to be coming to play the show.  It was a really fun time filled with variables… which kind of freaked me out, truth be told.  Anyway, now when I have the band with me, it's this serious and organized and professional thing, so- when we're together as a band we're moving away from "The Cans" and we'll see where it goes from there.  It's a weird transitional phase I guess, it's hard to release records with a totally different band-name and not alienate your fans.  Plus, google.  And google plus. 
I love big band era sounds and especially Glenn Miller and Benny Goodman.  Have you talked to your grandmother much about touring with Benny Goodman?

Yeah, she described to me, very vividly, her first time performing with the band at the Pennsylvania Hotel, across from Penn Station.  She was so nervous, she could barely stand.  It made me feel a lot better being so nervous the first couple times I played, and I just thought about her.  She also told me stories about Gene Krupa being "out of it" a lot. Which is sad.  And also she had a story about Frank Sinatra coming to a party when she lived in Hollywood and he was wearing some sort of mechanic jump suit… which sounds really out of character for him.  I figured that guy lived in a suit.
On a sad note, have you heard what Wilson Phillips did to "Little Drummer Boy"?

Haha  I haven't… you're not selling it for me, but I am a huge sucker for their harmonies.. it can't be that bad, right?
You actually started performing as a choral singer.  What are your feelings on Glee?

You know, I've never watched Glee.  Which is crazy because I was the biggest acapella nerd in high school.  But I have all of these really ignorant assumptions about the show, I think it's based on how attractive the kids are- I just assume they're all popular despite their acapella singing and… it makes me bitter because that's not the way the world works.  I'm half kidding.  Anyway, my sister loves the show… I'm sure I'll come around.  I love Jane Lynch so, I'll probably end up watching it once I cool off a little about it.
Where and when did you get the confidence to start your own band?

2003 or 4.  In my friend Zach's basement.  He played drums and my friend John (from Bomb the Music Industry) played bass… and they were like, "this song is good" and I was like, "whaaaaaaat?"
Do you write on piano or guitar?

I write on guitar.  I have a really hard time playing piano and singing at the same time.  I'm better at the piano so I find myself all over the keyboard instead of just anchored into a few chords on the guitar. 
This record has a much more hi-fi sound.  Where did that approach come from?

I wanted it to be bigger than the last one.  Even though I love lo-fi and I wanted that to be the feel of Sit Resist, with this one I wanted to explore how deep and big each song could get.  Without sounding too studio slick because I hate that.
The press release I read said you're a bit of a worrier.  Have you seen the pictures online of how rising ocean tides will affect the New York landscape?  You're tougher than letting a little water take you down, right?

I'm not worried about me so much… I come from a seriously nautical family so I'll find something to float on.  It's more like, those photos make me want to move to a mountain top in Vermont and never have kids. 
Working with Rob Moose (a Grammy award winning violinist who arranged strings for her, as well as Bon Iver, Antony And The Johnsons) and Kelly Pratt (who is known for his brass work with Beirut, Arcade Fire, David Byrne and St. Vincent) had to have tickled you pink.  What were those experiences like?

It was amazing.  With Kelly, he was in LA so I would sing his parts (hopefully recordings of me trying to sound like a trumpet will never see the light of day) and then I'd send them to him and he would play them EXACTLY as I sung them.  Every nuance.  I didn't know horns could sound so human.  He's incredible.  And with Rob, he came to the studio, sheet-music in hand, and played the violin like… seriously it sounded like an angel.  I get the chills from certain frequencies (usually just human voice or violin) and he was hitting them… like, every other note.  I had the chills for probably 4 hours. 
Are you anxious or excited about the touring cycle for Wheel?

I'm excited!  I love tour!  I just hope I don't lose my voice.  I like talking in the van… a lot.  
Are you worried about negative feedback for the record?  Do you take that kind of feedback to heart?

I have the thinnest skin of all time so… I'd say yes about those things.  But I'm confident about these songs. 
Do you ever contact people who have written about you to discuss what they wrote?
Nope!  I have favorited some nasty comments on twitter though.  That's as far as I'll go.