This summer, the legendary Newport Jazz Festival will return to Fort Adams State Park in Rhode Island. One of the most important and enduring cultural institutions in America will return for its 69th Anniversary where it will continue to hold space for the once in a lifetime performances that only Newport's unique alchemy of intimacy and artistic community can bring. Fans and artists alike return each year to this hallowed ground to experience the joy of this long running tradition of diversity, discovery and artistic virtuosity. This year's event will take place August 4-6.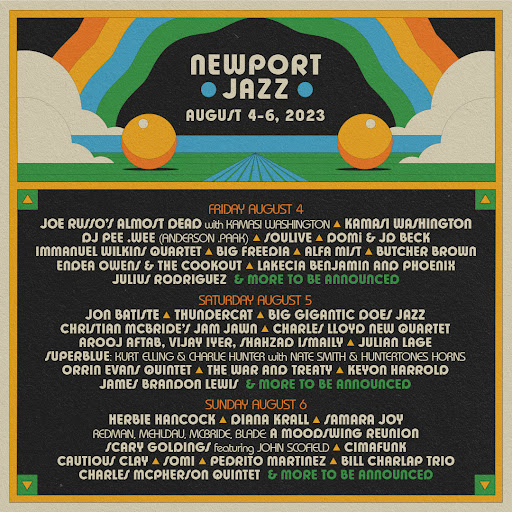 This year's festival lineup features the legendary talents of Herbie Hancock, Diana Krall, Charles Lloyd and Vijay Iyer, plus some of today's most virtuosic artists and cultural leaders like Jon Batiste and Kamasi Washington. A thrilling new class of GRAMMY winners and nominees join the 2023 bill, including Best New Artist Samara Joy, DOMi & JD Beck and Arooj Aftab. The lineup also includes bounce legend Big Freedia, musical polyglots Thundercat, DJ Pee .Wee (aka Anderson .Paak), Big Gigantic and Alfa Mist, as well as songwriters Cautious Clay, Durand Jones and The War & Treaty. Special ensembles include Newport Jazz artistic director Christian McBride's annual Jam Jawn, MoodSwing, Scary Goldings featuring John Scofield, Superblue, Orrin Evans Quintet and the Bill Charlap Trio. A full line-up is below.
Specially priced 3-day tickets go on sale Wednesday, March 22 at 1PM EST via DICE. Special pricing will be available for 24 hours, ending Thursday, March 23 at 1PM EST. All full-price 3-day, 2-day and single-day tickets go on sale Thursday, March 23 at 1PM EST. More artists will be announced soon. Full pricing is listed below. Children under 10 are free with a maximum of 2 children attending per ticketed adult. Children 10 and over will need to purchase a full priced admission ticket. Current students aged 10-25 are eligible for student tickets. College students are required to show a student photo ID. Middle and high school students are not required to show ID. All students must enter through the student gate only. For more information go to https://dice.fm/promoters/3gng
Newport Jazz Festival encourages fans not to purchase tickets you see on the secondary market, or from any individual or corporate resellers claiming to have tickets before they have officially gone on sale to the public. Those speculative listings are not real tickets that the seller actually owns. Only purchase from official Newport Jazz sources during the official on sale. All Newport Jazz tickets are mobile from our ticketing partner DICE.
TICKET PRICING
3-Day Limited Special Priced General Admission: $239.99 (includes fees)
3-Day Full Price General Admission: $281.19 (includes fees)
3-Day Student Admission – $142.14 (includes fees)
2-Day Saturday & Sunday General Admission: $193.64 (includes fees)
2-Day Saturday & Sunday Student Admission: $91.67 (includes fees)
Single-Day General Admission: $100.94 (includes fees)
Single-Day Student Admission: $47.38 (includes fees)
3-Day Parking: $69.01 (includes fees)
2-Day Parking: $46.35 (includes fees)
Single-Day Parking: $25.75 (includes fees)
NEWPORT JAZZ 2023 LINEUP
Friday
Joe Russo's Almost Dead with Kamasi Washington
Kamasi Washington
DJ Pee .Wee (Anderson .Paak)
Soulive
DOMi & JD Beck
Immanuel Wilkins Quartet
Big Freedia
Alfa Mist
Butcher Brown
Endea Owens & The Cookout
Lakecia Benjamin and Phoenix
Julius Rodriguez
Saturday
Jon Batiste
Thundercat
Big Gigantic Does Jazz
Christian McBride's Jam Jawn
Charles Lloyd New Quartet
Arooj Aftab, Vijay Iyer, Shahzad Ismaily
Julian Lage
Superblue: Kurt Elling & Charlie Hunter with Nate Smith & Huntertones Horns
Orrin Evans Quintet
The War and Treaty
Keyon Harrold
James Brandon Lewis
Sunday
Herbie Hancock
Diana Krall
Samara Joy
Redman, Mehldau, McBride, Blade: A Moodswing Reunion
Scary Goldings featuring John Scofield
Cimafunk
Cautious Clay
Somi
Pedrito Martinez
Bill Charlap Trio
Charles McPherson Quintet
The Newport Jazz Festival is produced by The Newport Festivals Foundation (NFF), a non-profit organization. Thanks to the support of Newport Folk and Jazz fans and donors, NJF continues to support music programs in our own backyard of Newport, Rhode Island and all across America. Since 2018, the Artist Gives initiative has provided over 100 grants to music education programs in over 30 states, including instruments for public schools, funding for music instruction workshops for Veterans, Girls Rock Summer camps, after school music lessons for children with learning disabilities, and more.
In addition to its year-round work, and in response to the pandemic, the foundation established the Newport Festivals Musician Relief Fund (MRF) to provide financial relief to musicians in our Folk & Jazz communities experiencing a loss of income as a result of COVID-19. Resources from NFF and donations from individuals, foundations, and corporations have allowed the MRF to help over 500 musicians since April 1, 2020. To learn more about NFF's programs and work, visit newportfestivals.org.