It's the end of another year and in actuality, 2019 ending really isn't that big of a deal. Some have made this fourth quarter an issue but really, we're just rolling right into 2020. What IS a big deal is that we've compiled our yearly BEST 100 ALBUMS of 2019 and it's been a banner year for creativity. That's not to mention that there have been a number of surprises. In no particular order, writers Tim Anderl, Tommy Johnson, Diego Flores, Daniel Severn, and I, have put together a list with a number of newcomers as well as matured artists who've released new material this year that have excelled expectations.
SWANS – Leaving Meaning (Young God Records)
Almost 40 years in existence, Michael Gira continues to remain unclassifiable with his SWANS reign. His latest offering meshes noisy guitar elements with expansive sounds delicately wound together. A far cry from the early bombast of SWANS releases. It's evolution at its best.
Facebook | Twitter | Instagram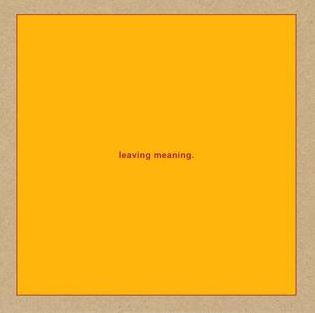 CHRIS CONDE – Conde Digital (Fake Four Inc.)
The Texas rapper has skills. Loads of 'em. For the Conde Digital EP, all beats were produced by KDeath of Moody Black. Here the music showcases another side of Conde: harsh, aggressive, and angry, yet still positive. This right here is the best way to end the year.
Facebook | Twitter | Instagram
BROTHER ALI – Secrets & Escapes (Rhymesayers)
Is there anything left to say about Brother Ali that hasn't been said over 100 times already before? Well, yes, there is. Once again we get the laid back brother that everyone digs. It's no different here, with beats produced by Evidence with appearances by Talib Kweli and Pharoahe Monch.
Facebook | Twitter | Instagram
SWORDPLAY – Paperwork
The bar has been raised and it comes in the form of Paperwork, the album released by west coast emcee Swordplay. Paperwork follows up 2013's Tap Water, and is the first release since relocating from Richmond, VA. The album is dense, dark and full of clever lyricism.
Facebook | Twitter | Instagram
Twen – Awestruck (Frenchkiss)
It took the duo a little bit of time to get into the studio to lay down this album, but damn was the wait worth it. DIY influences peppered all throughout the Awestruck, the album was spinning through my head and speakers for months after its release.
Facebook | Twitter | Instagram
Ohtis – Curve Of Earth (Full Time Hobby)
Equipped with alt-country instrumentals, the songs are in a lot of ways part of the recovery for lead Sam Swinson. "Runnin" for example tells the stories of instances that involved him being deep in the throes of addiction. The openness that Swinson and company showcase in Curve Of Earth is exceptional. I look forward to seeing what the journey takes these gentlemen.
Facebook | Twitter | Instagram
Half-Handed Cloud – Gathering Out Of Thin Air (Asthmatic Kitty)
John Ringhofer packs his project here with a ridiculous amount of tracks so of course, it's worth its weight in gold. Ringhofer is an amazing songwriter and these songs are so sweet and delicately crafted. It's difficult not to love this.
Facebook | Twitter | Instagram
BEANS – Ace Balthazar (Hello L.A.)
The gifted rapper/musician walks the path of the nomadic artist, although we know exactly where to find him. His lyricism is often quite colorful and his beats run the gamut from complete avante-garde to straight banger, mixing things up as only he can. Guest appearance by Jennifer Herrema.
Facebook | Twitter | Instagram
SHEER MAG – A Distant Call
After listening to this album, you can't deny Sheer Mag is probably the greatest Rock 'n Roll band many haven't heard. Yet. Fronted by singer Tina Halladay, the band's 70s and 80s influencing contain amazing songwriting sometimes with heavy-handed guitars, but always holding onto a pop sensibility. Yeah, it's the point where the Runaways meet Fleetwood Mac and everything is perfect.
Facebook | Twitter | Instagram
CHRIS RIVERS – G.I.T.U. (Mello Music Group)
His follow-up to 2017's Delorean doesn't disappoint. The new album is filled with a number of different styles that work well placed against one another or separated. Still dealing with the ghosts of his pasts, Rivers has stepped out of the large shadow that once loomed over him to come into his own.
Facebook | Twitter | Instagram
DJ CRIMINAL & ILLOGIC – A Change In Mantra
When collaborative efforts happen, sometimes that shit is magical. Criminal brings the beats and Illogic, well he does what ILL does: brings that tightly wound lyricism that has everyone paying full attention. The fire on this release simply cannot be contained.
Facebook | Twitter | Instagram
RoQy TyRaiD – DJ Green Lantern Presents…
I've been fortunate to catch TyRaiD's intense live performance which is filled with an energy I wish most had. This album dropped with Green Lantern and we all know, it has to be good. He doesn't disappoint with quick-tongued lyricism over dope beats. There's no stopping the TyRaiD.
Facebook | Twitter | Instagram
J. ROBBINS – Un-Becoming (Dischord)
He's back! The Jawbox/Burning Airlines frontman returned this year with his first solo album. He's backed with a complete band to give his songs the bombastic life they always deserve. He's back? He's never left.
Facebook | Twitter | Instagram
HOMEBOY SANDMAN – Dusty (Mello Music Group)
It's been a great year for the prolific rapper from Queens, NY. After a number of joint efforts with Aesop Rock, Edan, etc., this year his new album showcased unconventionality which made for an interesting album. Couple that with catchy beats and Sandman's dense wording…yes, this right here.
Facebook | Twitter | Instagram
DIEALPS! – More Important Things (New Granada)
DieAlps! is indie-pop which can't be matched by any of its contemporaries this year. It's that damn good. They keep you guessing as to what direction the music is heading, they shift dynamics in a clever way, and the songs are constructed really well. Did I mention it's that damn good?
Facebook | Twitter | Instagram
SHREDDERS – Great Hits! (Doomtree)
The Doomtree collective is reduced here to just four members, which is fine of course because it seems anything the members release, as a collective or individually, always bangarang. P.O.S., SIMS, Paper Tiger, and Lazerbeak are left with more room to navigate and take the opportunity to drop that heat through the 7 tracks here.
Facebook | Twitter | Instagram
CESCHI – Sans Soleil (Fake Four Inc.)
The latest offering from Ceschi is an explosion of art. It's filled with multi-genre sounds that know no boundaries. While it is tricky to navigate, Ceschi makes it look easy. The indie/folk/emcee's amalgam of music always seems to work. And it's always magical.
Facebook | Twitter | Instagram
MOVER SHAKER – Another Truckstop (Skeletal Lightning)
The Detroit, Michigan rock band has prog-leanings that fits into its massive rock sound. The band meshes melodicism and pop hooks well with nimble progressions that could make King Crimson, Rush, or Tool blush. The insanity in which the band's latest offering moves is, well, insane.
Facebook | Twitter | Instagram
THE PARANOYDS – Carnage Bargain (Suicide Squeeze)
Being released right around the end of the summer, The Paranoyds released an album that was ripe with punk, garage rock, and new wave inspiration. Having been right in the thick of the Los Angeles DIY scene, The Paranoyds can do whatever the fuck they want. Carnage Bargain slaps from start to finish.
Facebook | Twitter | Instagram
BRITTANY HOWARD – Jamie (ATO Records)
Do you want to hear how neo-soul is going to be taken in the upcoming future? Then look no further to what was arguably the best album of the year. Howard took the daring leap out of the friendly confines of her band Alabama Shakes and forged new into a new world. Vocally, Howard demands your attention with each and every track.
Facebook | Twitter | Instagram
CHERUBS – Immaculada High (Relapse)
CHERUBS aren't trying to reinvent the wheel, they're just giving it a thicker tread in order for it to go further. The band pieces together yet another fuckfest of low-end sludge straight out of Texas. Originally formed in '91, CHERUBS hasn't missed a step here.
Facebook | Twitter | Instagram
AVERY R. YOUNG – Tubman. (FPE Records)
Young is an artist that takes from the past and fits everything neatly for the modern listener with his mixed bag of funk, soul, R&B, rock, and elements of Gospel. We could all probably enjoy even listening to him sing without music. Avery R. Young is a wickedly talented artist and we're all the better for it.
Facebook | Twitter | Instagram
THE NATIONAL – I Am Easy To Find (4AD)
I have heard the description of The National being "moody dad rock" for many years now. Yet I still continue to argue that this collection of musicians is simply majestic with the emotionally driven work. I Am Easy To Find features The National tapping into more lush arrangements than previous efforts. The final result is music that heightens the already masterful work to new levels.
Facebook | Twitter | Instagram
DAMON LOCKS' BLACK MONUMENT ENSEMBLE – Where The Future Unfolds (International Anthem)
Locks has always been an artist that has defied classification. With his new Black Monument Ensemble, things are no different. Combining civil rights samples, experimentation, soul, and Hip-Hop, his latest album is life embodied.
Facebook | Twitter | Instagram
THE GET UP KIDS – Problems (Polyvinyl)
Their first album since 2011's There Are Rules, Problems is a return to form and a particularly poignant deep dive into adulting. While some of the band's back catalog is a tad divisive, this LP is an upshift for the band moving forward, largely because the band has revisited their hooky, punk-leaning roots. If you don't like this album, then you probably just never really liked the band.
Facebook | Twitter | Instagram
YOUR HEART BREAKS – Drone Butch Blues (Sofaburn)
Clyde Petersen, the brainchild behind this project, is a masterful songwriter. The folk/Americana-esque album's motif (a queer concept album) is obvious but it's not how we should look at this project alone. It's beautifully written and carefully crafted.
Facebook | Twitter | Instagram
John Petkovic (Sweet Apple/Death Of Samantha) and Patrick Carney (Black Keys) come together like Wonder Twins activating powers for this release that's filled with sweetly arranged rock songs that are easy to fall in love with. The song drifts along gently across soft waters as guitar effects keep the song in check while Petkovic sings with unbridled passion.
Facebook | Twitter | Instagram
FOX MILLIONS DUO – Biting Through (Thrill Jockey)
Kid Millions (Oneida, Man Forever) joins forces here with Greg Fox (Liturgy, Ex Eye, Zs) Duo's sophomore release. his isn't improvisation for improvisation sake, there's a lot more. Each song seems to be derivative unto itself, riding waves of cacophony, structured around patterns driving into barren deserts of sound. There's are electronic elements throughout, overlaying rhythms and loads of percussion but the duo is far from being lost.
Facebook | Twitter | Instagram
ORVILLE PECK – Pony (Sub Pop)
This masked Canadian phenomenon makes purposeful and theatrical music, perfect for the imperfect country roads and sweeping drama earnestly explored here. Never has a country record sounded so wonderfully weird and perfectly embodied the anti-hero of "the cowboy" character.
Facebook | Twitter | Instagram
BIG THIEF – U.F.O.F. / Two Hands (4AD)
This year, Big Thief released two albums that single handily places them into more than a cute indie band. They have cemented themselves as an act that is a powerhouse. They seriously haven't missed a step since introducing us to Masterpiece. Adrianne Lenker, Buck Meek, Max Oleartchik, and James Krivchenia were meant to be together and make high-quality music that doesn't drop off at any point.
Facebook | Twitter | Instagram
Drab Majesty – Modern Mirror (Dais Records)
This concept album, the retelling of Ovid's "Narcissus" is the group's third full-length. This foreboding tale comes to life amidst the immersive synth flourishes and guitar-based washes that characterize Drab Majesty's signature sound.
Facebook | Twitter | Instagram
CESCHI – Sad, Fat Luck (Fake Four Inc.)
The first in the trilogy isn't any different as the diversity in songwriting is freakishly otherworldly. There are standout cuts that show a more grandiose view of Ceschi, aside from his ability to allow Hip-Hop, Folk, Punk to coalesce alongside one another and at times even within the same song.
Facebook | Twitter | Instagram
J HACHA DE ZOLA – Icaro Nouveau (Caballo Negro)
The questions might be many but twe may end with more questions than answers. Zola files into the ranks of the alternative to the alternative. The music he creates clashes against the norm, eschewing the basic guitar-bass-drums combo for something more intuitive and challenging.
Facebook | Twitter | Instagram
The five-piece act, while obviously influenced, is derivative unto itself. The band's delivery of its compositions is a mastery of groups that could possibly be twice their age. Jones has a voice as powerful as David Ruffin's yet as sultry as Eddie Kendricks. That's not to slight the rest of the band that has the ability to harmonize as well as any of their own influences.
Facebook | Twitter | Instagram
EZRA FURMAN – Twelve Nudes (Bella Union)
Ezra takes the direct route on her latest, which is unapologetically punk. Clearly wrestling with the chaotic state of the world, Twelve Nudes is a stark reflection of the time in which it was composed; at times it's brash and confrontational. It needs to be. It deserves to be. And it's beautiful in its
thoughtfulness.
Facebook | Twitter | Instagram
THE STARGAZER LILIES – Occabot (Rad Cult)
With four previous releases, it looks like on its fifth, the band's music and sound have been realized. This is in part, no doubt, due to TOBACCO's production. The band writes some amazing and beautiful compositions, and here they accentuate it with thunderous percussion. There are semblances of shoegaze which adds to the charm.
Facebook | Twitter | Instagram
HEMLOCK ERNST & KENNY SEGAL – Back At The House (Ruby Yacht)
This is the album many have been waiting for. After appearances on a number of different releases, Hemlock Ernst has finally released a new album, with the help of beatmaker Kenny Segal. Samuel T. Herring is a masterful wordsmith and while not performing with Future Islands, he hits the mic with amazing lyricism.
Facebook | Twitter | Instagram
CURSIVE – Get Fixed (15 Passenger)
There are moments on Cursive's latest where there's difficulty dealing with the band. There's both dread and beauty. There are rage and anger, coupled with sweetness, right before it explodes again.
Facebook | Twitter | Instagram
SPIRAL STAIRS – We Wanna Be Hyp-No-Tized (Nine Mile Records)
The former Pavement member is moving towards directions where he's aligning his own stylings with a more roots-rock offering. At moments, Kannberg becomes chameleon-like culling influences from the past and making them his own. This album is an unexpected masterpiece.
Facebook | Twitter | Instagram
IGUANA DEATH CULT – Nude Casino (Innovative Leisure)
The Dutch quartet pieces together a hodgepodge of sound and one thing the band has is the penchant for writing a catchy fucking melody and appeasing anyone who listens to the group because the album doesn't disappoint. Songs run the gamut from anthemic to subtle and there's a punk ethos within the band's own framework, which enables them to move seamlessly through other subgenres.
BRUTUS – Nest (Sargent House)
This powerful, Belgian power post-metal trio plays expansive and cathartic music that is nothing short of completely exhilarating. This is a band that is truly swinging for the fences at every turn. The fact that this album isn't on EVERY "Best of 2019" list is an absolute travesty.
Facebook | Twitter | Instagram
ROSE DORN – Days You Were Leaving (Bar None Records)
Bedroom rock, twangy gaze, and melancholic pop make Days You Were Leaving one of my favorite albums this year. Lead singer Scarlet Knight's vocals are hypnotic and effortlessly dreamy. Jamie Coster and Joey Dalla are remarkable in helping flush out the direction that the album needs to go. This is a trio that should be on everyone's radar moving forward.
Facebook | Twitter | Instagram
TENNIS SYSTEM – Lovesick (Graveface)
Right from the start, Tennis System's latest pushes the envelope with heavy distortion and pulsating shoegaze influence. The standout single for me was the blitzing "Turn." Lovesick is the most polished and focused work that Tennis System has in the library.
Facebook | Twitter | Instagram
HOVVDY – Heavy Lifter (Double Double Whammy)
As a latecomer to the band's musical party, I welcome the new discovery that this band is. The Texas duo creates clever songs that swirl around acoustic guitars with hooks and melody popping in and out at every turn.
Facebook | Twitter | Instagram
CZARFACE & GHOSTFACE KILLAH – Czarface Meets Ghostface (Silver Age)
This past decade Czarface has fiercely delivered album after album of beats that hit hard and quick. Here Esoteric, 7L, and Inspectah Deck are joined by Ghostface for a hell of a battle. Wu-Tang fans show love for Czarface and rightly so. They bring the wood for the fire.
Facebook | Twitter | Instagram
BLEACHED – Don't You Think You've Had Enough? (Dead Oceans)
The Los Angeles-based duo is newly sober and clearly leaner and meaner than ever. Clearly unafraid of trying on new and diverse sounds, the sisters dress up in a variety of looks. All of them work. Do yourself a huge favor and seek out the accompanying videos for this album; they're wonderful.
Facebook | Twitter | Instagram
LIZZO – Cause I Love You (Atlantic)
Lizzo's missive, one of prideful self-love and self-compassion, is the perfect introduction to her fantastic energy and genre-blending (trap, gospel, rap, etc.) work. Bad bitches take note; this is a unique take on modern pop music. Lizzo for president in 2020.
Facebook | Twitter | Instagram
PILE – Green and Grey (Exploding In Sound)
Centering the album on mortality, anxieties, and loss, Pile has once again released an album that is unflinching and unnerving. There are several tracks that slam heavy guitar riffs and violent drums on you. The brooding environment surrounds Green and Grey keeps you humble, no question. I kept thinking that had Layne Stanley from Alice in Chains would approve this album.
Facebook | Twitter | Instagram
DEAF CLUB – Contemporary Sickness, (Three One G)
This savage aural acid bath channels thrash, crust and grind tendencies into a hardcore punk assault that delivered with the subtleness of a brick to the face. If you're suffering from tinnitus, avoid this at all costs. If you're looking for a confrontational, radical disruption of this status quo, this is it.
Facebook | Twitter | Instagram
HEMBREE – House on Fire (Thirty Tigers)
An absolutely infectious and energetic dance record and an absolutely stunning debut. Drummer Austin Ward is also a hero among men. This Kansas City five-piece is one to watch for sure.
Facebook | Twitter | Instagram
PIXIES – Beneath The Eyrie
I will always be enamored with the songwriting Black Francis pieces together because it refrains from dragging in any conformity. With the band's latest album, they offer up that Pixies magic we're all used to; the unexpected melodies and harmonies. And of course, let's be honest, we all love the way Joey Santiago makes his guitar sing.
Facebook | Twitter | Instagram
DANNY BROWN – uknowhatimsayin? (Warp)
If you felt you could give 2016's Atrocity Exhibition a rest for a while, you can. His new album explores and mines new territory while still delivering his colorful lyricism and inflection. Along for the ride here are Run The Jewels, JPEGMAFIA, and the Nigerian-born, reggae artist living in London, Obonjayar who adds some flavoring into the mix.
Facebook | Twitter | Instagram
DESSA AND THE MINNESOTA ORCHESTRA – Sound The Bells (Doomtree)
The singer/emcee is joined by the Minnesota Orchestra from her hometown with an album of reimagined tracks off her previous releases. If anyone thought Dessa couldn't do anything different, have seriously underestimated her. On this release, Dessa shows she is masterful at anything, and everything, that she does.
Facebook | Twitter | Instagram
GHOSTFACE KILLAH – Ghostface Killahs (New Generation)
Wu-Tang Clan isn't for everyone but the appeal of the music whether individual or as a collective, hit hard. There's nothing politically correct about the Killahs album and nor should we expect it, instead what we do get is more Ghost being Ghost. Method, INS, and Cap join him here as well as Solomon Childs, Masta Killa, and others.
Facebook | Twitter | Instagram
RITUALS OF MINE – Sleeper Hold EP (Carpark)
This 3-song EP is obviously a friggin' teaser for the next installment of music to come. Fronted by Terra Lopez shifts moods here moving from the trippy "Burst" to the melancholic "Bad News." Hopefully, the group will be releasing another full-length sooner rather than later. All we can do is wait.
Facebook | Twitter | Instagram
VON PEA – City For Sale (HiPNOTT Records)
As a member of Tanya Morgan, he was part of a group that dropped 5 excellent albums and here with City For Sale, it really isn't much different. The artist, by way of Brooklyn, has an album filled with head-nodding rhythms, melodic twists at just about every turn, and lyricism that fits within the context of the conceptualized album that has him searching for his Brooklyn in a world of gentrification.
Facebook | Twitter | Instagram
CZARFACE – Double Dose Of Danger instrumental (Silver Age)
It's Esoteric, 7L, and Inspectah Deck but for this Czarface, it's strictly beats. Now I know what everyone is thinking, "Should I really pick this up?" Why not? You could do a lot worse. The music is what we've all come to expect to get from the trio; hard-hitting, dense, old-school with a new-school feel.
Facebook | Twitter | Instagram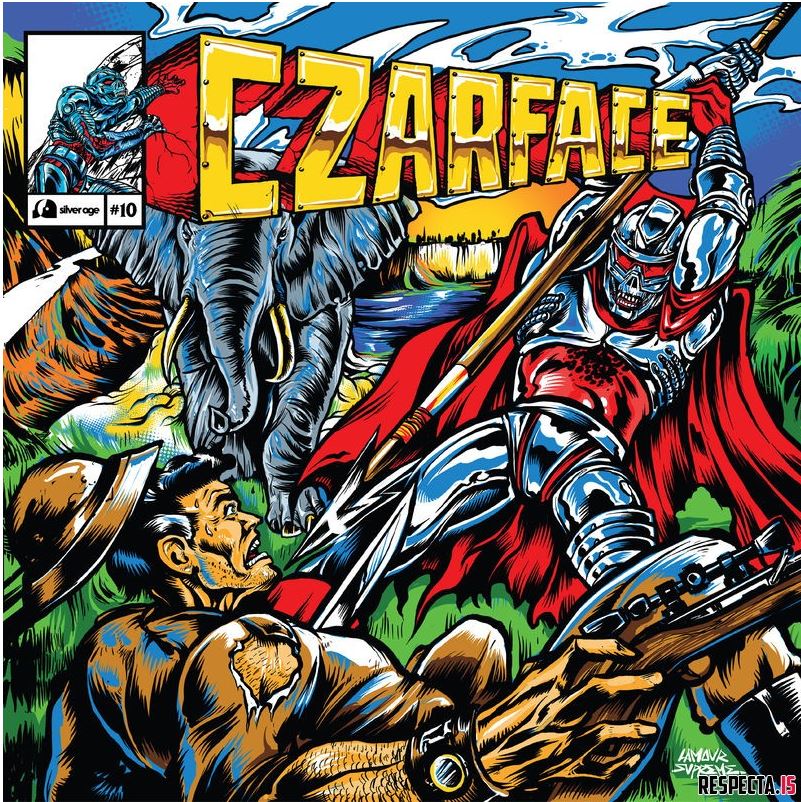 POM POM SQUAD – Ow EP
It's so easy to fall in love with the band's pop sensibilities wrapped around noisy chaos in some songs here. The band sometimes plays with dynamics that obviously accentuate the tone of songs and allows listeners to share the ride, the heaviness, the sweetness, the tender lingering of the music created.
Facebook | Twitter | Instagram
JAY SOM – Anak Ko (Polyvinyl)
When I discovered Melina Duterte's project, it became so clear that she was going to be one of the up and coming acts for years to come. Her bedroom, DIY indie-rock had been captivating and written so artistically. Anak Ko offers listeners the next chapter of Jay Som's rising star status. Replacing the bedroom space to a recording studio, Duterte has released an album that's sharp and cunning. Much like Big Thief, Jay Som never disappoints.
Facebook | Twitter | Instagram
LO-PAN – Subtle (Aqualamb)
The Columbus, Ohio riff-heavy rockers deliver a big, expressive rock record that plays perfectly to the magnificent vocals of Jeff Martin. This record is a hard-fought-and-won triumph.
Facebook | Twitter | Instagram
LITTLE BROTHER – May The Lord Watch
May The Lord Watch is the new one by Little Brother and it's as great as the group as ever been. Still present is the R&B inflection, which includes deep soulful bass, backing feminine harmonies over 9th's thick beats, and Phonte & Big Pooh's lyrical volleys.
Facebook | Twitter | Instagram
SEBADOH – Act Surprised (Dangerbird Records)
After six years, the band returns with a new album. The songs here really do creep up on you and eventually get stuck, much like the title track here where Lowenstein takes the lead. It's no surprise this album is simply astounding.
Facebook | Twitter | Instagram
PISTOL MCFLY – Road Trip (Dirty Science)
He's not just a clever juxtaposition of a name but a rapper that's dope AF! The beats are tight, produced entirely by Power, like the heroin in the syringe that makes ya' head nod, and his prose is cleverly wound tight, and as thoughtful as anything. After listening to this I have seen the future of Rap and Hip Hop, and Pistol McFly is at the forefront.
Facebook | Twitter | Instagram
BELLS ATLAS – Belly (Tender Loving Empire)
The band's music floats through the space-time continuum effortlessly, without meandering with no purpose because if it's a purpose the group has, it's to haunt souls with an R&B bounce that are infectious and catch everyone off guard. The group has found explosively creative spirits among one another to create an eclectic and challenging sound. No two songs are the same yet they all fill the aesthetic they create here as a seamless unit. Just when you thought nothing new could be done within a musical playground, here comes Bells Atlas to prove you wrong because what they do is completely mind-altering.
Facebook | Twitter | Instagram
THE WILD REEDS – Cheers (Dualtone)
This the band you're likely to find something new within its music after repeated listens. The band has the capability to do a number of things, one of which is to incorporate intricately loving harmonies within its songwriting. At first glance one might think what The Wild Reeds create, it's all been done before. But that's just some tomfoolery in thinking because you'd have to of missed the intricacies. Or, you could be a complete fucking idiot. Cheers is full of amazing songs and at 13 tracks, you won't hesitate to play the album again and again, in its entirety.
Facebook | Twitter | Instagram
MALIBU KEN – S/T (Rhymesayers)
The moniker is one seemingly applied tongue-in-cheek for the new collaborative project with Aesop Rock and beatsmith TOBACCO. The appeal Aesop Rock holds is held in high regard amongst diehard Hip-Hop heads, intellectuals, and the everyman with quick-witted lyricism while TOBACCO provides the thick beats. This album could be the sleeper of the year.
Facebook | Twitter | Instagram
FAWNS OF LOVE – Permanent (Test Pattern Records)
The California husband/wife duo Joseph & Jenny Andreotti have pieced together a clever album in Permanent, their sophomore release. It's difficult to not fall in love with the band's music since the music crosses genres ever so slightly, easily influenced by more than just one decade of found sounds around them.
Facebook | Twitter | Instagram
THE HISTORY OF GUNPOWDER – The Epileptic Vol. 1
The Montreal act is fronted by vocal powerhouse Alex Morison, who also doubles as the controlling force behind the group. The album, which took 34 musicians to complete, is balanced between delicacy and insanity, with a fervor that's unmatched by any contemporaries. There are elements of music that have been used by Tom Waits, Ennio Morricone, and Springsteen but don't get things twisted because with this release, The History Of Gunpowder is derivative unto itself. Now we wait patiently for Vol. 2.
Facebook | Twitter | Instagram
CAPTURE PHASE – S/T
Boasting members of Honey and Salt, Ballerino, and Mode Dodeca, Austin's Capture Phase takes a different approach altogether, with math-rock sensibilities that stay grounded in rhythmic patterns while volleying guitars against one another. The band makes quick work of its contemporaries, and it's not done with malice but skill
Facebook | Twitter | Instagram
STRANDS OF OAK – Eraserland (Dead Oceans)
Tim Showalter felt like he didn't have much left musically till members of My Morning Jacket came along. Eraserland is the redemption story that the incredible musician needed. Lyrics that are as moving as anything you have ever heard, Showalter has found his groove again.
Facebook | Twitter | Instagram
MIDNIGHT HOUR – Live At Linear Labs (Linear Labs)
Ali Shaheed Muhammad & Adriane Young are master composers as heard on their 2018 debut releases as The Midnight Hour. They're at it again but this time around they perform Live At Linear Labs and of course, we get more of the same as they perform songs off the album for a live audience. The results? As captivating as the original.
Facebook | Twitter | Instagram
SULU AND EXCELSIOR – The AntiMatter Suite
The album takes a nod at influences that span from the 40s and 50s crooning, 60s and 70s soul, and 80s Hip-Hop, leaving off where the debut album, Eddie Romero, left off. This time around it sounds like brainchild Steven Mallorca has added a few new tricks into his songwriting. Horns, turntables, keys, punchy rhythms, and amazing melodies swirl throughout the album.
Facebook | Twitter | Instagram
THEES HANDZ – S/T (Empire)
It's as if we all received a classic gift, wrapped within 2019 here. The Grouch and MURS, literally two Living Legends (members) drop a new album as Thees Handz. Ten tracks that hark back to California days which I can't help but think about those LL albums that made us all feel a certain way. There are a number of dense and hard beats revolving throughout the self-titled release but it's the prose and lyricism we're all here for. Both Grouch and MURS are in fact, masters of their craft.
Facebook | Twitter | Instagram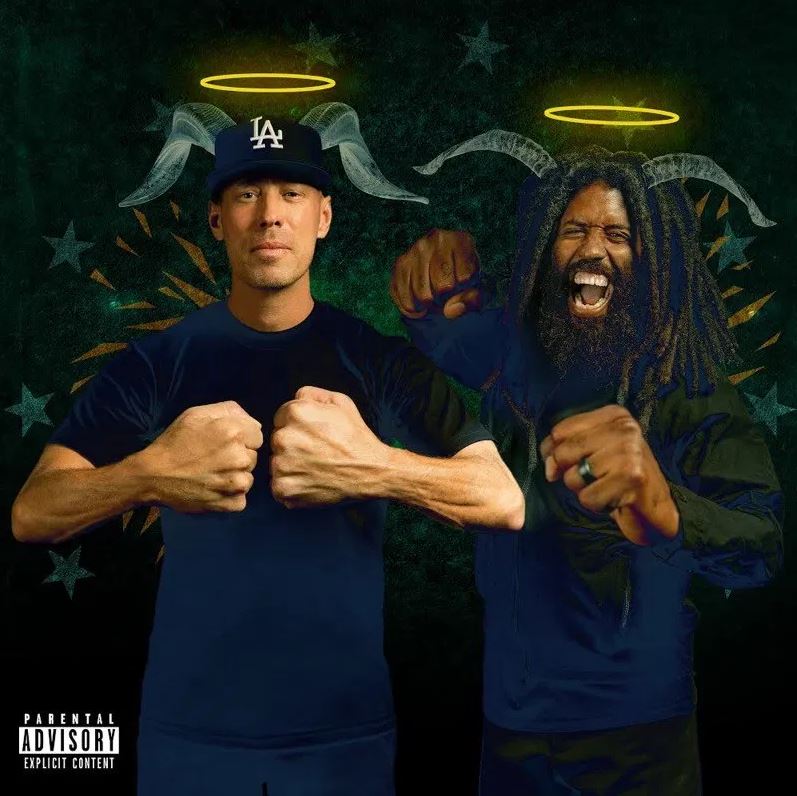 THROWAWAY – What?
Coming across Throwaway was complete happenstance. Kristen Carey is the voice and face, or rather, paper bag, behind Detroit's Throwaway. It's a noisy affair, deeply rooted in experimentalism but occasionally grasping onto invigorating melodies like on "The Revenge Society." Her gruff vocals fit well within the aesthetic and she's onto something here. Let's wait for the rest of the world to catch up.
Facebook | Twitter | Instagram
LIGHTNING BOLT – Sonic Citadel (Thrill Jockey)
Now and again, the band from Rhode Island comes back around to kick proverbial ass! 4 years in between this new album and the previous Fantasy Empire, makes no difference to the duo of Brian Gibson and Brian Chippendale, they release brash, loud and abrasive tracks that are bound to confound, confuse, and entice! Yes, that's what they accomplish here on the double LP.
Facebook | Twitter | Instagram
EMPATH – Active Listening: Night On Earth (Get Better/Fat Possum)
As a latecomer into Empath fandom, I can't express my undying gratitude to the band for keeping things different, which is what the Philly band accomplish on its debut full-length. The punk-noise inflection within the context of its "sound" bludgeons the senses with the sweet melodic undertones. Yes!
Facebook | Twitter | Instagram
MOOR MOTHER – Analog Fluids Of Sonic Black Holes (Don Giovanni)
There shouldn't be any doubt about Moor Mother who is derivative only unto herself. She breathes life into art through her words and music. The Philadelphia artist uses music to deliver the power of her words as they cut through thick fogs that blind those that see the world through rose-colored glasses, avoiding truth. No, her slave narratives, her truth, bringing forth the Afrofuturism she's partly responsible for, touches souls.
Facebook | Twitter | Instagram
LOW DOSE – S/T (Knife Hits/Brutal Panda)
It is Low fucking Dose! This is the debut album by members of Legendary Divorce and Fight Amp and they're best described by the group's own press: Built from the ashes of a marriage gone sour, Philadelphia's LOW DOSE formed as an exercise in catharsis. Yup, sounds about right. The band shares an abundant amount of dynamic shifts, filled with loads of melody, Itarya Leo's versatile vocals, and commanding guitars.
Facebook | Twitter | Instagram
GANSER – You Must Be New Here EP
Unwilling to quietly let the year pass by, the Chicago band released a 4-song EP that caught my attention. Ok, I'm a staunch Ganser fan because the music the band creates is infectious. The band is playful and mixes its subgenre influences of punk/goth/new wave/no wave/post-punk, with dramatic effect. We'll see what's next for the band.
Facebook | Twitter | Instagram
TROPICAL FUCK STORM – Braindrops (Joyful Noise Recordings)
Tropical Fuck Storm shares Braindrops to an unsuspecting world, although this time around, the band seems to take a slightly different approach with their compositions. While …Meatspace shared an affinity to rock out consistently in your face, Braindrops takes its time, allowing it's sporadic and spaciousness to drift into consciousness with instruments casually building around a melody
Facebook | Twitter | Instagram
GUIDED BY VOICES – Sweating The Plague / Warp And Woof / Zeppelin Over Canada
The only surprise we ever get from Robert Pollard & company is trying to figure out how many releases they'll drop at any particular time. This year, it's only(!) been three full-length albums. Hardcore fans are always ravenous when it comes to GBV, as well they should be. Pollard is never at a lack of inspiration and for these releases, it isn't much different. Sit back, listen to the hard-hitting tracks and simply soak them all in.
Facebook | Twitter | Instagram
TY SEGALL – First Taste (Drag City)
It's rare to come across an artist whose music one can dive in head first, all the time. On the heels of releasing Deforming Lobes back in March, Segall returned with another album of psychedelic fun. But don't write him off as another fly-by-night attempting to create trippy jams because the music is full-throttle and in your face most of the time.
Facebook | Twitter | Instagram
KAZU – Adult Baby (Adult Baby/!K7)
She's one-third of Blond Redhead and released her debut album where she experiments with various vocal tones and pieces together a number of songs that are quite soothing. Musically she takes things on a different route which many can appreciate. A number of guests appear with synths and piano from Ryuichi Sakamoto, percussion from Deerhoof's Greg Saunier, and flute from Robbie Lee. It's difficult not to appreciate the sweet lullabies on Adult Baby.
Facebook | Twitter | Instagram
PEDRO THE LION – Phoenix (Polyvinyl)
There's always excitement in the air when people discuss the music by David Bazan. There was more excitement with the announcement of a new album under the moniker that established him as a songwriter. 15 years since the last release as Pedro The Lion, shows Bazan's clean and crisp delivery, along with cleverly developed songwriting. But that's always been something delivered by Bazan.
Facebook | Twitter | Instagram
Y LA BAMBA – Mujeres (Tender Loving Empire)
Clearly the vehicle that's morphed as the solo project belonging to singer/songwriter Luz Elena Mendoza with the assistance of her friends and family, the new album is pure joy and magic. The album is dreamy and pieces together cumbia and mariachi rhythms within her indie-pop settings. The luscious soundscapes within the walls of Mujeres are quite captivating.
Facebook | Twitter | Instagram
DAMIEN JURADO – In The Shape Of A Storm (Mama Bird Recording Co.)
It's no surprise that we've always championed the songs written by Damien Jurado. The last time we heard our hero was on last year's tremendous The Horizon Just Laughed, which was filled with strings and so much more. That album left me in awe. In fact, Jurado always leaves us in awe. It's no different here where we have a much more stripped-down Jurado, but it doesn't matter which version we get because his songwriting is classic and will live on years after we've become dust.
Facebook | Twitter | Instagram
AGEIST – Babyface (Arctic Rodeo Recordings)
This is what happens when members of Thursday, Chariots, Freedom Fighters, Primitive Weapons, God Fires Man, I Hate Our Freedom and Errortype:11 get together, but I was drawn to the band because of Artie Shepherd's participation. Regardless though, the band is a powerhouse of a steamroller that leaves nothing in its wake. Powerful vocals, unified rhythms, and over the top guitars. The album was perfectly produced by J. Robbins by the way.
Facebook | Twitter | Instagram
BYSTS – Dreamland EP
The Salt Lake City duo has been releasing material since 2015 and its noisiness is infectious. Like a Psychocandy-era JAMC but completely balls to the fucking walls with this EP. I spoke to the duo who offered this up to me about what's in store for the new year, "Revolutionary art through destruction. Currently, we are working through an album as well as planning national and international tours. Continuing for the next year we'll be releasing a single and video a month until the actual album is out which may or may not include these songs. We love creating so we're doing our best to allow it to happen as much as possible."
Facebook | Twitter | Instagram
TOOL – Fear Inoculum
Yes, Tool. Just go listen.
Facebook | Twitter | Instagram
GHOST WOLVES – Crooked Cop EP (Third Man Records)
How this band got past me throughout the years is beyond me. With music released on Jack White's label, the bluesy, stark, rock & roll sound the band offers up is maddening. Imagine the Demolition Doll Rods but with more charisma; a blues explosion with amazing songs. Yes, this is what life should be made up of.
Facebook | Twitter | Instagram
CHRIS CONDE – Growing Up Gay
How many times must we sing his praises? Yes he's gay, flamboyant, doesn't fit the norm but guess what? Chris Conde has bars. Growing Up Gay is his cathartic release to exercise his own demons and self-doubt. Guess what, what? He doesn't care if you don't like him either, but I'm sure he can hold his own against anyone that steps to him, physically and lyrically.
Facebook | Twitter | Instagram
MC Homeless – Sex And Death Remixes
In December of 2018, he released an EP's worth of work entitled Sex And Death (Fake Four Inc.) and if you were one of the lucky ones to encounter the recordings, and get dragged down disturbing and abysmally hellish soundscapes. It's no surprise to find the like-minded Moodie Black responsible for producing it. Could things get any more interesting? Well, yes. Seven months after its release, Homeless premieres the Sex And Death Remixes and the bar is set higher.
Facebook | Twitter | Instagram
PALM HAZE – Rêve Bleu
I am a sap for shoegaze bands. I have stated this several times and I will continue to say for years to come. Palm Haze is a Canadian based duo that blends alternative rock, shoegaze, and trip-hop influences. It's a heavy amount of futuristic sound and enchanting vocals. Palm Haze straddles the line of being unhinged in some of the tracks that accompany Rêve Bleu and it's worth it. Anna Wagner and Lucas Inacio are a dream team.
Facebook | Twitter | Instagram
ROBERT GLASPER – Fuck Yo Feelings (Lomo Vista Recordings)
The innovative musician dropped his 'mixtape' this year and music will never be the same again. After 2016's reimagined Miles Davis release Everything's Beautiful, I didn't think he could top himself but here we have an amalgamation of jazz and Hip-Hop, the likes of which we probably haven't seen before. Bilal, Herbie Hancock, Yasiin Bey, and an assortment of additional artists add to the glory here.
Facebook | Twitter | Instagram
dälek – Respect The Authors E.P. (Exile On Mainstream)
The Hip-Hop outfit isn't known for its conformity. On the fringes of the mainstream, dälek has always combined deafening levels with introspective and politicized lyricism. This E.P., like the rest of the group's music, is frighteningly addictive. Respect To The Authors strays far from timidity. It remains as transparently compelling as anything in the dälek catalog. That's just the way it's always been.
Facebook | Twitter | Instagram
KIM GORDON – Home (Matador)
Technically this is Gordon's first solo album and I'm not sure what took her so long to release it. She may be 1/4 of Sonic Youth but according to this release, she has just as much talent, if not more(!), than the other three. Here she meshes noise and dissonance with beautiful melodies, sculpting something beyond our wildest dreams. Home is an album I'm completely fascinated with.
Facebook | Twitter | Instagram