Yo, are we still stuck in the new normal or are we back to normal? I'm confused as to whether or not this pandemic is over because I see both those that are masked and the maskless. Or maybe they're simply the anti-maskers that believe the hoax is the only thing that's real. Obviously, I jest. One thing that never quits moving forward is life though, we persevere, and many continue to create art in whichever medium they prefer. I've been fortunate to see, hear, and feel all that art firsthand. For that, I count myself amongst the fortunate ones that continue to create and are unwavering in pursuits of something inexplicably higher, both figuratively, literally, and for some, spiritually.
First and foremost, here is the reinvigorated Public Enemy, who had everyone fooled with the firing of Flava Flav. A publicity stunt that seems to have paid off because the group is once again topical. What You Gonna Do When The Grid Goes Down (Def Jam) is the latest effort and was pieced together with thoughtful ideas, culled somewhat from the group's 2017 mixtape-like Nothing Is Quick In The Desert, which even has a set of matching album covers. That's not to minimize the new release, which contains a healthy dose of bangers and the occasional dud. But the bangers, those are the ones I want to address. The album revolves around that healthy deep bass for the most part. "Grid" feat. Cypress Hill & George Clinton funks things up and Cypress Hill holds its own against Chuck D's rhymes. It's clear P.E. is for the adult contemporary Hip-Hop enthusiast, as D & Flav are distinct and verbose with lyricism. The group's "State Of The Union (STFU)" feat. DJ Premier aims its sights at the orange giant and D's stinging words "Orange hair, fear the come over" alone is witty in its attack. But P.E. has always been about challenging fascist-like authoritarian leadership.
I wanted to ignore "Public Enemy Number Won" feat. Run-DMC and the surviving members of Beastie Boys. This is where the filler comes in. It sounds dated with an abrasive Beasties-like backdrop. Moving forward, nothing ever hit harder than "Fight The Power" and here with a remixed for 2020, it's still hard AF. An updated version featuring Nas, Rapsody, Black Thought, Jahi, YG, and ?uestLove. But a favorite track off the album is "Smash The Crowd" feat. PMD and Ice T. Of course Ice T kills the beat and PMD's laid back yet explosive delivery was unexpected. Yeah, I'm with this release right here.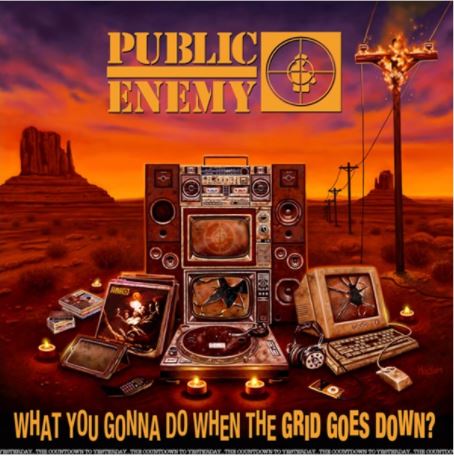 I've never shied away from my praise for singer/songwriter Sufjan Stevens. He is masterful in his craft and while I may have thought the beautiful landscapes he would create with his voice, guitar, and wickedly tactful harmonies couldn't get any better, he's surprised me on more than one occasion. With The Ascension (Asthmatic Kitty Records), yes, it's happened again. Through washes of keyboards and electronically tinged percussion, Sufjan's songs are delicate, littered with his whispered vocal tone and lush harmonies. At moments, much like on "Tell Me You Love Me," songs become atmospheric, with imagery that's expansive, filled with hope & intimacy. And here he slowly builds to the song's inevitable climax drenched in danceable percussive beat. The beauty is astounding.
This is the beauty of Sufjan Stevens' songwriting; no matter which instruments he chooses to build his songs around; they're going to sound majestic, to say the least. "Video Game" takes his sound in a different direction but clearly, this is Sufjan embodied. It may be in dance mode but the graceful fragility it floats around is evident. The rich bassline and the mechanical drum pattern that precedes it allows Sufjan the freedom to roll vocal lines throughout. He confounds my own ideas of him with "Ursa Major," which intertwines unimaginable beats but still allows the song to identify as unencumbered Sufjan Stevens. Now while the 15 songs compiled may sound as if Sufjan Stevens is reinventing himself, that's actually not the case. His exploration here on The Ascension does just that, allows him to reach another plane in his own musical growth. If you don't buy it, listen to "Sugar," where his unmistakable voice is surrounded by a rhythm that is almost existential. This is perfect, with the title track also leaving me in tears.
Yeah, it's been a while. Lydia and I have had a tumultuous relationship. She's not allowed in my home. Whenever I've brought her in, my daughter questions, "Ugh, is that country music?" and my wife will chime in "Please turn that off, I just can't." So Lydia and I have had much of a secretive relationship the past few years. Washing dishes, I'll have my phone set on her songs blaring through earbuds. When I'm questioned, "What are you listening to?" I'll just respond, "Oh nothing really," while in fact I stand there scrubbing pots imagining Lydia playing in front of me as I sip my beer singing along with a constant "WOOOOO!"
It's been a few years since Lydia Loveless has released a full-length album of new material but after 4 years we're finally graced with Daughters (Honey, You're Gonna Be Late Records) on her own label. The follow up to 2016's Real was worth the wait and the anticipation was warranted. Here Loveless belts out 10 country-tinged tracks that rock with an enthusiastic candor that many of her own contemporaries possibly lack. she opens with "Dead Writers," which may sound morose but is far from it. It's more of a break-up number with doubts, littered with sublime lyrics. Loveless is a storyteller of sorts, but usually leaves things open-ended for interpretation. All this underscored by slide guitar drifting in and out around electric instrumentation. The track moves lazily across this sprawling landscape, but it doesn't set the tone for the album, which also allows for much more upbeat compositions.
While songs may run the gamut of heartache, Loveless delivers many with a cheerful disposition. Clearly, "Love Is Not Enough," has her wittily contemplating the inequity of love, and the need to fill her own needs with more than just that. It's the neverending battle within relationships. All this over the upbeat guitar-driven backdrop. Ok, this could be the anthem lovers all over the world will play for their significant others. "Wringer" is even more playful musically as she laments to her lover how his kisses are sweet but bitter. Loveless has a way with words without overthinking it.
Loveless moves back and forth from upbeat to sweet and lowkey. "Say My Name" doesn't move at a snail's pace by any means but it does slow it down enough for us all to really focus on her words, which are directed at the only person that shows her true love. She wraps those words around a plodding rhythm accentuated by guitars around them that leave space for her voice to sit front and center. It's sweet, really it is, and when it closes with cooing harmonies, we're all the better for it. "Never" is different though, opening with a wash of keyboards and piano before exploring with a danceable rhythm that engages her words around loss, lingering with bits of regret and loneliness but with complete independence.
Yeah, I'm always enthralled with Loveless, and Daughter makes it easy to continue feeling that way because she makes it easy. Will the casual listener find her as engaging? Maybe not, but there's always an opportunity to discover new things, and this could be one of those.
Facebook | Twitter | Instagram
Is it possible to be so enamored with the music someone creates that you stutter-step your way around those individuals when you see them in person? I think so, although that's never happened to me because I never fangirl out. Well, maybe I do but I'll never admit that to anyone in my immediate circle because you know, I'm a tough guy. Well, again maybe because everyone says I'm a teddy bear or a pussycat.
Finding solace in the music Rituals Of Mine creates is sometimes easy to do so because the electronic sounds that permeate from the thoughtful beats that drive it are soothing at times and if I must, take the group's debut full-length Devoted (Warner). There wasn't another album that was as seductive or as addictive as that release. Just listen to "Ride Or Die," and you'll understand. It's not an arguable point, it just is. The group has dropped its sophomore effort HYPE NOSTALGIA (Carpark Records), which encapsulates everything anyone has every loved about Rituals Of Mine. At first listen I was already halfway through it and didn't realize I was halfway through the album. It slides through so quickly and effortlessly of course multiple spins are required.
Moments pass but referring back to certain tracks time and time again, this literally has me emotionally stuck on stupid. "Come Around Me," is alluring, not just with its melody but with Terra Lopez's sweet and sensual vocal delivery. The song's beat and thick bassline draws one in but the keyboards solidify that sweetness around the emotion surrounding the song. This and "Exceptions," leave me emotionally drained but that's a good thing. The essence of the beautiful landscape created around keyboards and electronic drum pattern is stunning. Drummer Adam Pierce is literally a beast behind the drumkit but here things are tapered down and he's fully in control of the rhythm which flows with ease. It's a warm feeling you'll get here.
But there's more than one side to Rituals Of Mine; once they allure you with that sweetness, you're in for the entire ride. "Trauma" is much more direct and in your face with a driving rhythm that's bound to move that ass but it never stays static as the duo plays with dynamics here, ever so slight, but it's there. This song right here is life embodied because it's that singular rhythm that's now attached to my very soul. All that while "Free Throw (feat. KRIS)" flows with the same type of vibe but is more restrained as Lopez and KRIS volley their vocal deliveries. They bring that heat.
It's easy to say the adoration everyone will one day have for Rituals Of Mine would be well placed. Listening to Lopez's words on "Reflex" borders on heartbreak and will leave everyone feeling the same way. Musically, it's equally compelling and it's felt down to your very core.
I'm literally hyped about this album in every aspect of its creation. HYPE NOSTALGIA is filled with 13 tracks that are ready to set the world ablaze…well, more so than it already is anyway, but you obviously get the point I'm attempting to get across.
Facebook | Twitter | Instagram
It seems I've been following careers as of late, which isn't a bad thing. Some things just seem to land in front of me and I don't usually have to give a disgruntled "Ugh, them again." Instead, things happen more than often where I'm left curious as to which direction someone is moving into.
White Horse is the latest project by L.A. rapper Gajah and New York's Uncommon Nasa. This isn't the first time the two have worked together, skipping across country on tours and sharing verses on tracks in the past as well. Although, this is the first meeting of minds for a collaborative effort across multiple tracks with the self-titled (Uncommon Records) release. While I've been on board with Nasa releases in the past, that doesn't mean it's always going to hit, considering Nasa himself is a bit of an acquired taste. Either you like what he does or you don't, there is no in-between. Fortunately for these two, their effort won't go unnoticed.
This project may come across to some a tour diary of sorts, with songs that indirectly allow descriptions of road life but what it really does is give a look at the American culture through cross country jaunts and the unusual, or rather oddball experiences they've been fortunate to witness? Yeah, maybe. If you think the 1979 film The Warriors, as a group attempts to get home to their beloved Coney Island from the Bronx, all the while trying to avoid every gang in the city searching for them, it may give you a better idea. Given, I'm romanticizing the White Horse story because it's not as violent or bloody.
It doesn't take much to be drawn into the sound here, which was produced by Nasa himself, as well as other cohorts like Digdug, Awkward, and Mute Speaker. They open with "Preacher Men," which directly hollers with an enthusiastic backing chorus which is set to take us to church. Both emcees wax poet volleying lyrics against one another, meshed together with unabashed freedom. It's catchy AF and gives us all what we need. Amen! The music on "Fear & Loathing In Reno" is sometimes ugly and abrasive, much like the faceless money pit that cities like Reno and Vegas are, rattling around past slot machines with dreams of grandeur. "Dead Rainbows" rallies around abrasiveness as well but it's fitting as both emcees fit their lyrics around it.
One thing about Nasa and Gajah is how easy it is to become invested because of their visual storytelling ability. You can hear that on "My Life at Denny's" but more so with "Vape Pen of Destiny" where they end up in a no-name Texas town, stopping for essentials. But damn it if things don't get darker from this point on, musically anyway, again with imagery of eastern Texas with a heaviness wrapped around the air around them. But the dissonance surrounding "Circus of Smoke" is what sucks in listeners over that thick beat and the smoke filling in. The beat doesn't get deeper than this. They close things out with the "Late Night Truck Stop Cypher" featuring an array of emcees Kech185, Beyond, Ersatz Splynter (who kills his verse here), Quaesar, Express Fresh, Gelroc, Olmeca, Turtl, and Gilead7. I imagine them all, sitting at a counter, drinking cheap coffee, in the dim staticky lights, surrounded by weathered truckers and aged waitresses. That's the feel, that's the energy and it lacks sanity.
I've spent 5 hours listening to the White Horse release in an attempt to understand it in one sitting. It's not easily digestible, it's not filled with captivating bangers from start to finish. What it is though is complexity, darkness, and ingeniousness. It's fitting and I'm sure they're fine with that as I am.
Facebook | Twitter | Instagram
It's taken me some time before actually realizing there will never be another Sonic Youth album. Given, the group's untimely dissolution came back in 2011 with hopes of a new release someday but the reality of it is it's not going to happen. It's fine at this point considering Lee Ranaldo has been releasing music consistently throughout the years and Kim Gordon just released her debut solo release last year. But everyone has been releasing material concurrently throughout SY's existence, so it doesn't look like anyone is missing a step.
Thurston Moore has released his 6th solo long-player, By The Fire (The Daydream Library Series), but has over 50 releases – in collaborations, free jazz moments, noise experimentations, etc. – with his name included. This is his first release in 3 years and while I haven't been very astute following Moore's career post-Sonic Youth, By The Fire assuredly kicks off the proverbial cobwebs and rust, tossing him back into the spotlight. On this album, we find our resident hero with guitar in hand and two other musicians in tow to help him realize his vision. Those would be drummer Steve Shelly (Sonic Youth) and bassist Deb Googe (My Bloody Valentine). It's all perfectly rounded out.
From the start here we have Moore's trademark guitar, overdubbed enough to offer up unexpected guitar notes and chords, with a steady rhythm that may be all too familiar to some but's still a refreshing sound. Yeah, it's what many of us have missed. Nothing here goes unnoticed and fills all its space adequately. That's not to say Moore is averse to trying things a bit…differently. "Cantaloupe" is heavily rhythm-based and finds a groove that will make your head nod like the needle in the syringe, and halfway through unexpectedly explodes with lead guitar interplay one would probably expect more from J. Mascis than Moore himself. It's a welcomed addition to the fold. This right here? It will make you want to breathe in life itself.
One thing Moore doesn't do here is stray away from experimentation. It's something we should always expect but not the way we might assume. Sure we'll find those tracks that are from 10 to 16 minutes long but they do serve a purpose. "Breath," the first of the lengthy numbers, is pretty straight forward as he plays with different textures, coloring the track as if it were a blank canvas. He and his cohorts blend their instruments seamlessly together for almost 2.5 minutes before ravaging into guitar oblivion with walls of controlled noisiness as the rhythm plows forward, later allowing the song to take on a different persona. He plays with Gemini effect, allowing the song itself to hold on to two identities at once. He continues the lengthy musical orations on "Siren," which once again plays at those same antics of the previous track but this time holds the rhythm for 8 minutes before shifting into another direction with his delectable monotone vocal delivery. The track is passionate, there's no doubt about that.
There's so much to take in with Moore's compositions which find him treading through welcomed paths he's been through before. "Calligraphy" is a bit different though, with a willingness to jettison the idea of using a rhythm section here, opting only for voice and electric guitars. I haven't found anyone else that better utilizes those instruments this way. His melodies here are captivating and dare I say, stunning. "Locomotives" is where he takes the sound and fury of his own experimentation a bit further but gives the uninitiated a good look at what he does, even before and after he rides the storm in singing and playing with dissonance.
In all though, there's so much to digest with By The Fire. "They Believe In Love (When They Look At You)" is one track that I've been bouncing around again and again, as Moore plays with feedback here with subtlety but never relinquishes the rhythmic pattern set. Yes, this album leaves me in awe, there's no other way around it. Thurston Moore continues to carve out paths so many artists no longer tread or are afraid to.