Another day, another dollar. That's that old adage of repetition again, and again, and again…you get it. This week things seem to look up with changes all around the country. Schools are opening up, some keeping things safe while others, well, they're financially driven. Of course, losing millions of dollars in government funding will do that. Politics isn't a force that drives me, I'm more concerned with the safety of others. But I do know I'm not the highest grade of weed in the dispensary so I'm aware there are others more capable than I to discuss any of those issues that concern most.
With another week that's rolled by, we are seeing more businesses opening back up. Whether it's the gyms that my friends want to get back into the swing of things with or the restaurant businesses that seem to be picking up more, we're all getting back to normalcy, right? Sometimes I think I'm the only one out here that has those kinds of concerns. I want things to be the way they were in the past but want to do it from a distance now. I miss shows, live performances, movies, etc. and can't wait for the day we can all get back together again and enjoy all of these things.
While we reminisce of days that seem long gone, V8 Vast Change drops the new release, Civil Disobedience. V8 VC is from Bloomington, IL which is roughly 135 miles south of Chicago and this release right here? It's a welcomed discovery. This is his third release and at 8 tracks, the recordings bump hard from start to finish. A poignant release that's filled with music and words matching the cultural climate all around us. But it's not all that makes up Vast Change's musical character, which has taken formation around his family, his faith, and his love of being who he is.
He opens with "Believe In Yourself (feat. Tone Jonez)," where VC's message is positive and a reflection everyone can relate to, whether it's self-reflective or pushing his own boundaries to by teaching his own daughter how beautiful she is inside and out." The melody though would have Kanye wishing he came up with it. His "Black Anthem" is direct and to the point and it begins with words like "pro-Black ain't anti-White, but I gotta lift my people up," and you get all the beauty in his words, giving history and cultural lessons in spurts. Pay attention! But he brings the sweet feelin' beats on "Angel," more positivity through strength and hard work. My favorite though is "Persevere (feat. Tone Jonez)," and it's clear Vast Change is a masterful storyteller, with thoughtful lyricism and deep beats surrounded by a piano. Yeah, this album mirrors urban culture this year and it's easily filed within my library. I expect much more and hope this is only the beginning.
We'll just get right to it. Uniform revolves around a cacophony of sound that has a direct intention. If that intention is to obliterate everything in the band's path, then its completely successful. The latest effort by the NYC trio, Shame (Sacred Bones), continues to dive into creating the noise-ridden tracks its been captivating fans with for the past decade. There doesn't seem to be a chill factor for the band as it continuously bombards speakers with shards of sound that are razor-sharp and disorienting. That's not necessarily a bad thing.
What may sound simplistic to some is actually layers of organized chaos along the lines of Unsane, Jesus Lizard, and the ilk. But Uniform does something with much more intricacy, combining its thunderous bass-guitar-drums instrumentation with electronics that ante up a level. Just listen to the title track, with a sound that briefly crescendos through electronics and eventually explodes into the perfect storm. This is Uniform and we should all be forced to pay attention.
There's a wide array of artists with music that's been able to withstand the test of time. There are also those who have never received the proper amount of accolades they are due either. It's a slippery slope some careers have maneuvered in throughout the years within an unforgiving industry. My own hope is for that to change for some and today, let's hope it changes for one person in particular.
Corey Isiah Christie isn't just a rapper that emerged out of Lawrence, Mass, he's Reks, an emcee with a particular set of skills that sets him apart from the rest. Releasing material for the better part of 19 years, amassing a healthy catalog of full-length release, today Reks drops his 12th album, leaving it all now at a healthy dozen. His new album, T.H.I.N.G.S (Brick Records) is actually an acronym for The Hunger Inside Never Gets Satisfied and by the look and sound of it, that hunger is still yet to be whetted. With 19 tracks – a homage to the longevity of his career – the is rife with thick beats and melody at every turn, it gives Reks all the room he needs for his clever wordplay.
Now while the album sports an array of production from Nottz, Evidence, Apollo Brown, Statik Selektah, Marco Polo, and many others, the album coalesces with a singular sound and vision. From the get-go, Reks matches his lyrical and verbose style to match beats across the album. On the opening "Strong.Ready.Able" Reks takes us all to church in set in any urban city, U.S.A. over handclaps, a thick beat, and rolling piano work. All this set with police sirens blaring in the distance. But it's Reks raps around a struggle many know but survive and overcome. The church sermon feel continues on the album's title track. The beat rides further in the forefront as Reks' continuous delivery here never lets up and one does get the feel of that hunger inside never getting satisfied.
Truth be told, throughout the 19 tracks I assumed there would be moments, a lull so to speak, BUT it never happens! Each track bangs with an urgency that's unrelenting, a power that strikes with precision and force. Of course, there are tracks that do stand out from the pack, like on the "The Complex (feat. Pharoahe Monch) as both emcees spit barbs, Monch rhyming on veterans' PTSD leading the way for Reks to take the reins with his take on pharmaceuticals. There's a heaviness within their lyrical content that's palpable with Statik Selektah signature backdrop. It's a great thing to hear the lyrical volley between rappers but Reks can obviously bring the heat all on his own. "Rachel Green" is possibly one of the greatest tracks ever written tackling white privilege. He takes real-life situations culled from headlines and wraps his lyrics around them. That's genius.
There's no filler or lost lyricism throughout the album. Everything Reks does here has a purpose. Even simple things, like on "Ego" where he raps "The id the ego, the superego," words spit just for the chorus are repeated as Reks delves deep into the ego itself. "White House" deals with institutionalized racism and reflects on both history & current events which sometimes blend to become one in the same.
With every release, Reks surpasses expectations and T.H.I.N.G.S. is a testament to his vocal prowess. It's easy to say that Reks has made one of the greatest albums of the year. Some may say one of the greatest Hip-Hop albums.
Facebook | Twitter | Instagram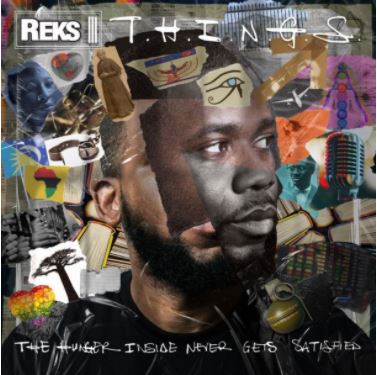 Moments come and go but music in the digital age – great, good or bad – will last forever. This has been an ongoing problem for decades. Everyone believes their songs should find its way to multiple music platforms when it should end up on the proverbial cutting room floor. No, not everyone is going to be the next Bob Pollard or Jay-Z. Whatever your genre of choice, surround yourself with friends that support you and can give you the honest truth you need.
Now Lo Tom though is something quite…different. The band holds recognizable names like David Bazan, TW Walsh, Trey Many, and Jason Martinez who have all played in a number of different groups like Pedro The Lion, The Soft Drugs, and Starflyer 59. A few years ago, the group released its self-titled debut with enthusiastic songs that are heavily donned in a punch that rang of classic rock. Yeah, it was a really good start for artists we should all already be familiar with. The band now follows that up with its new self-release, LP2, and the results just may just surprise you.
With Lo Tom's new album, the formula they concocted on its debut was thrown out the window. For LP2, the band gets heavier with a sonic wall of guitars that crunch and annihilate everything in its path. That's a good thing. While the songs hit hard and direct, Bazan, who's a master lyricist, gets dark and brooding throughout much of it. The first song is always a good place to start and "Start Payin'" where the band doesn't just chug away, they literally let their instruments run rampant across the track with what sounds like one steady stroke, aside from the boastful guitar lead. Bazan's words sound like a man carrying the world on his shoulders. One would think by the title he's looking to get paid but here his words "I let myself get pretty low," "I let myself get pretty high," and "Might be time to find out what I owe/Start payin'," he could possibly be a man in search of redemption. "Suck It Up" has guitars that cut like shears, keyboards humming in the background colliding against words of struggle. There's a perfect fit here between them both. Everyone goes through a struggle we may not know of and on "I need Relief" we get it clear and concise, the search for a helping hand, whether physical or spiritual, it's needed. Lyrics are juxtaposed against that hard-edged backdrop and we're all the better for it.
It isn't until we get to "No Margin of Error" where we all find Bazan's words painfully relevant as he sings about drowning out his pain in alcohol & prescription drugs, only to barely kept alive but at least surviving. The band, as a whole, shouldn't be ignored or taken lightly though, as they all crank out amazing notes and chords through it all. This track one of the more adventurous with it playing a bit dynamically. The brilliance is there.
The funny thing is, things only get better from this point on. "The Show" is boisterous, with amazing choruses, thick lower ends, and great vocal harmonies. The rhythm section is always prevalent but here it's simply amazing. Even on the closing "In A Van" the group, while showing similarities to loud late 70s classic rock-isms, the vibe created is loud and alluring with instruments harmonizing with one another. Perfect in every sense of the word.
There's really nothing left to say about Lo Tom's musical prowess or the sound the band has pieced together on LP2, which is grandiose, loud, and clever to say the least. Where are they now? I'm waiting for the band to hit the stage. I'll be in the front row with my lighter in the air, or at least my phone with the app that looks like one.
Facebook | Twitter | Instagram
While I can't speak for most, I can at least speak for myself. I've never been one to claim that I'm the smartest person in the room and many know, I'm not the highest grade of weed in the dispensary. There are emcees and musicians that much brighter than I am because sometimes the English language confounds and confuses me.
Brzowski is an artist with prose that sometimes evades me and on his latest effort with C$Burns, The Subjugation of Bread, things aren't much different. Don't get me wrong, that's not necessarily a bad thing, remember; weed<dispensary. But there's a darkness that permeates throughout the release, which could be a sign of the times or a precursor for a call to action.
But the prolific rapper weaves his words around C$Burns' winding beats which never stick to a strict formula although they're distinctive and C$Burns' identity is always prevalent. This allows Brzowski the opportunity to shift gears from track to track. On "Red Lanterns" Brzowski spits poetic with his rapid-fire wordplay over the bass-heavy melodicism. "Artificial Grey" rips through with a plodding beat as Brzowski and former Hangar 18 vocalist Alaska trade barbs on the dreary track. Then on "Grim Calculus" leads the way to "The Drugs Still Work," where numbing pharmaceuticals are referenced throughout, detailing cultural acceptability as pharma takes no accountability. Over a catchy beat, Brzowski gives fine points of a country or world, that's lost its way.
There are moments here that almost feel post-apocalyptic, musically anyway. "Conspiracy of Equals" gives that ominous feel, while "Vi Coactus" (Latin wording in American law which is basically a contract under duress) has a heaviness to it that's unrelenting, sad, dark, and brooding. This alone feels like the darkest moments of 2020. The Subjugation of Bread is a bit different. It does sound like the urgency this year has brought about, which is wrapped in death, drugs, and hope. The closing "A Gerasene Throne" leaves me both hopeful yet hopeless. I guess it's a feather in Brzowski & C$Burns for making me feel like shit. Thanks, I guess?