We're going through the motions here where there are two sides: one doesn't want their freedoms impeded and the other, well, they don't want stupidity to take over. I'm sure by this point everyone has chosen a side. While NYC tries to adjust to the flattened curve, for the time being, the southwest is hit hard with open businesses and a virus upswing. Many don't heed serious situations. What does that mean for me? Well, businesses refusing to shut down again where I am although it is state-mandated. It seems every week I'm reflecting on the same issues. But what else is there really? Routines become mundane as streets become silent once again.
I lose myself in overbearing podcasts, music, and binging on a wide array of television shows and movies. This is what we have to look forward to apparently. Well, that and Nerf gun wars at home and swimming. It isn't all bad but again, the routines become mundane.
This year is proving to be insightful and retrospective. I guess isolation, social distancing, and being forced to quarantine has allowed many to dig through their own crates and rediscover things. Take Nashville's Spoken Nerd for instance. Today the rapper dropped a digital version of the 2016 cassette-only release, Cult 'a' Cola Vol. 2, which he collaborated with a producer by the name of 24/7. I'm left wondering why this hasn't seen the light of day any time sooner. While he has one foot firmly planted in Hip-Hop, his other one seems to step around a variety of playgrounds. While "1 Hour And 30 Minutes" blends classical string loops with thick beats, "Every Conspiracy Is True" meshes 80s synthed poppy new wave with Spoken Nerd's heady lyricism. The songs here though are cleverly connected, "built from samples taken from horror movie soundtracks."Spoken Nerd gets pretty heady on "Contest of Patience feat. 24/7" as I try to figure out what movie this was culled from (just like I'm doing with every other track that leaves me with a blank stare.) "Hate Speech feat. ECID & 24/7" seems to get a little dark, even for the Nerd, but I welcome the volleyed lyrics between the three wordsmiths. Cult 'a' Cola Vol. 2 is a great find here that had held up well. This is different from what we'd all probably expect but that's a good thing.
It goes without saying that WHY? is one of the most incredible musical projects to have released material in the past 16 years. In a time when everyone is just scratching at the surface of their own creativity, WHY? has achieved that from the get-go. As a member of that musical collective, multi-instrumentalist Josiah Wolf has done amazing things, and as a solo artist, he's also released material that possibly defies categorization. Today he shares his latest release in the Crest E.P. With just a three-song release, the music is uplifting, beautiful, intense, and ethereal, sometimes all at once. "The Insides Of This Side" moves sweetly along with Wolf's airy vocals wrapped around the songs melody as instruments and sounds drift in and out of it. "The King Of Our Time" begins oddly with a deep altered baritone vocal before it morphs into something much more majestic. The watery feel and gorgeous vocal delivery are simply: perfect. Things are rounded out with the airy "Submission." If there was ever a stamp of approval, it would be for the Crest release. It's a musical journey and an escape. This is what we all need right now.
The way life is moving within 2020, everyone is on edge. If it isn't the Coronavirus or the obvious disregard for human life, it will be the introspection many music listeners, critics, and fans will expect artists to be accountable for. This is something that's been a long time coming and simply inevitable.
The new release by New Jersey's Raymond Strife, The Old Me: Bootlegs and B-Sides, is an anthology of sorts, of unreleased tracks and others that were never fit to any particular project from the past 12 years. In all, a selection of 23 tracks. In this day and age though, some things just might be better left in a dark closet. The less-is-more aesthetic is an approach Strife may have benefited by utilizing here.
Straight out of the gate, Raymond Strife delivers the strength-filled "Ode To Strife," with an odd melody that's catchy AF, with an even stranger layered vocal twist which is even weirder but entrancing. Strife then moves in a different directing altogether with a more metallic hardcore swing and howled backing vocals. Don't get me wrong, it's tightly wound with heavy guitars as he waxes poetic, although there's no connection between it or the opening track. If truth be told, it doesn't seem any two tracks share similar aesthetic and everything on The Old Me (sans "Fuck Society" which shares a kin-like relation with "Fu Man Chu") was pretty much pieced together as a real anthological odds and ends. There are songs that can literally be timestamped just by listening to recording quality. There are bangers like "Shop Local feat. Lt. HeadTrip & Googie GoHard," and then a number of tracks that could have been left on the cutting room floor.
I'm not sure if Raymond Strife received the memo for 2020 but songs like "It Ain't Workin' feat. Frankie James," "'Tallica (Wade Wilson X Ray Strife)," "Papst Tall Can feat. Wade Wilson," and "Mute City feat. RayRayBeats" are all better left forgotten for the obvious misogyny, which many feel should remain a thing of the past. If "Mute City" didn't have it, it could have been a good song here because the beat and delivery is pretty sweet.
While The Old Me holds a lot of promise, it's outweighed by songs that don't fit the scope of today's culture. Don't get me wrong, there are songs I would go back and listen to again, that's a sure thing, but I'll be fast-forwarding through the filler.
Facebook | Twitter | Instagram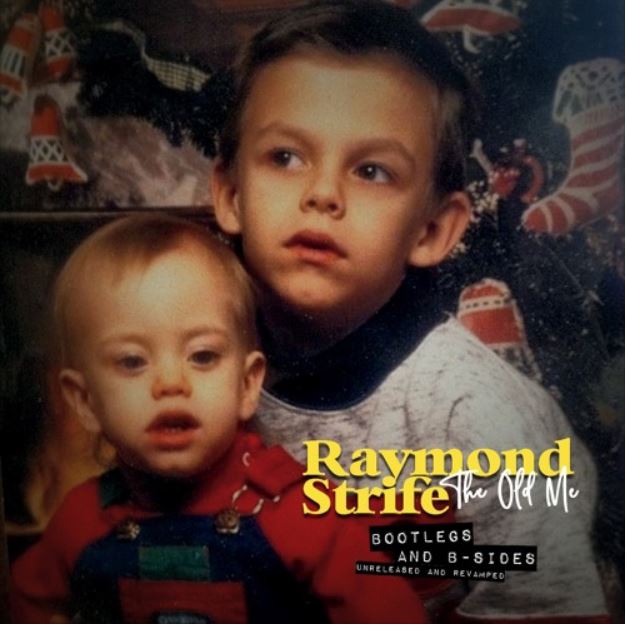 I have to wonder if there's ever a moment when I'm guessing what an artist is attempting to accomplish. It usually happens when someone attempts to mix art into the hodgepodge of their punk/pop project. Sometimes it works and at other moments, well, you know. But so long as it's consistent, it probably wouldn't be a problem.
Enter: The London-based Dream Wife, just releasing its sophomore effort, So When You Gonna… (Lucky Number). I'm not certain where the trio's musical identity may lie here as the band opens with the surf/punk-inspired "Sports!" which begins with noisy instrumental feedback and the lyrics, "Fuck, Sorry, Fuck, Please, Will you so kindly start again?" The track may make sense to the group but I'm not sure it'll translate easily to the layman. They rally around sports and videogame fanaticism but if it's an attempt to be clever, I'm not certain it works. The band moves on with "Hasta La Vista" which clearly varies in aesthetic and delivery. The song is a cute, driving pop song that bids farewell to an old love(r) and it seems to be filled with a bit of frustration. Not a bad thing here, It's relatable, catchy, and unencumbered by things would probably hold it back. But it's not all pleasantries here with the band.
"Homesick" begins smoothly enough until they hit a caterwauling high-pitched vocal delivery. If listening with earbuds or headphones, be forewarned, it's going to hurt, and not in a good way. "Validation," moves with a spoken word delivery except when the band hits its chorus. It's not bad and even enjoyable with a storytelling of a "faltering romance" that captivates with imagery that allows us all to be present. The trio moves into a lilting pop territory with "Temporary" and "U Do U." While the structures work well, I'm not sure they're the right fit here, especially when followed by "RH RN" a more driving pop/punk track that has me pumping my fist in the air when necessary on that chorus. And then on "Old Flame," I can totally co-sign that track; with its easy flow and anthemic chorus.
While So When You Gonna… isn't necessarily a bad album, it still leads me to believe the band is still suffering from a bit of a musical identity crisis. Do they want to be artsy punk or sweet pop? The two styles don't gel together well. Separated, they're fine, but as individual entities. This is where a band doesn't want to listeners to be, and that's on the fence.