I was debating whether or not I should do anything today because well, the week has been insane. But if I did that, I would be doing something I told a record store/label owner that I was vehemently against. We need to move forward and as difficult as that may be, we do have to continue and at least act like we're not living in a third world country. This is something my family moved away from so I'd be doing a disservice to those that came before me and the struggle my ancestors went through. So yes, I'm here.
Hip-Hop has always gone through its own changes but French producer Wax Tailor has always remained a constant. He's returned and comes bearing gifts in the form of The Shadow Of Their Suns which is more than just Hip-Hop. Included within are expansive instrumental tracks, much like the opener "Fear Of A Blind Planet." The track explodes wondrously, delivering a palette of colorful imagery as does the slink of "Never Forget" which sidesteps nostalgically but is firmly rooted in 2021. Now while I love Mark Lanegan (Screaming Trees, Gutter Twins, Mad Season) I'm not fond of "Just A Candle" because his appearance almost seems forced here. Then we get to "Everybody" which not only features Del The Funky Homosapien but also Mr. Lif. Both rappers have been known to work around beats and melodies that wouldn't fit your standard emcee but here, both rappers kill the Gorillaz-like vibe. The most notable track here is probably "Keep It Movin'" which features D. Smoke. He gained his notoriety by winning Netflix' Rhythm & Flow and here both Tailor and Smoke bring the heat. It's like they were always supposed to work together as the Inglewood rapper delivers as much melody as Tailor throws at him. It's dope AF. It's easy to get entwined with this album, and I guess that was the point right?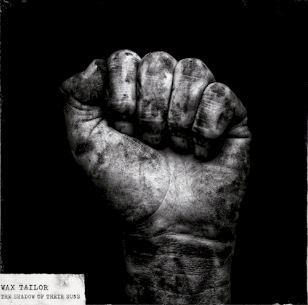 So far this year, I'm sure we haven't expected much from it whether it's music, art, film, etc. 2020 I was positively hopeful, doing all the things that were required of me. I'm sure we're all left questions about where this year is going to take us all. Originally, I didn't think we were off to such a great start, but I've been proven wrong before.
From Bloomington, Illinois, V8 Vast Change dropped a recording this past September, Civil Disobedience, which is an upbeat piece of art that bumped hard from start to finish. While the music followed a theme throughout, it's inspirational feel was infectious and captivating. He's released a new E.P. entitled Life which takes a different turn altogether. On the 4-track release, V8 Vast Change's approach strikes a bit morosely but attempting to inspire with positive lyricism. The opening "Passion" has his words wrapped around melancholic beats and melodies. His words are strong & focused, literally moving forward and upward. But the sadness, it still remains. That's one aspect that doesn't escape me. The title track moves in the same way but with a bit more complexity. Horns and keys allow the beat to lead the way as their notes trickle in and out, all the while V8 directing his words at struggle and positivity. That same inspiration is here but again, the scent of melancholia is thick in the air.
It's easy to fall in sync with V8's words over the beats he rhymes on, and "Decisions" allows its imagery to slide out of speakers as his words are descriptive. He's never pointing fingers, but his generalization gives an interpretation of the everyday man's struggle. A person can move one way or take a chance a different way. It's the everyday man, but that of inner-city. Yes, I can "envision that." He closes with the appropriately titled "Dreams" and there's no other way the song could have been delivered. He rhymes with enthusiasm as he pieces his words together with change that he's looking forward to and his success is inevitable. The driving bassline, along with backing harmonies, allows for an anthemic feel. It's the track you want to tell the DJ, "Yo, bring that beat back."
Ok, ok, seems I was proven wrong here. V8 Vast Change had me thinking Life was going to be about sadness and depression but literally changes things up as it concludes. Definitely bring that beat back.