Tired of the same ol' same ol'? Click here to subscribe to Ghettoblaster Magazine for only $14 a year! For back orders just click the magazine cover below and send us your request.
ISSUE 36 OUT NOW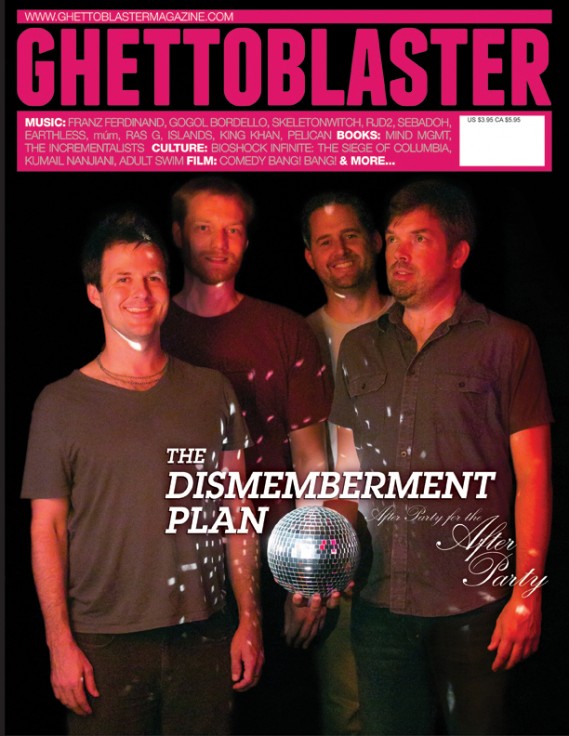 Past Issues

Issue 35
Kurt Vile, Flaming Lips, Talib Kweli, Iron & Wine, Primal Scream, Spacehog, Ghostface Killah & Adrian Younge

Issue 34
The Evens, Tegan and Sara, Bad Brains, Tomahawk, Yo La Tengo, Deltron 3030, Eels, Ra Ra Riot

Issue 33
Dinosaur Jr., Chuck D, The Raveonettes, Jon Spencer Blues Explosion, MF Doom, Antibalas, Brother Ali, Murder by Death, The Sea and Cake

Issue 32
Aesop Rock, El-P, Hot Water Music, High On Fire, Brian Jonestown Massacre, Om, Mission of Burma, Bigg Jus, Sun Kil Moon, Silver Jews

Issue 31
Orange Goblin, Black Keys, Spiritualized, Magnetic Fields, Dirty Three, Cursive, Damien Jurado, Blonde Redhead

Issue 30
Guided By Voices, DJ Shadow, RJD2, Mastodon, Russian Circles, Wolves in the Throne Room, 9th Wonder, King Midas Sound

Issue 29
Eleanor Friedberger, Vast Aire, Cormega, Crooked Fingers, Mayer Hawthorne, Stephen Malkmus, Cymbals Eat Guitars

Issue 28
Seun Kuti, Raekwon, Man Man, Boris, Atmosphere, Kode9 & the Spaceape, Del the Funky Homosapien, Low, Times New Viking

Issue 27
Lemuria, Get Up Kids, Earth, Electric Wizard, Akron/Family, British Sea Power, Mogwai, Shilpa Ray, Ras G, East River Pipe

Issue 26
Superchunk, Pharoahe Monch, Three Mile Pilot, Arab On Radar, Marnie Stern, Les Savy Fav, No Age, Devo, Swans, Oval

Issue 25
Talib Kweli and Hi-Tek, Teenage Fanclub, Phosphorescent, Konono No. 1, Cap'n Jazz, Little Brother, Walter Schreifels

Issue 24
Sharon Jones, Drive-By Truckers, Jawbox, Quasi, Flying Lotus, Four Tet, Alkaline Trio, Ted Leo, Maynard James Keenan, Titus Andronicus, Frightened Rabbit

Issue 23
Robert Pollard & His Many Projects, Basement Jaxx, Brother Ali, Gift of Gab, Daniel Johnston, Mission of Burma

Issue 22
Featuring: Anti-Pop Consortium, Ben Weasel, Mr. Lif, Tortoise, Son Volt, Bill Calahan, Dirty Projectors, The Lemonheads, a comic from Jeffrey Lewis

Issue 21
Featuring: Eugene Mirman, Roots Manuva, Cursive, Tom Morello, Fucked Up, Big Business, David Wain, Dr. Cornel West, a comic from Mitch Clem

Issue 20
Featuring: Rza, Murs, Mudhoney, Stereolab, Calexico, Robert Pollard, Melvins, a History to Cleveland Punk, Scott Mccloud

Issue 19
Featuring: 15 Years of Thrill Jockey, Beans, Mountain Goats, Joe Lally, Mighty Joseph, Silver Jews, Michael Showalter

Issue 18
Featuring: Ted Leo, Del Tha Funkee Homosapien, The Freshkills, The Jai-Alai Savant, Lifetime, Saul Williams, Psalm One

Issue 17.5
Featuring: Betty Davis, Voxtrot, Erase Errata, Persephones Bees, Au Revior Simone, SXSW Films 07′. Ask us how to get it for free!

Issue 17
Featuring: Mike Ladd, Gossip, Bigg Jus, Arab Strap, No Use For A Name, Centro-Matic, Aceyalone, One-Self, Greenhouse Effect

Issue 16
Featuring: Against Me!, Cocorosie, Devendra Banhart, One Be Lo, Sleepytime Gorilla Museum, Supastition, The Standard, Princess Superstar

Issue 15
Featuring: Dalek, Decahedron, A Gun Called Tension, Block Party, Blueprint, Boom Bip, Crack Pipes, Doug Gillard, Patrick Wolf, Pigeon John

Issue 14
Featuring: Ali Shaheed Muhammed, Giant Sand, Grand National, Panthers, Pinback, Ponys, Travis Morrison, Wale Oyejide, Of Montreal

Issue 13
Featuring: Headset, On Air Library, Paper Chase, Vast Aire, We Ragazzi, Mirah, Jean Grae, Antibalas, Black Heart Procession, Radio 4

Issue 12
Featuring: TV on the Radio, Badawi, Sufjan Stevens, Unicorns, Walkmen, No Surrender, Fred Ones, Man Man

Issue 11
Featuring: Blueprint, Oneida, Damon Che, Listener, Crooked Fingers, Dismemberment Plan (Revisited),

Issue 10
Featuring: Pretty Girls Make Graves, World/Inferno, Jealous Sound, Omega Moon, Dance Disaster Movement, Watchers, Aceyalone, Erase Errata

Issue 09
Featuring: Cursive, Mike Ladd, Ted Leo, Beans, Denison Witmer, Nada Surf, Pilot To Gunner, Rainer Maria

Issue 08
Featuring: Hot Water Music, Jason Loewenstein, Juggaknots, Mr. Lif, Skeleton Key, Har Mar Superstar, Mf Grimm, Miles, Creature

Issue 07
Featuring: Anti Pop Consortium, El-P, Kinky, Basement Jaxx, Semiautomatic, Need New Body, Rye Coalition, Xiu Xiu

Issue 06
Featuring: Mr. Len, Jean Grae, The Avalanches, Stanton Warriors, Scared Of Chaka, Clinic, The Album Leaf

Issue 05
Featuring: Arab Strap, Alkaline Trio, Lenola, Throne, Kiln, Nels Cline, Dr. Israel, Dalek, Billy Childish, Am/Fm

Issue 04
Featuring: Tom Hazelmyer of Amphetamine Reptile Records

Issue 03
Featuring: Silkworm, Turing Machine, Charles Gayle, Unwound, John Doe, Andre Williams, Eric Gaffney, Grant Hart, East River Pipe

Issue 02
Featuring: Ash Bowie, Fugazi, Teenbeats, Mark Robinson, Ui, Hogmolly, Radio 4, Savath &Amp; Savalas, Fugazi

Issue 01
Featuring: Magnetic Fields, Damien Jurado, Rachel's, Mike Watt, Frank Black, Joan of Arc, Seam

IndieCent
NOTE: Before GhettoBlaster was conceived there was IndieCent. The past is the past.