ISSUE 46
P.O.S., Mr. T Experience, Grandaddy, the Black Angels, Tobin Sprout, Why?, Pissed Jeans, Strand of Oaks, Porter Ray, Darkest Hour, The Dopamines, Six Organs of Admittance
Past Issues
Issue 45
Lambchop, Beach Slang, Dinosaur Jr., Neurosis, Brookzill!, Opeth, Drive-By Truckers, Teenage Fanclub, of Montreal, Russian Circles, Kishi Bashi, Lydia Loveless, Gonjasufi, Goat
Issue 44
Big Business, Aesop Rock, The Kills, Mobb Deep, Ladyhawke, Deerhoof, Bishop Nehru, Diarrhea Planet, Schammasch, White Lung, Twin Peaks, Astronautalis, Reks, Homeboy Sandman, Inter Arma
Issue 43
Damien Jurado, Santigold, Wilco, Primal Scream, Frightened Rabbit, Tortoise, RJD2, Half Japanese, Autolux, Basement, Adrian Younge, The Thermals, Rangda, Laura Gibson, The Black Queen
Issue 42
Lucero, Blackalicious, Battles, Baroness, Saul Williams, Big Grams, Silversun Pickups, Godspeed You! Black Emperor, Craig Finn, The Good Life, Guilty Simpson
Issue 41
Murs, Prefuse 73, Mac McCaughan, Built to Spill, Failure, Brian Jonestown Massacre, Desperacidos, Lightning Bolt, Czarface, Ash, Lyrics Born, High On Fire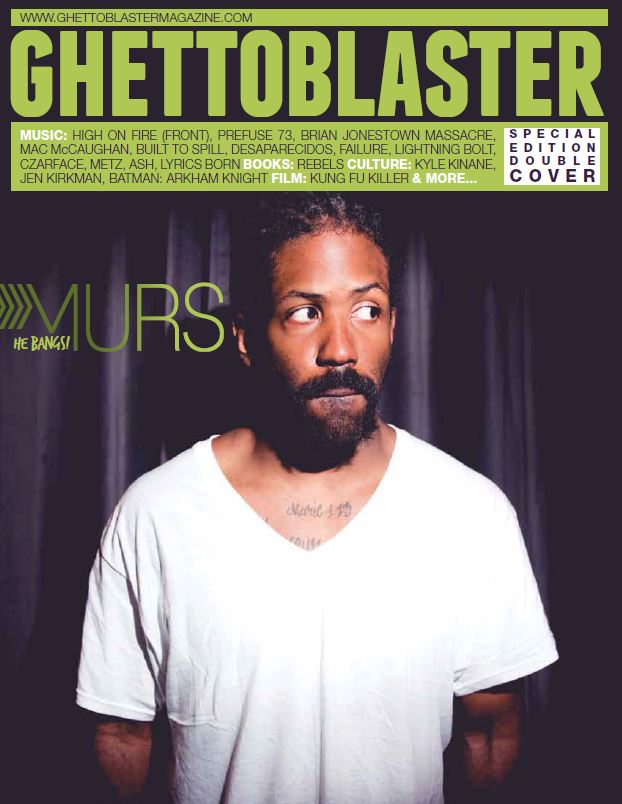 Issue 40
Ghostface Killah, Torche, Swervedriver, Robert Pollard, Screaming Females, Kim Deal, Jan St. Werner, Six Organs of Admittance, California X, HPRIZM, Sumac, Hail Mary Mallon
Issue 39
Shellac, Dilated Peoples, Electric Wizard, The Black Angels, The New Pornographers, Blonde Redhead, Flying Lotus, Zola Jesus, Planet Asia, YOB
Issue 38
Atmosphere, Kelis, Guided By Voices, Pharoahe Monch, Afghan Whigs, OFF!, Little Dragon, Buzz Osborne, F'ed Up, Pigeon John, Cloud Nothings, Tombs, tUnE-yArDs, Unknown Hinson
Issue 37
Step Brothers, Sharon Jones, Metalocalypse's DethKlok, Stephen Malkmus, Liars, Mogwai, Glitch Mob, Moistboyz, Shearwater, Xiu Xiu, Wooden Ships, Prince Po & Oh No, The Men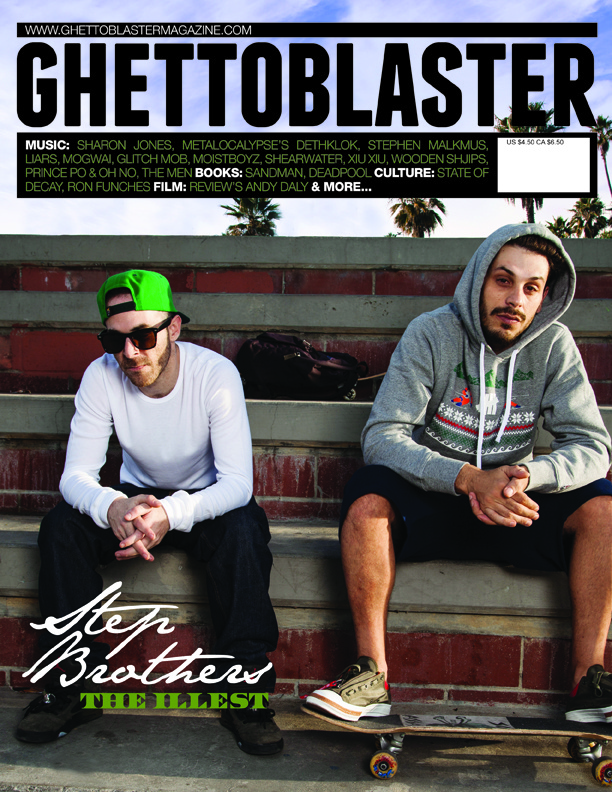 Issue 36
The Dismemberment Plan, Franz Ferdinand, Gogol Bordello, Skeletonwitch, RJD2, Sebadoh, Earthless, múm, Ras G, Islands, King Khan
Issue 35
Kurt Vile, Flaming Lips, Talib Kweli, Iron & Wine, Primal Scream, Spacehog, Ghostface Killah & Adrian Younge
Issue 34
The Evens, Tegan and Sara, Bad Brains, Tomahawk, Yo La Tengo, Deltron 3030, Eels, Ra Ra Riot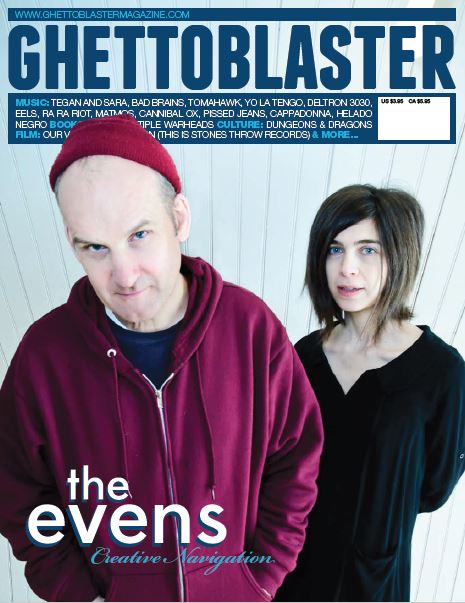 Issue 33
Dinosaur Jr., Chuck D, The Raveonettes, Jon Spencer Blues Explosion, MF Doom, Antibalas, Brother Ali, Murder by Death, The Sea and Cake
Issue 32
Aesop Rock, El-P, Hot Water Music, High On Fire, Brian Jonestown Massacre, Om, Mission of Burma, Bigg Jus, Sun Kil Moon, Silver Jews
Issue 31
Orange Goblin, Black Keys, Spiritualized, Magnetic Fields, Dirty Three, Cursive, Damien Jurado, Blonde Redhead
Issue 30
Guided By Voices, DJ Shadow, RJD2, Mastodon, Russian Circles, Wolves in the Throne Room, 9th Wonder, King Midas Sound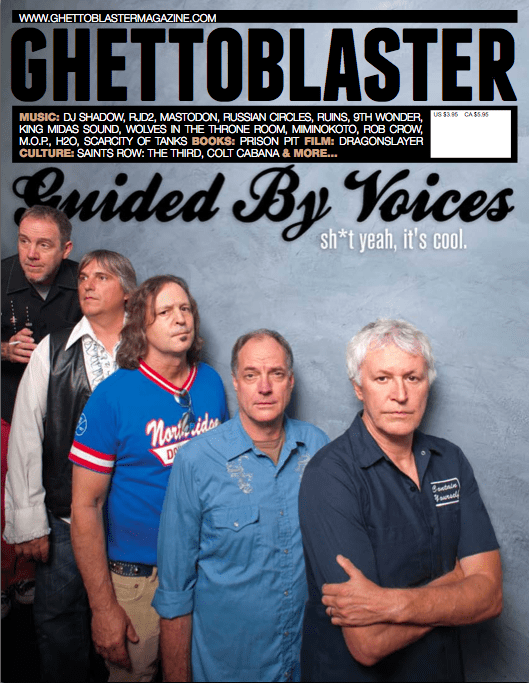 Issue 29
Eleanor Friedberger, Vast Aire, Cormega, Crooked Fingers, Mayer Hawthorne, Stephen Malkmus, Cymbals Eat Guitars
Issue 28
Seun Kuti, Raekwon, Man Man, Boris, Atmosphere, Kode9 & the Spaceape, Del the Funky Homosapien, Low, Times New Viking
Issue 27
Lemuria, Get Up Kids, Earth, Electric Wizard, Akron/Family, British Sea Power, Mogwai, Shilpa Ray, Ras G, East River Pipe
Issue 26
Superchunk, Pharoahe Monch, Three Mile Pilot, Arab On Radar, Marnie Stern, Les Savy Fav, No Age, Devo, Swans, Oval
Issue 25
Talib Kweli and Hi-Tek, Teenage Fanclub, Phosphorescent, Konono No. 1, Cap'n Jazz, Little Brother, Walter Schreifels
Issue 24
Sharon Jones, Drive-By Truckers, Jawbox, Quasi, Flying Lotus, Four Tet, Alkaline Trio, Ted Leo, Maynard James Keenan, Titus Andronicus, Frightened Rabbit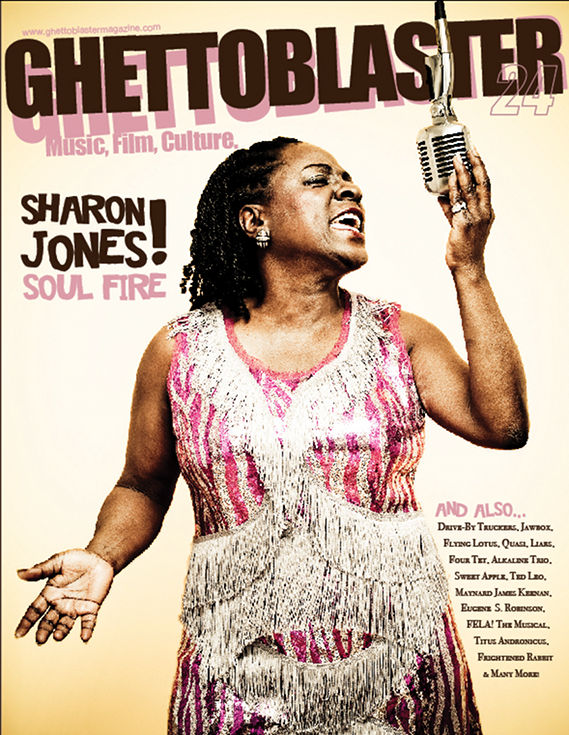 Issue 23
Robert Pollard & His Many Projects, Basement Jaxx, Brother Ali, Gift of Gab, Daniel Johnston, Mission of Burma
Issue 22
Anti-Pop Consortium, Ben Weasel, Mr. Lif, Tortoise, Son Volt, Bill Calahan, Dirty Projectors, The Lemonheads, a comic from Jeffrey Lewis
Issue 21
Featuring: Eugene Mirman, Roots Manuva, Cursive, Tom Morello, Fucked Up, Big Business, David Wain, Dr. Cornel West, a comic from Mitch Clem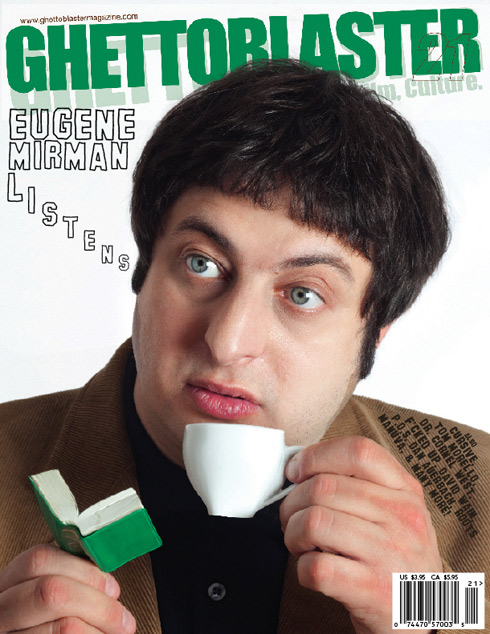 Issue 20
RZA, Mudhoney, MURS, Stereolab, Calexico, Robert Pollard, Melvins, Emmanuel Jal, A History Of Cleveland Rock
Issue 19
The Sea and Cake, Mouse on Mars, Tortoise, Fiery Furnaces, Mighty Joseph, Mountain goats, Michael Showalter, Beans, Freakwater, Giant Sand, and more.
Issue 18
Ted Leo, DJ Jazzy Jeff, Saul Williams, Bad Brains, Del The Funky Homosapien, The Jai-Alai Savant, Lifetime, Psalm One.
Issue 17
Mike Ladd, Bigg Jus, Greenhouse Effect, No Use For A Name, Arab Strap, Gossip, One Self, Aceyalone, Centro-Matic.
Issue 16
Princess Superstar, Buckshot, One Be Lo, Zion I, Int'l Shades, Coco Rosi, Thaione Davis, Against Me!, Palaxy Tracks, Cool Calm Pete, Sleepytime Gorilla Museum
Issue 15
dälek, Amon Tobin, Apsci, Bloc Party, Pigeon John, Boom Bip
Issue 14
Wale Oyejide, Travis Morrison, Ali Shaheed Muhammad, Juggaknots, Panthers.
Issue 13
Radio 4, Jean Grae, Macha, Vast Aire, Antibalas, Airborn Audio, Black Heart Procession.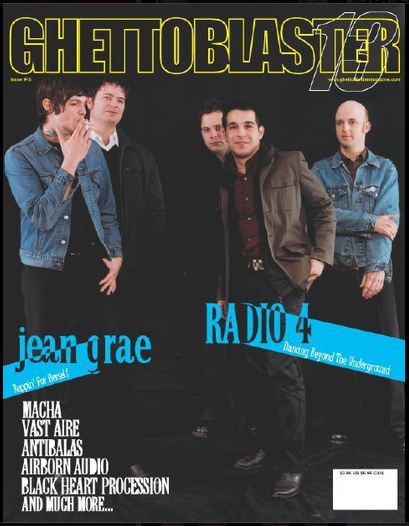 Issue 12
TV On The Radio, Walkmen, Sufjan Stevens, Trans Am, Badawi, Unicorns, Boy Skout, Katy Mae, Man Man, Oddatee.
Issue 11
Blueprint, Dismemberment Plan, Crooked Fingers, Casket Lottery, Califone, Oneida, Listener, Damon Che, Subtitle, An Albatross, Ben Davis, Broadcast Oblivion
Issue 10
Pretty Girls Make Graves, World/Inferno Friendship Society, Aceyalone, Watchers, Jealous Sound, Omega Moon, Erase Errata, Centro-Matic, Labtekwon, ILYA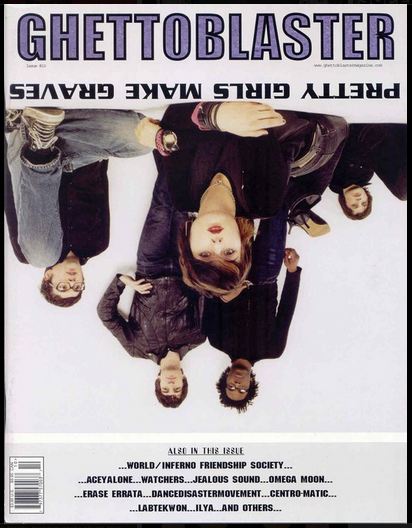 Issue 9
Cursive, Nada Surf, Jett Brando, Mike Ladd, Rainer Maria, Beans, Ted Leo, Pilot To Gunner, Brady Brock, Denisn Witmer
Issue 6
Issue 4
Issue 3
Issue 2