---
This year I've had the incredible honor of becoming super involved with the best music publication around.  Thanks so much Ghettoblaster Magazine for pretty much letting me do whatever I want over the past year! Me and my dear dear cousin Luke oversaw the features The Monday Rewind, Future Sounds and Past Sounds for much of the year.  As of late we have transitioned our focus to the Best Song Ever Podcast, which has been a dream come true! This year I've listened to hundreds upon hundreds of albums and below you'll find my top 20 albums of 2016.  Thanks for reading!
---
20. Greys – Outer Heaven 
Outer Heaven opens with a subdued, seemingly standard indie-rock track inspired by the murder of a teenager in Florida and then on track two covers the recent terrorist attacks in Paris over ferocious post-punk rock, which is to say, this is a heavy hard hitting album. The serene music of the opening track mixed with its bleak lyrics giving way to the utter chaos that follows is a great illustration of how Greys seems to see the world we live in now. Musically speaking this is a fantastic post-punk album filled with dissonance, chaos and even some memorable and catchy choruses. There are also occasional flashes of Fugazi's Guy Picciotto in the vocal performance of the heavier leaning punk songs on the album. All around this is a heavy, angry album that feels totally in line with the frustrating, anger-inducing landscape we currently find ourselves in.
Listen: Greys – No Star
---
19. Dogbreth – Second Home 
Dogbreth is a criminally under-known band that makes fantastic power pop music, which is equal parts sugary sweet and a punch in the face. Their new album, Second Home, is a short, tight set of 10 songs that span the spectrum of rock music, yet maintains one cohesive voice. Classic guitar rock mixes with punk and power pop in the most balanced way that makes you scratch your head and wonder how they were able to pull this off. There are saxophone and synth parts spread over the album but what really shines is the guitar work and songwriting. The guitars shimmer, effortlessly pounding riff after memorable riff over the course of the album. Songwriting is also a key strength as all songs on the album are sing-a-long-able and will stick with you well through the day. Seriously, please listen to this album.
Listen: Dogbreth – Do You Really Want Me
---
18. Noname – Telefone 
Kendrick Lamar, Chance the Rapper, Anderson .Paak, Noname. Yes, she belongs in the same conversation as those seminal acts who have hijacked RnB and Hip-Hop over the past couple years. Telefone is a beautifully poetic piece of art and is just a joy to listen to. It's spacey and soulful to the tenth degree and Noname's vocal delivery is fascinating to listen to. She pulls off the spoken/sung/rapped vocals that are popular right now but in her own way. She doesn't use auto tune, giving this album a very organic feel. If you're a fan of where Kendrick, Chance and Anderson have started to take music, you'd be wise to add Noname to the list.
Listen: Noname – Diddy Bop
---
17. The Goon Sax – Up to Anything 
Australian jangle-pop is a style of music that has been done time and time again, yet The Goon Sax are able to breathe new life into the genre on their debut album Up to Anything. The album is full of the classic sonic territory covered on your typical jangle pop album. The guitars, how they jangle! What is really endearing when it comes to The Goon Sax is their songwriting sensibilities. The lyrics are at times painfully earnest and cover such topics as worrying about your sweaty hands, wanting someone to notice you and eating ice cream on your own. The songs could have easily been too much, but they are all done with the right amount of self-deprecation that The Goon Sax really pulls it off.
Listen: The Goon Sax – Up To Anything
---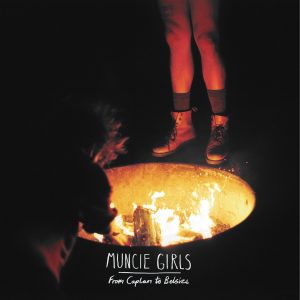 16. Muncie Girls – From Caplan to Belsize 
English trio Muncie Girls make incredibly catchy and lyrically challenging feminist pop-punk music. Over the course of just 30 minutes they take on misogyny, praise suffragette heroes, and give a searing indictment of a culture that seems content to forget about it all. Musically speaking this is a tight and technical set of songs with intricate verses and soaring choruses, which reminds us just how enjoyable really well executed pop-punk can be. From Caplan to Belsize is a truly special debut album from a talent that will be fun to watch in the future.
Listen: Muncie Girls – Gas Mark #4
---
15. Childish Gambino – "Awaken, My Love!" 
Awaken My Love! makes absolutely no sense. How in the world does this album work so well? I'm not sure that I can explain. Donald Glover, aka Childish Gambino, has always been more interesting to me as a comedian and actor than as a musician, as I've never thoroughly enjoyed any of his past albums. Honestly, when I heard that Donald Glover had put out an album that sounded like Funkadelic, I thought it would be a total train wreck. What Childish Gambino has put together instead is a mesmerizing and modern take on classic funk music. I wish that it had come out earlier in the year so I could have spent more time with it as I believe it would have ranked higher on this list.
Listen: Childish Gambino – Redbone
---
14. Aesop Rock – The Impossible Kid 
The Impossible Kid is the most personal record Aesop has made, delving into dealing with depression and attempting to mend strained family relationships, while also focusing on mundane aspects of everyday life with fantastic surrealistic wordplay. Not only is The Impossible Kid Aesop Rock's most personal album it is also one of his strongest outputs yet. Aesop Rock's production is mostly post-apocalyptic boom bap, murky and somewhat mechanical with a strong breakbeat. There are some variances on that theme, but overall the production is solid and complements the vocal performance perfectly.
Watch: Aesop Rock – Rings
---
13. Frankie Cosmos – Next Thing 
Frankie Cosmos is totally unassuming music that sneaks up on you and sneakily digs its claws deep. On the surface this a collection of simple singer-songwriter songs sung over clean electric guitar. Yet, when you dig more the layers reveal themselves in wonderful succession. Sure, the songs are simple, yet the execution of melody, lyricism and guitar work combine in a way that truly make Frankie Cosmos something special to behold.
Listen: Frankie Cosmos – Sinister
---
12. Kero Kero Bonito – Bonito Generation Kero Kero Bonito is a British band who are inspired by video games and J-Pop music, all of which definitely shines brightly through on Bonito Generation. The music often has video game-esque sound effects of lasers over trap beats, straightforward pop and tons of other stylistic diversions. It's an interesting combination that will have your head bobbing. Super pop female vocals alternate between singing and awkward rapping in English and then Japanese; again, it's a combination that strangely totally works. It's an absurdist and cartoonish album in the best way possible and should inspire anticipation for what is to come from Kero Kero Bonito.
Watch: Kero Kero Bonito – Break
---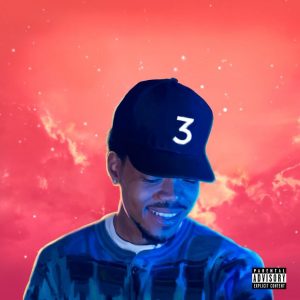 11. Chance the Rapper – Coloring Book 
How is this not a top ten album in 2016 for me? That's how good this year was. Coloring Book is a masterful tour de force of an album. Ok, it's not an album, it's a mixtape or whatever. Chance the Rapper just keeps getting better and better with each new collection he releases. It's hard to think that he would be able to top this. It isn't easy to have a wholly original delivery in hip hop anymore, but this is where Chance's main appeal is. The interplay of his singing and rapping is way better than anyone else who is trying to do the same. Coloring Book also has some of the most interesting music that I've heard on a hip-hop album in a long time. Gospel and modern rap are melded together flawlessly in a truly breathtaking manner that is something new and exciting for the genre.
Watch: Chance The Rapper – Angels
---
10. Maxwell – blackSUMMERS'night 
blackSUMMERS'night is probably the surprise album of the year for me as I really wouldn't have thought I'd be this into an album by Maxwell. I have never really given him a chance until this year, and I am very happy I did. This is maybe the most spacey and beautiful albums of the year and is great for zoning out or really paying attention to the intricacies. Musically the intricacies begin in the stunning opening track and never let up throughout the remainder. Also, Maxwell has a pretty awesome voice in case you didn't know. Again, this one took me by surprise and I'm so happy that it did.
Watch: Maxwell – Fingers Crossed
---
9. Owen – The King of Whys
The King of Whys, the eighth album former American Football member Mike Kinsella has released under the name Owen, is a beautifully tense album from start to finish. "Empty Bottle" opens the album up with this tension on full display as a loud guitar chord is struck over and over again as Kinsella sings a melancholy melody over otherwise pretty music. This sense of duality is carried on throughout the album, which finds songs diving headfirst into beauty and aggression. There are several seemingly straightforward acoustic guitar led Emo singer songwriter songs, yet the instrumentation makes the tracks much more interesting than they could have been. Sometimes it is flourishing strings and sometimes fantastic drumming, yet the backbone of all the songs remains Kinsella and his ability to pull off melodramatic songwriting with ease. This is easily one of the most beautiful albums of the year, yet it still surprises and leaves you with a sense of unease at the same time.
Watch: Owen – Settled Down
---
8. Twin Peaks – Down in Heaven 
Twin Peaks' new album Down in Heaven is the type of album that is steeped in various influences, yet wholly original. The overall sound is classic rock mixed with elements of jangly country all with the DIY spirit Twin Peaks has had since their inception. There are ballads, straight up rockers and various other turns over the course of the 12 tracks, resulting in an endlessly entertaining and unique album. There are shades of The Rolling Stones, The Kinks and T. Rex throughout. Twin Peaks member Caiden James describes the direction for the new album in the following way: "We wanted to make a record that employed the restraints of our favorite artists from yesteryear. It was about trying to simplify and hone in on the things that are important to our music and ethos." This direction and the resulting album are extremely successful and definitely worth listening to.
Watch: Twin Peaks – Getting Better
---
7. Trim – 1-800 Dinosaur Presents Trim
1-800 DINOSAUR Presents Trim is not your normal grime album; everything in Trim's world is wonderfully off-kilter. There are staples of grime music here, the heavily accented British rapping and dirty sounding electronics, yet it's like an alternate reality version of grime at the same time. The music sounds as if it could have been lifted straight off of an Aphex Twin album as the album is full of atmospheric and sometimes meandering electronic music. Trim raps and doesn't rap at the same time, sometimes settling into a quasi-rap / quasi-spoken word delivery, which is incredibly poetic and fascinating. "Man Like Me," the albums latest single, is by far the most "normal" or "accessible" song on the album, which means the listener is in for a heady listen. If this at all sounds interesting then this album full of art-house grime is definitely for you.
Listen: Trim – Man Like Me
---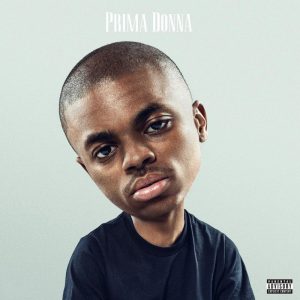 6. Vince Staples – Prima Donna
Vince Staples and Kendrick Lamar are quite different talents, but in the same orbit and are probably the best two rappers currently making music. Last year Staples released Summertime '06, his debut full length, which was only out shadowed by Lamar's To Pimp a Butterfly. This year, both Staples and Lamar have released EPs that seem to take the greatness of their previous releases and progresses their sound in fascinating ways. Staples has always made music that is aggressively grimy and murky, yet never in an alienating way. He has somehow been able to keep his music incredibly accessible and challenging at the same time, which is quite a feat to accomplish, especially with hip hop music. Prima Donna somehow finds Staples pushing these conflicting aspects of his music to their limits, making this at times the most challenging and most accessible music he's made to date. Although there are only six songs on the EP and it's a short listen, Staples covers more sonic territory than most hip hop albums do in eighteen tracks. These beats are simply mind blowing from start to finish with some real artistic bangers going on. It's an incredible EP from a real rising star in the hip hop world that simply can't be missed.
Watch: Vince Staples – Prima Donna
---
5. PUP – The Dream is Over 
PUP's lead singer found out that his vocal chords were incredibly damaged due to the amount of abuse he had been putting them through on long, grueling tours. When referencing his future as a rock singer his doctor said "The dream is over." Instead of listening to that advice, PUP named their next album after the phrase. This is an incredible set of super powerful and hard hitting rock songs done with just the right amount of pop sensibilities. Imagine Weezer's Blue Album but with way way more muscle. It's a truly magnificent feat.
Listen: PUP – Doubts
---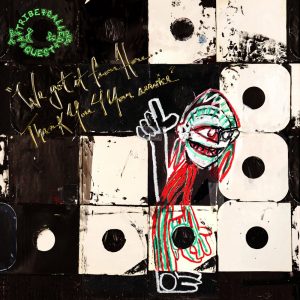 4. A Tribe Called Quest – We got it from Here … Thank You 4 Your service 
Runner up for surprise album of the year has to go to A Tribe Called Quest. When I first heard that they were going to be releasing a new album I was obviously intrigued, but never imagined it would be as good as this. Especially considering they have evolved their sound to fit into the modern rap landscape. It's a move that does not often work for a well-established group, but they pulled it off wonderfully. Obviously the best hip hop album of the year. Also, I could straight up listen to Q-Tip rap the dictionary and be completely content.
Watch: A Tribe Called Quest – We The People…
---
3. Mannequin Pussy – Romantic 
11 Songs in 17 minutes. I still cannot get over how much terrain this crazy band covers in that short of time. Seriously, this album has a few movements in it; shifting from hard to soft, both musically and thematically, Mannequin Pussy have crafted the best rock album of the year. Yet, it's still going criminally unnoticed. That's right, I said criminally, and in my America those who were unfamiliar with this album would be jailed. It's that good. There are some great straight up scuzzy hard punk moments mixed with tender spacey rock and a great amount of really great pop punk as well. Why are you reading this? You could have listened to half the album by now. Seriously, stop and listen!
Listen: Mannequine Pussy – Denial
---
2. Eric Bachmann – Eric Bachmann 
After years creating music as the front man of indie rock legends Archers of Loaf and then Crooked Fingers, Eric Bachmann is back with an absolutely stunning self-titled album. Eric Bachmann is filled with nine songs centered around impeccable lyricism, bright piano and dazzling harmonies, making for a truly beautiful album. There are several stylistic ventures along the way, including country, doo-wop and alternative rock, but the songs are perfectly paced throughout the album so they never seem out of place. If you're a fan of great lyrics sung in intricate melodies, you should definitely check out this album.
Listen: Eric Bachmann – Carolina
---
1. Solange – A Seat at the Table 
For most of the year I was convinced that Eric Bachmann's album would be my favorite of the year. I had a hard time envisioning an album that could dethrone his and did not think it would happen. Then Solange put out A Seat at the Table and I knew after one listen through that this was the best album I've heard in a very long time. The subtle yet complex music consisting largely of piano and drums is beautiful, interesting and the perfect backdrop to the stellar vocal performance from Solange. This album wasn't made for me as the themes largely cover loving and being proud of being Black and depending upon yourself and the Black community to help one prosper. This album is a microcosm of 2016 and I find myself leaning very hard on the optimism that pulsates throughout because I have a hard time finding things to be optimistic about. Again, it wasn't necessarily written for me, but the beauty in these themes and the craftsmanship that Solange displays is absolutely universal.
Watch: Solange – Cranes In The Sky
---